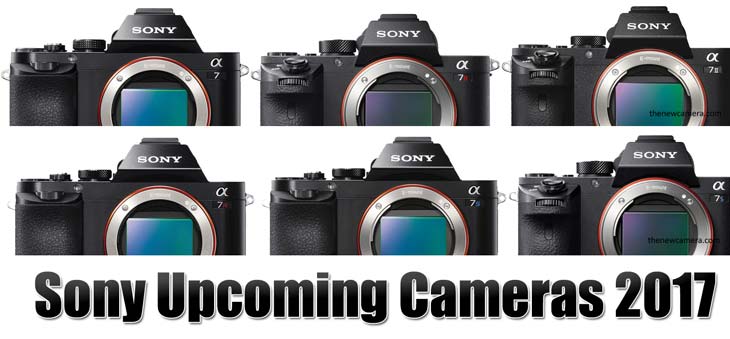 List of upcoming Sony camera 2017 is now out. We have detailed list of camera and lenses (coming soon) that may arrive next year.
1. Sony A7 III
Latest rumors suggest that the Sony A7 III is coming with revised 24MP sensor and unlimited RAW burst. The camera will also carry improved AF system compared to the current A7 II camera.
2. Sony A9 OR Sony A7R III
On August 2016 Sony managers hinted us that they are testing a super high resolution sensor for next flagship Sony A7R III camera [See here]. Till now the Sony A7R series was the flagship camera for Sony High-Resolution Fullframe sensors. But now there is possibility, that Sony may change their plan and introduce Sony A9 camera with 70-80 MP Fullframe sensor. The price tag of the camera is suggested to be around Canon and Nikon flagship FF DSLRs.
3. Sony A7S Mark III
Sony A7S camera created a bang on camera industry with ultra low-light sensitive sensor. But Sony A7S II ISO range remain stuck at 409600 [Same as of A7s], on the other side there was a lot of upgrade in the core specification of Sony A7S II, for example 4K internal recording, 169 point Hybrid AF and 5-axis IS but the low-light performance of both the camera remains same.
.We have high hopes that upcoming Sony A7S III camera that it will create a new benchmark in the filed of ISO sensitivity. The announcement of Sony A7S Mark II is expected sometime bewteen Q4 of 2017 or Q1 of 2018.
4. Sony A77 Mark III
Sony A77 III is also expected to arrive end of this year with new 24 MP APS-C CMOS APS-C sensor, advance AF system and better ISO range. Will bring more update soon.
Sony A5200 / A5300
Few month passed we have we have published that Sony A5100 successor is not coming soon and the biggest reason behind the delay of the camera is 2016 Komamoto earth quake. But on Sep 2016 the Sony A5100 camera listed as discounted and till now no sign of it's successor. Sony may have postponed the announcement Sony A5300 camera and they are keeping A600 as entry level camera.
5. Sony RX5
Sony RX5 is a APS-C sensor based camera from Sony that will arrive in Q1 and Q2 of this year to compete against Fuji X100F camera. The RX5 is rumored to feature same sensor as of Sony A6500 Mirrorless camera.
Also take a look list of upcoming lenses that expected to arrive along with the Sony A7 series camera.
List of Sony FE Lenses Coming in 2017
16-35mm f2.8
STF GM lens
telephoto zoom lens
telephoto prime lens
wideangle lens
standard zoom lens
We will update you soon as we get any new information, stay with us (FACEBOOK | TWITTER | GOOGLE+) If you have time –> see more Sony Rumor
source – SAR.com