While looking at the list of Sony is unannounced products we have found to model codes listed at two different sections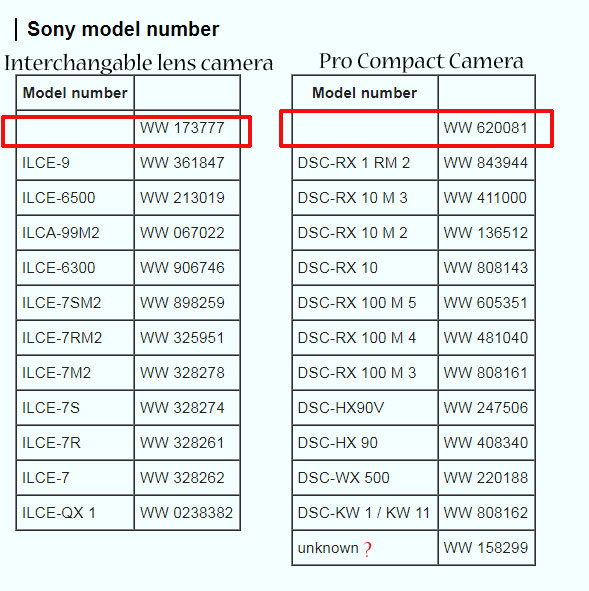 Now if you look at the two different section, you will going to see that one section is dedicated to mirrorless cameras, smart lenses and the other section is dedicated for Sony RX compact camera that include full frame RX camera and Sony RX100 series camera
While looking at the model code no one can guess which product category they belong to,  but why looking at the placeholder we can say that WW 173777  model code is for interchangeable lens camera / mirrorless camera (Possibly Sony A7 III) and the other model code WW 620081 is for a fixed lens compact camera that may be a full frame RX1 series camera or a  RX100 series camera. It is also possible that  RX5 camera carrying APS-C sensor is coming next. Now let's talk about the possibilities.
Sony RX1 Mark III to feature 24.2 MP Fullframe Sensor ?
If you look at the traditional RX1 series camera,  then we can say that the previous generation of cameras was using sensors from A7R series camera. The Sony R1 was using 36MP sensor from Sony A7R and the current gen of Sony RX1 Mark II camera is using 42MP  sensor of Sony A7R II camera. Since no Sony A7R III isn't announced yet Sony we can expect that the upcoming full frame compact camera may carry Sony A9 sensor.
Sony A7III Coming with 4K and….
The WW 173777 / Sony A7 III is the awaited camera of 2017, the predecessor is limited to Full HD mode only whereas Sony latest compacts, APS-C and FF cameras, all feature 4K recording option. So, We do expect without losing any time Sony will  replace that Full HD camera with and newer and more better version. Some pros are also talking about a trim-out version of Sony A9 is ready to arrive under A7 III name, the sensor will going to remain same but we will see limitations on processing speed, ISO and contentious shooting speed.
Also see –Sony A7III Confirmed Set of Specification Leaked
most awaited camera  Sony A7 III,  Sony A7 II update is due for a long time and we have told you the A7III announcement is possible Fall 2017.
Stay with us and we will update you soon as we get any new information.
We will update you soon as we get any new information, stay with us (FACEBOOK | TWITTER | GOOGLE+) If you have time –> see more Sony Rumor