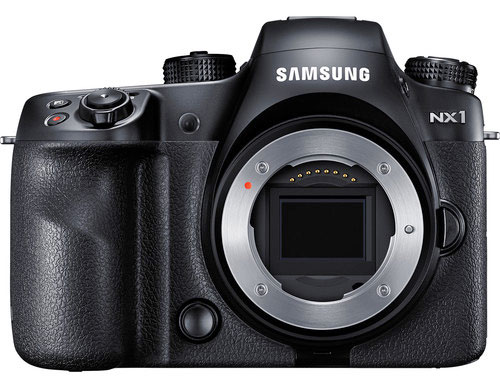 Finally the Samsung NX1 announced today and do have the same specification as we have published few days ago, also see a specification comparison review with 7D Mark II here.
The Samsung NX1 features large 28.2MP BSI APS-C CMOS Sensor (No ISOCELL), fast DRIMe V Image Signal Processor and a very advance phase detect on sensor AF system that features 205 Phase-Detection AF Points, thanks to the new ultra advance image processor Samsung NX1 can shoot 15 fps Burst with AF and records 4K video.
on the rear side we have a 3.0″ 1036k-Dot Tilt-Touchscreen Monitor and you also get a XGA OLED electronic viewfinder, connectivity wise the Samsung NX1 features WiFi and NFC.
Buy Samsung NX1 from Amazon || B&H Store
Press Release
Samsung introduces the NX1, a new premium camera designed for the expert photographers boasting a superb image quality, remarkable fast AF system, and ease of use
​Cologne, Germany – September 15, 2014 – Samsung Electronics Co., Ltd, announced the launch of the revolutionary NX1, which combines cutting edge design, industry leading technology and Samsung's innovation expertise to create an exceptionally fast compact system camera (CSC). The NX1 delivers superb image quality and unrivalled usability, setting a new benchmark for photographers everywhere and providing a genuine alternative to DSLRs as the professional camera of choice around the world. Featuring best in class 15FPS continuous AF shooting, a unique Auto Focus (AF) System III with 205 Phase Detection AF points and 28MP APS-C BSI CMOS Sensor for superior image quality, the versatile performance and precision craftsmanship will challenge even the most classical photographers to re-think their understanding of professional photography.
​"The NX1 represents the pinnacle of Samsung's advanced photographic expertise and heralds a new era of intuitive, professional quality photography for everyone," said Myoung Sup Han, Executive Vice President and Head of Imaging Business Team, IT & Mobile Communications business at Samsung Electronics. "With the launch of the NX1, Samsung is re-defining what is possible with an interchangeable lens camera, allowing photographers everywhere to achieve previously unimaginable levels of quality and expertise in each and every image they capture."
​Unparalleled speed and accuracy
​Powerful and fast, the NX1's DRIMe V Image Processor boasts superior color reproduction and noise reduction, utilizing powerful cores for the high speed imaging that serious photographers need. This cutting-edge technology also supports 4K UHD video recording with no need for external equipment, so movie makers can shoot and share their inspiring stories in vivid, clean, widescreen realism.
​Featuring Samsung's new NX AF (Auto Focus) System III with 205 Phase Detection AF points, the NX1 re-defines the boundaries of semi-professional level photography with its speed, agility and focusing ability. While the most extraordinary moments can pass by in an instance, the NX1's world class AF speed (0.055sec) allows them to be captured and remembered in rich detail for years to come. Additionally, industry leading 15FPS continuous shooting allows NX1 users to seamlessly track and shoot whole action sequences.
​Wide Phase Detection also means the NX1 can instinctively track subjects almost anywhere in the frame, regardless of their location. Photographers can capture even the briefest of moments as there is no need to re-compose a shot – they can simply focus and shoot immediately, allowing for extreme speed and flexibility. This technology will be of particular interest to those who love to shoot video, as the NX1 supports the use of Phase AF during movie recording, so that results are stable and steady.
​Further enhancing the NX1's action credentials is the intelligent new Samsung Auto Shot (SAS) feature which actually automatically takes the picture at precisely the right moment. Thanks to the NX1's brand-new DRIMe V processor, the advanced hardware algorithms can recognize high-speed motion, and equate shutter-lag in real-time. Even with a fast shutter speed and high speed drive, it can still be difficult to capture action (like the moment a baseball player strikes the ball). SAS removes this concern by accurately predicting the right time to capture the shot, resulting in perfect capture in every decisive moment.
​Capture even the most elusive subjects
​The NX1 is also equipped with Samsung's newly designed 28MP APS-C CMOS Sensor, featuring an innovative Back Side Illumination (BSI) structure with a micro lens array. Compared to conventional CMOS sensors, BSI reduces noise more effectively by keeping the path between the lens and sensors clear so more light can hit each pixel, lowering the signal-to-noise ratio. As a result, NX1 users need never compromise on perfection, even in low light. Superb image quality and jaw-dropping results are guaranteed, whatever the shooting scenario or subject.
​The NX1 supports native ISO 100-25600 and extended ISO to 51200, letting you capture well exposed images with less noise even when the lighting conditions are quite dark. Furthermore, utilizing new technology designed specifically for the NX1, even subtle noise produced by cameras that cannot be seen by the naked eye can be effectively diminished. This technology works by distinguishing each imaging area, such as edges, textures, or skies and intelligently applying different types of noise reduction to the individual parts. This method retains details without the softening that's common with other global noise reduction technologies.
​The NX1 supports both 4K and Ultra HD (UHD) video recording, providing flexibility and choice for movie capture. UHD has a four times higher resolution than Full HD, readily apparent in the smooth and impressive quality of footage shot on the NX1. The inbuilt HEVC Codec (H.265), the most advanced compression technology available, brings efficiency to the storage of video clips by compressing high quality video to half the size and bit rate of H.264 footage without compromising on quality. All files are conveniently stored on the SD Card so that an external 4K recorder is not necessary. Post production requirements also haven't been neglected with the inclusion of conversion software for editing the 4K footage.
​Classic design and extreme usability
​The highly durable magnesium alloy body of the NX1 offers the solid and rugged feel that high end photographers are accustomed to. Carefully crafted, the ergonomic design of the NX1 is comfortable to hold, with a specially shaped grip which allows users to maintain a tight hold while shooting. Those seeking further photographic options can take advantage of the custom designed Vertical Grip accessory (sold separately), allowing for the use of a larger battery and easier vertical and horizontal shooting.
​The NX1's sturdy build is strengthened with dust and splash resistance, including rubber seals and seams to protect dials and buttons. This durable design helps NX1 photographers to seize every opportunity to capture awe inspiring scenes, regardless of any outdoor shooting environments.
​The Electronic Viewfinder (EVF) is an XGA OLED display with 2.36 million dots, providing users with an extremely life-like and immersive eye-level composing experience. Bolstering the EVF, the NX1's DRIMe V Image Processor cuts down lag time to just 0.005-seconds so that the EVF reflects the scene being shot in nearly real time, without delay.
​The 3.0-inch FVGA Super AMOLED display with touch capabilities is brilliantly lit and has a natural looking display. The only CSC to feature a top LCD panel, the NX1's UI synchronized status display window clearly displays a number of advanced camera settings, from WB, drive and battery condition, so that it is quick and easy to control the camera.
​Industry leading connectivity
​Equipped with Wi-Fi functionality, the NX1 has the fastest, most advanced connectivity available, allowing users to watch 4K movies on UHD TV via wireless streaming. With its outstanding data transfer speed, users can send both large images and Full HD video files swiftly and without delay. The NX1 is also the world's first Bluetooth equipped CSC, further boosting Samsung's Smart Camera offering and ensuring users are always connected for easy pairing and quick transfer times with smartphones and tablets.
​
​Introducing a versatile new NX lens
​Expanding the NX lens range is the new 50-150mm 2.8 S ED OIS lens, a high end, premium telephoto lens perfectly matched with the NX1. With its ultra-fast F2.8 maximum aperture and 35mm equivalent 77-231mm focal range, this multipurpose S-series lens is ideally suited to a wide range of scenarios including sport, wildlife and portrait photography. Additional features include Advanced Multi-Axis Optical Image Stabilization (OIS) system with up to 4.5 stops (at mid range, under the CIPA standard), Samsung's Ultra Precise Stepping Motor (UPSM), and dust and splash resistance offered by Samsung Hyper Shield (SHS)
Samsung NX1 Full Specification
Samsung NX1 Specifications
Image Sensor
28.2 effective megapixel APS-C BSI CMOS sensor
Display
76.8mm (3.0-inch) Super AMOLED Tilt Display with Touch panel (tilting Up 90°, Down 45°)
FVGA (720×480) 1,036K dots
View finder
EVF (OLED) with Eye Contact Sensor
XGA
ISO
Auto, 100, 200, 400, 800, 1600, 3200, 6400, 12800, 25600 (1EV or 1/3EV step) (EXT. 51200)
Image
JPEG (3:2) : 28M (6480×4320), 13.9M (4560×3040), 7.1M (3264×2176), 3.0M (2112×1408)
JPEG(16:9) : 23M (6480×3648), 11.9M (4608×2592), 6.2M (3328×1872), 2.4M (2048×1152)
JPEG (1:1) : 18.7M (4320×4320), 9.5M (3088×3088), 4.7M (2160×2160), 2.0M (1408×1408)
RAW : 28.0M (6480×4320)
* 3D Lens Image Size: JPEG(16:9) 5.9M (3232×1824), 2.1M (1920×1080)
File format: RAW (SRW ver2.0.0), JPEG (EXIF 2.3), MPO (for 3D Lens), DCF
Video
MP4 (Video: HEVC /H.265, Audio: AAC)
UHD 3840×2160 (30fps Only), 4K 4096×2160 (24fps Only), Full HD 1920×1080, 1280×720, 640×480
* 3D Lens Movie Recording Compatible only for Full HD
Frame rate: 60fps, 30fps, 24fps NTSC / 50fps, 25fps, 24fps PAL
Video Output
NTSC, PAL, DMI
Value- Added
Features
SMART Mode: Action Freeze, Beauty Face, Fireworks, Landscape, Light Trace, Multi-Exposure, Night, Panorama (Live), Rich Tone (HDR), Samsung Auto Shutter, Silhouette, Sunset, Waterfall
3D still image & video capturing
Built-in Flash (Guide Number 11 at ISO100)
Magnesium cover body
External Microphone
Dust and splash resistance
* Note – This product is not water or dust proof. It is designed to resist dust and minor splashes only. Exposure to severe conditions is not recommended.
Wi-Fi Connectivity
IEEE 802.11b/g/n/ac

• Email
• Quick Transfer
• Auto Backup
• FOTA
• TV Link
• Full Browser(SNS & Cloud)
• Auto Time Setting
• BT GPS Tagging
• Mobile Link
• Photo Beam(Play Back)
• Remote Viewfinder Pro

* Note – The availability of each service may differ by country.

NFC
NFC
Bluetooth
Bluetooth 3.0
Storage
SD,SDHC,SDXC,UHS-I,UHS-II
Battery
BP1900 (1860mAh)
Dimension
(WxHxD)
138.5 x 102.3 x 65.8
Weight
550 g (without battery)
*All functionality, features, specifications and other product information provided in this document including, but not limited to, the benefits, design, pricing, components, performance, availability, and capabilities of the product are subject to change without notice or obligation.