Panasonic GX7 vs Olympus E-M5, Take a look at the major specification difference between both the camera,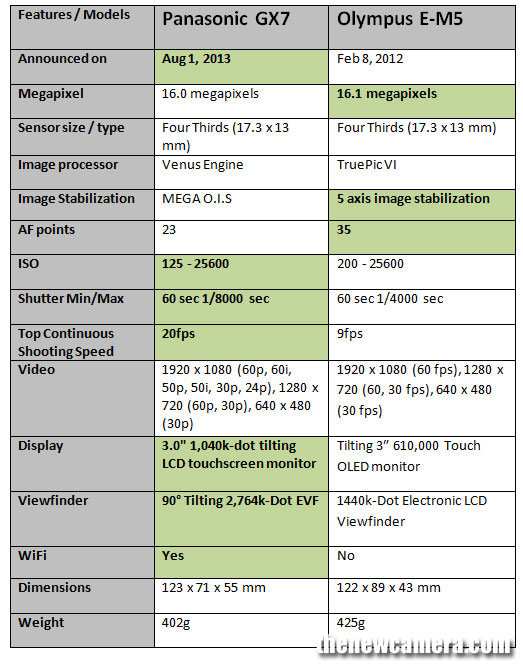 Sensor: Both camera features same resolution and sensor size, But the newly developed sensor if GX7 features bit better lower ISO range compared to the Olympus E-M5.
Image Stabilization: The Olympus E-M5 features 5 axis image stabilization and the newly announced Panasonic GX7 comes with MEGA O.I.S. The Image stabilization system of  Olympus E-M5 is better, it covers horizontal shift, vertical shift, rotary motion, as well as the yaw and pitch.
AF system: Both camera features contrast detect AF system.
Shutter Range: The Panasonic GX7 comes with more shutter range and electronic shutter for silent operation when needed
Top-Continuous Shooting Speed: The MAX Continuous shooting speed of the Panasonic GX7 is 20 fps, the Olympus E-M5 shooting speed is limited to 9fps only.

Display: The Panasonic GX7 features tilting display unit with higher resolution and touch control, better than the Olympus E-M5.
Viewfinder: The GX7 features built in tilting EVF with resolution higher than Olympus OMD E-M5.
WiFi: Panasonic GX7 features built-in WiFi connectivity , no WiFi available in E-M5.
Price Difference: Panasonic GX7 available at $999 | Panasonic Olympus E-M5 available at $899
Verdict: We recommend New users to buy Panasonic GX7, The Olympus OMD-EM5 features almost same ISO range and available at $100 less than Panasonic GX7, on the other hand Panasonic GX7 features More shutter range and Fast Top continuous shooting speed, Better display and a tilting viewfinder, you also get WiFi for wireless data transfer.
Buy Panasonic GX7 from Amazon and B&H
Olympus EM-5 from Amazon