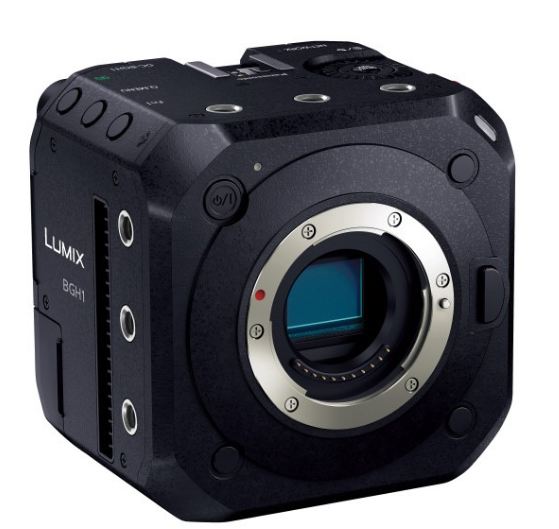 Panasonic BGH1 Camera at B&H Store
Panasonic BGH1 camera images and the full specification is now available. The camera looks like a perfect competitor of Canon recently announced the Canon C70 cinema camera.  Take a look at few more images and the Specification PDF link mentioned below.
Panasonic BGH1 Press Release
(Press text details translated from Japanese )
Customizability that flexibly responds to the needs of professional video production sites, from multi-cameras to conventional shooting styles
LUMIX's first innovative box-style body is packed with the advanced video performance cultivated in the LUMIX GH series. Becoming a trend
A wide range of professionals by laying out a highly expandable interface for professional use on the body to support a certain multi-camera shooting
We support the video production site in all directions. Third-party monitors, recorders, microphones, rigs, tripods, gimbals, drones, operations
By linking with ration equipment, etc., we provide a high degree of customization that meets the needs of users. Compact one-man
We can handle a wide range of tasks, from shooting to shooting sites in teams that require the operation of multiple units.
Excellent video performance that inherits the genealogy of the GH series
10.2M Live MOS Sensor and dual native ISO technology provide high-sensitivity image quality High-sensitivity effective pixels 10.2M Live MOS
A sensor is used to achieve beautiful depiction even in low-light environments. In addition, "Dual Natu" equipped with two dedicated circuits for each pixel.
Equipped with "Dual ISO technology". When setting high ISO sensitivity where noise is amplified, "Low ISO sensitivity circuit" and "Low noise / high ISO sensitivity circuit"
By switching between the two systems, it is possible to record more natural and beautiful still images and videos with reduced noise. The highest ISO sensitivity for regular use is ISO51200,
The extended ISO sensitivity achieves ISO204800, expanding the possibilities of shooting range.
Full video recording mode such as Panasonic's Micro Four Thirds standard's first Cinema4K 60p 10bit video recording
60p 10bit recording has been achieved in Cinema4K (4096 x 2160) mode. Suppresses the rolling shutter distortion phenomenon even for fast-moving subjects
However, you can shoot natural and smooth images, and record high-definition and immersive videos. 10bit with 64 times more information than 8-bit recording
The recording gives you more gradation and subtle nuances of gradation, giving you more freedom in editing and grading. For 8-bit recording
It is possible to internally record 4: 2: 2 10bit recording on the SD card, which has twice the color information and 128 times the amount of information as a whole.
It also supports ALL-Intra recording, and high bit-rate recording up to 400 Mbps supports advanced non-linear editing. HDMI output is 4: 2: 2 10bit
4K 60p video output is possible, and a high-quality 4K video can be recorded to an external recorder. Also 4: 3 aspect anamorphic
It is equipped with a full range of video recording modes that meet the needs of professional video production sites, such as 4K anamorphic video recording that supports lenses.
Unlimited recording time in all recording modes
With a heat dissipation structure equipped with a high-precision heat dissipation simulation and a heat dissipation fan, it is within the guaranteed operating temperature in all video recording modes.
Achieved unlimited recording time. By enabling long-time shooting, uncut shooting for more than 30 minutes, documentary shooting, etc.
We respond to the trust of a wide range of professional shooting sites.
13-stop V-Log L with excellent highlight resistance
This unit has a wide dynamic range of 13 stops with excellent highlight resistance. Fine details from dark areas to highlight areas
It enables a high degree of freedom in color grading when editing video production. When shooting V-Log L, the image after applying the LUT is externally displayed.
You can check the finished look with the V-Log view assist function displayed on the screen. Also, the smell of post production
However, the LUMIX G series that supports V-Log L, the Panasonic cinema camera VariCam that supports V-Log, and the full-size single-lens camera. You can perform consistent picture-making video editing in combination with videos shot with the LUMIX S series.
Video look that pursues unified picture creation with the cinema camera VariCam Cine-like D2 / V2
Pictures of Panasonic cinema cameras VariCam and S1H without log shooting or color grading in post production
By utilizing Cine-like Gamma, which reproduces a look that reflects the idea of making, it is possible to create impressive pictures in a cinema-like manner.
You can select "Cine-like D2" that prioritizes dynamic range and "Cine-like V 2" that emphasizes contrast from photo styles.
Real-time recognition AF with improved tracking accuracy by supporting head recognition and strengthening the recognition function
By adding "head recognition" of the human body to the automatic recognition algorithm that applies deep learning, which is an advanced technology in the AI field, it becomes a person.
Equipped with real-time recognition AF with enhanced AF tracking performance. Even in a moving subject or a scene where the face of a person is hidden
The camera automatically determines the shooting intention based on the position, size, and angle of view of the head and human body, and keeps focusing while suppressing background omission. Human face
"Face / pupil recognition AF" that detects and automatically focuses on the eyes and "head recognition" makes it possible to continue recognizing even small faces in the distance.
I did. The combination of enhanced "human body recognition AF" and "face / pupil recognition AF" realizes more accurate AF tracking for people. Also, "movement
Since it is also equipped with "object recognition AF", it demonstrates high focus performance even for animals.
Equipped with a double SD card slot
Equipped with two SD card slots according to the shooting application. 1st to 2nd SD memory car when capacity is full
Since it is possible to set "relay recording" to switch to the switch, "backup recording" to record simultaneously with two SD memory cards, etc.
You can select the most suitable recording method for shooting. The SD memory card is compatible with UHS-II Video Speed Class 90.
Equipped with BNC terminals (3 units) and LAN terminals (PoE + compatible) for the first time as LUMIX
Three BNC terminals and PoE + compatible LAN to control multiple cameras during multi-camera shooting and realize efficient operation
Equipped with a terminal and HDMI terminal.
-BNC terminal: Supports 3G-SDI output, time code (TC IN / OUT), and Genlock input 3G-SDI is capable of FHD 60p 4: 2: 2 10bit external output.
In addition to long-distance cable routing, cable disconnection can be prevented. HDMI is capable of 4K 60p 4: 2: 2 10bit external output. With HDMI
Since it also supports simultaneous output from 3G-SDI, you can record video or monitor by using both 3G-SDI and HDMI terminals together or properly.
The degree of freedom of the game is improved. In addition, the time code (TC IN / OUT) automatically records information on hours, minutes, seconds, and the number of frames, making it an efficient video edition.
Supports collection. The Genlock input matches the frame phase, so for example, you can switch and shoot high-speed subjects with multiple cameras.
It enables highly accurate synchronization even when using. Advanced operation in multi-camera shooting by using time code and Genlock input together
Realize the session.
-LAN terminal: PoE + compatible, control multiple cameras from a PC Connect to a PoE + (Power over Ethernet) compatible device to connect the LAN cable
The power supply used is also possible.
Multiple units (up to 12) can be controlled from one PC
You can control the camera from your computer by connecting this unit to your computer using a hub and LAN cable. In line with the release of this machine
You can install the dedicated software "LUMIX Tether for Multicam" to be released on your computer and check the live view on your computer screen.
I will. It is also possible to change settings such as the specified camera aperture, shutter speed, ISO sensitivity, and white balance.
You can smoothly make detailed settings when shooting with the Luci camera. It is also possible to perform the same control via a USB cable.
-"VFR (Variable Frame Rate)" that can record smooth slow motion and sharp quick motion images
-Abundant assist functions convenient for movie shooting "Zebra pattern" "Spot brightness meter" "Brightness level setting"
・ "Anamorphic desk ease display" that allows you to check the finished image after shooting anamorphic
・ Remote shooting function by smartphone application "LUMIX Sync"
-Easy pairing with a smartphone, "Bluetooth (R) 4.2" that can be connected to the camera at all times with energy saving
・ "Wi-Fi (R) 2.4 GHz" that allows wireless connection
・ "Low temperature resistant design" of -10 ℃ that can be used even in cold regions
・ 11 "screw holes (tripod mounting part)" that can be expanded by attaching rigs, cages, tripods, etc.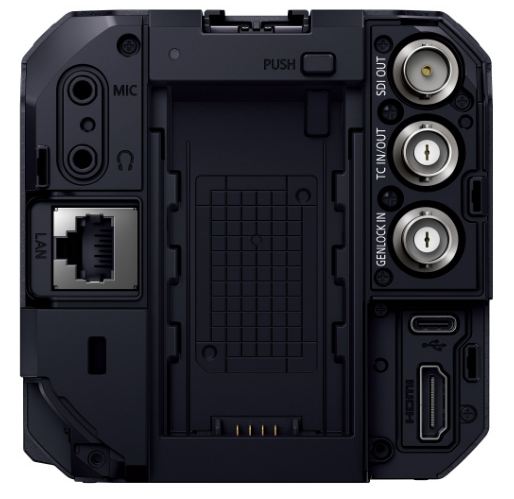 Pansonic BGH1 Full specification PDF here
Follow us on our social pages  FACEBOOK | TWITTER | INSTAGRAM, to get LIVE News and Panasonic Rumors
source NCtwitter