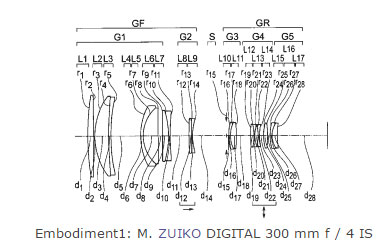 A new patent surfaced over the web that clearly shows a new lens by Olympus with F4 aperture and built in image optical-stabilization system,
Patent details
Patent Publication No. 2015-102810

Published 2015.6.4
Filing date 2013.11.27

Example 1

Focal length f = 294.33mm
Fno. 4.08
Angle of view 2ω = 4.31 °
Image height 11.15mm
FB 45.04mm
Total length 213.64mm
The patent was filed back in November 2013, I don't think Olympus will now announce a optically stabilized lens now, after introduction of 5 axis image stabilization system in its cameras.
Share your thoughts with us.