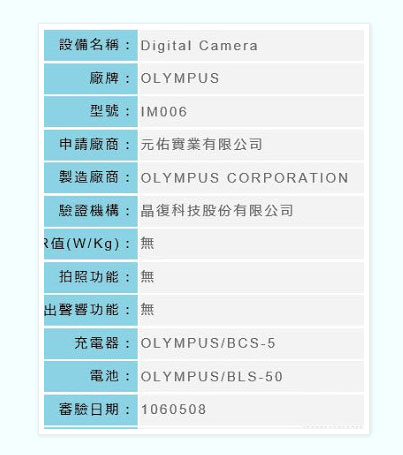 The Olympus E-M10 Mark III camera again [see our previous post on IM006] surfaced at Russian Wireless Certification Agency. The Registered code name IM006 is actually a Olympus E-M10 Mark III ? We are expecting three options here, the foremost option is E-M10 Mark III, the second option is E-PL9 and third option is they can start a completely new series.
IM006 Details

Taiwan NCC (Judgment Certification No.: CCAK 17LP 0740 T 7 )
Russia (※ Link image authentication is provided)
Company name: Olympus Corporation
Product Type: Digital Camera
Battery: BLS-50
Charger: BCS-5
Product composition: 3 types (body only · EZ lens kit · double zoom kit?)
In the post published April 8th, 2017 we have told you that Olympus E-M10 Mark III is expected to arrive under IM006 code name and will going to feature 4K video recording.
STAY WITH ON FACEBOOK | TWITTER | GOOGLE+ to get live news + Olympus Rumors 24X7+