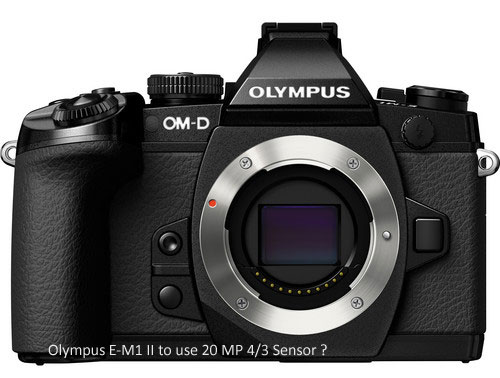 Olympus E-M1 was announced on September 10, 2013, It was termed as flagship model of mirrorless system camera, however even after 2 years the company didn't dared to announce it next version till now.
We are discussing the list of possible specification that may arrive with the Olympus E-M5 II Camera, we are predicting the specification based on the development trend of Olympus mirrorless camera system.
Which sensor will Olympus pick for the Olympus E-M1 II. The big problem with Olympus E-M1 series is it is using Hybrid AF sensor So
The specification
20MP Sensor / 18 MP sensor – We are hoping Olympus will sure implement a NEW 20 MP or 18 MP Hybrid AF sensor.
Advance DUAL FAST AF Mode / Hybrid AF – Olympus E-M1 was the first camera to feature phase AF pixels inside the sensor. However all the other Olympus or Panasonic based mirrorless camera features contrast based AF system, so we do hope that
High Resolution handheld mode 50Mp / 40MP – The high resolution mode in not new, we have already seen it on E-M5 II, hopefully Olympus will continue to implement the tech inside the  upcoming camera.
Dual IS – We have already seen the patent of Olympus dual IS system, so after Panasonic GX9 camera Olympus E-M1 II may become the first Oly camera to feature Dual IS system.
4K UHD Video Recording at 30/24 fps – Olympus must add the 4K video functionality to the E-M1 II since 4K has no become a common feature among the mirrorless camera.
Full HD up to 60p / 120p – There is a possibility that Oly will add 120fps mode inside the Oly E-m10 II camera.
New TruePic VIII Image Processor – Yes…indeed it is the most important part of the upcoming camera that will give a boost to the entire system.
ISO 100-12800 (expandable upto 51200)
Dust, splash and freeze proof performance
Built-In Wi-Fi Connectivity
3.0″ 1.04m-Dot Tilting LCD Touchscreen
Do also share your own thoughts and expectation with us.
Update: According to a tipster the Olympus will announce the E-M1 II camera on Photokina 2016, take it with grain of of salt.. we will update you soon as we get any new information.
STAY WITH ON FACEBOOK | TWITTER | GOOGLE+ to get live news + rumors 24X7+