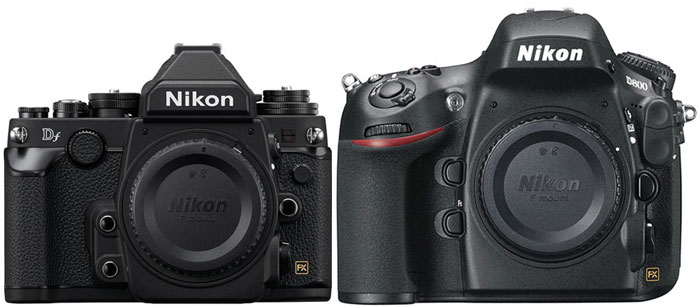 Nikon DF vs Nikon D800 specification comparison –  Just few hrs after the announcement we have published Nikon DF vs Nikon D610 Comparison, Now its time for its bigger brother D800. The D800 is a megapixel monster that creates ultra large files and need good lighting system to produce cleaner images, Nikon DF is waiting to be crowned as low-light king since it features same sensor and Image processor as Nikon D4. Now take a look at the comparison chart below –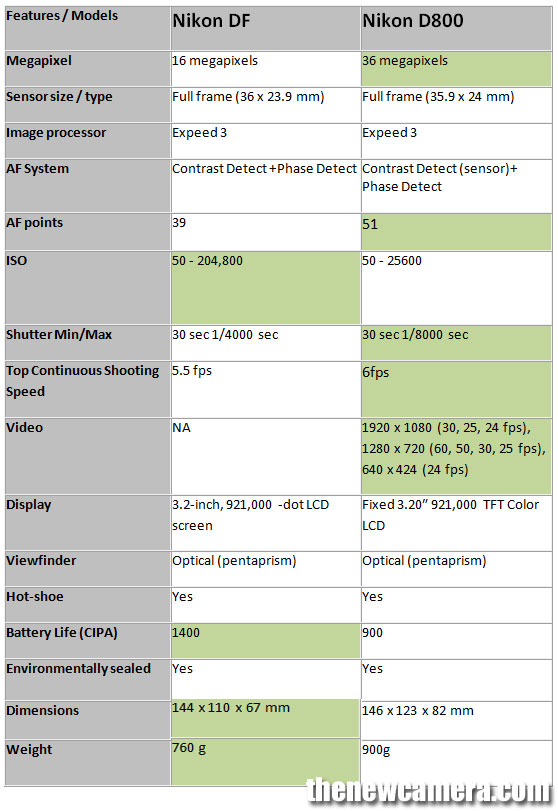 Major difference between these two camera
# 1  Sensor – Both camera features same sensor size but Nikon DF comes with 16 Megapixel FX format sensor with a amazing ISO range of 50 – 204,800 – on the other hand Nikon D800 features 36 Megapixel resolution FX format sensor with a limited ISO range of 50-25600. Nikon DF have large photodiodes compared to D800 and will perform better in low-light condition.
# 2 AF System: Nikon DF features 39-Point and uses Multi-CAM 4800 AF Sensor on the other hand Nikon D800 comes with Advanced Multi-CAM 3500FX autofocus sensor with 51 AF points. It's no doubt that Nikon D800 is offering advance AF system at the same price-point.
#3 Shutter: You get bit better top continuous shooting speed with D800 (5.5 vs 6fps) and Nikon D800 also features better shutter range (1/4000 vs 1/8000).
#4 No Video in DF: Nikon DF is a spartan still camera and it will not record video according to Nikon, Nikon D800 record Full HD video @ 30fps.
# 5 others: Nikon DF have longer battery life and lightweight + small body compared to D800
#6 Price difference: Nikon DF available at $2746 and Nikon D800 available at $2796 [at the time of DF announcement]
Verdict: Nikon DF will give you cleaner RAW and JPEG files at High ISO, Nikon D800 gives you more resolution, advance AF system and Video modes. If you are a sill shooter only, I recommend you to buy Nikon DF DSLR.
Pre-order Black Nikon DF at B&H – Body Only ||  With 50mm Lens
Pre-order Silver Nikon DF at B&H – Body Only ||  With 50mm Lens