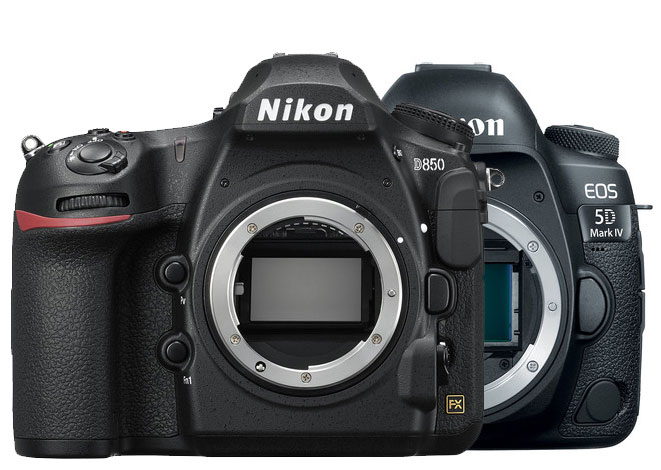 Specification comparison between Canon 5D Mark 4 and Nikon D850 camera
Nikon D850 camera latest  full frame camera for professional users features very impressive specification, the sensor of the camera uses BSI CMOS Technology. On the other side the Canon 5D Mark 4 camera features dual pixel CMOS AF sensor which enables Fast AF while shooting at Live view and video mode.
Nikon D850 vs Canon 5D Mark IV
Feature/Models
Nikon D850

Canon 5D Mark IV
Megapixel

45.75 megapixels



30.4 megapixels
Sensor size
Full frame (36 x 24 mm)
Full frame (36 x 24 mm)
Image processor

Expeed 5

Digic 6+
Low pass Filter
No
Yes
AF system
Contrast detect+ Phase detect
DPAF + Phase detect
Sensor Based AF
Contrast
Dual Pixel
Phase AF Module
153
61 points
ISO

64 – 102400

50-102400
Shutter speed
 

1/8000 to 30 sec

1/8000 to 30 sec

Image Stabilization
No
 No
Continuous shooting speed
 9fps

7fps

Video
4K @ 30fps
4K Video at 30 fps (4096 x 2160p)
Display

3.2″ 2.36m-Dot Touchscreen LCD Monitor

3.2″ 1.62m-Dot Touchscreen LCD Monitor
Hot shoe
 Yes
 Yes
Wireless
Built-in
Built-in
Environmentally sealed
Yes
Yes
Battery life
 1840
1200 shots
Weight
 915 g
800 

g

Size
 146.0 x 124.0 x 78.5
151 x 116 x 76 mm
Nikon D850 vs Canon 5D Mark IV
Nikon d850 camera features 47 Megapixel resolution Whereas the Canon 5D Mark 4 camera features at 30 MP sensor.
Most importantly you are getting more resolution inside Nikon body without sacrificing the low light performance of the camera.  Despite of having such insane amount of resolution the Nikon d850 camera BSI CMOS Sensor still manages to offer standard ISO sensitivity of ISO 64-25600 whereas in expandable sensitivity mode the camera can be boosted up to 32-102400. The Canon 5D Mark IV standard ISO range is 100-32000 and expandable ISO range goes upto 50-102400.
While looking at the max ISO range of both the camera and the type of technology used while developing the sensor we do expect that Nikon d850 camera will give better performance in low light condition. But at the same time we have to wait for the real world reviews before commenting on the image quality of the camera.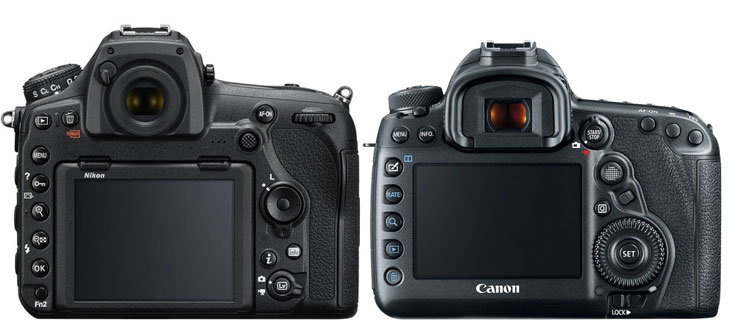 Autofocus
As we all know that the DSLR camera have two different auto-focusing sections
Viewfinder [Both system uses Phase AF Module and Nikon is more advance]
While using Live view or Video mode – Canon uses Dual pixel CMOS AF and Nikon D850 still uses the Contrast based AF System
As we all know that all DSLR camera uses two different styles of AF system.  while using the viewfinder the Phase autofocus system of the DSLR gets activated and in that particular section Nikon becomes extremely superior since it uses the 153-Point AF System of Nikon D5 camera so if you are Someone who likes using viewfinder than Nikon d80 camera is perfect for you.
If you have a habit of using display screen while shooting your subjects  then go with 5D Mark 4 Camera since it features dual pixel CMOS auto focusing system, system helps to track and lock subjects in no time.
Autofocus is the section where Nikon is lagging behind continuously,  I wish Nikon also implemented some kind of hybrid sensor Technology inside the newly announced Nikon d850 camera.
Canon 5D Mark IV Deals – Get Camera Body with Free Accessories
Continuous shooting speed
The continuous shooting speed about the camera is 7 frames per second.,  but you have to keep in mind the resolution difference in both the camera (30 vs 47).  Canon 5D Mark IV is shooting 30 megapixels @ 7 frames per second whereas Nikon d850 camera shoots 47 megapixels @ 7 frames per second Who is directly indicates that the processor used inside the Nikon body is better compared to Canon.
When the battery grip is added  the continuous shooting speed on the Nikon d850 camera boosted up to 9 frames per second by maintaining the same resolution.
Dynamic range
The dynamic range of a camera is one of the most important thing for a photographer. We have already seen the performance of Nikon D810 camera which is still ranks as one of the best camera at DXO Lab with 14.8 score. And according to latest reports the Nikon D850 have same Dynamic range as of D810. That clearly indicates that Nikon  will going to lead in this category.
Video
Nikon d850 camera records video by utilising the entire sensor you can also say that it does a full pixel readout while creating a 4K video, But canon 5D Mark IV 4K video is created at 1.7 X crop mode. That means Canon is not utilising the potential of the 30 megapixel dual pixel CMOS sensor.
4 years from now the 5D series was known for its  cinema recording capability,  but now you can see a previously announced Canon 1dx mark 2 camera can record 4K videos @ 60 frames per second whereas the recently announced 5D Mark 4 camera does a 4K video at 1.7 X crop mode and remains limited to 30 frames per second.
it clearly indicates that Canon is pushing video features back in dslrs to save it EOS cinema series. That will not save EOS Cinema sales, it will end up loosing the DSLRs sale.
GPS
Nikon DSLRs doesn't have but Canon do have it, Travel photographers need GPS to catch the location with exif info.
Pricing
The price of the Nikon D850 is $200 less compared to Canon 5D Mark IV.
Conclusion
We recommend you to get Nikon since Nikon D850 camera features class leading core specification which is superior compared to Canon 5D Mark IV,  one major area where Nikon is lagging behind is Hybrid AF Support (also they don't have built in GPS). Canon 5D Mark IV features DPAF Sensor and light-weight compact body compared to D850.But at the end, I personally prefer image quality over Hybrid AF support.
Get Nikon D850 from Amazon | B&H
Canon EOS 5D Mark IV available at —-  Amazon.com | B&H Store — Also see – Best Lenses for Canon 5D Mark IV camera |