TNC Exclusive: Canon working on a very unique Lens Style Camera that features adjustable flange distance under a super-compact lens body.  It sounds very futuristic, but why Canon needs a variable flange distance- inside an Inter-changeable Lens-style Smart Camera? Maybe they are working to adapt various lenses of different mount system.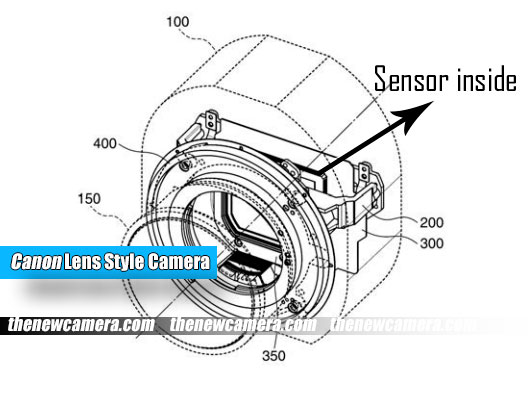 What about the throat diameter of EF/EF-S, EF-M, and RF Mount?
We know that Canon EF and EF-S have 54mm throat diameter and the EF-M mount has 47mm throat diameter and the newest addition RF mount also has 54mm throat diameter. So, not only adjustable flange distance? they also working on a Hybrid Mount to adapt all lenses.
Current Lens Mounts
Lens Mount
Flange Focal
Distance
throat diameter 
Canon EF-M
18.0mm
47mm
Canon RF
20.0mm
54mm
Canon EF
44.0mm
54mm

An Appater with adjustable flange and throat diameter?
As you can see in the image the lens-style camera contact with lens adapter with the help of contact pins and spacer in between them. The Lens style camera will give you the freedom to choose to use any Canon lens you have.
Patent Details (Translated)
Application JPxxxxxxxx7A events  – 2019-04-01
Application filed by, Canon Inc – 2019-04-01
Priority to JPxxxxxxxxx7A -2019-004-08
Publication of JPxxxxxxxxxxx4A
Status – Pending
An interchangeable lens 150 is detachably mounted via a lens adapter 400 on the front side of a digital camera 100 (hereinafter referred to as camera 100) according to the present embodiment. The camera 100 includes an image sensor unit 300, an image sensor protection unit 350, and a fixed unit 200.
 By interposing a spacer between the fixing portions 222a to 222c and the image sensor unit 300, the flange back can be adjusted. The flange back is defined for each type of lens adapter. In the present embodiment, the imaging of the image sensor 310 of the image sensor unit 300 from the mount portion 411 (see FIG. 8A) of the fixed mount member 410 described later is performed. This is the distance to the surface 311.
We will update you soon as we get any new information.
Get LIVE RUMORS –> FACEBOOK | TWITTER |  INSTAGRAM to get live news + Canon rumors 24X7