We are doing a specification comparison here take a look at the major difference between both the camera…
Major Difference
Canon PowerShot G3 X vs. Sony Cyber-shot DSC-RX10 II Specification Comparison Table.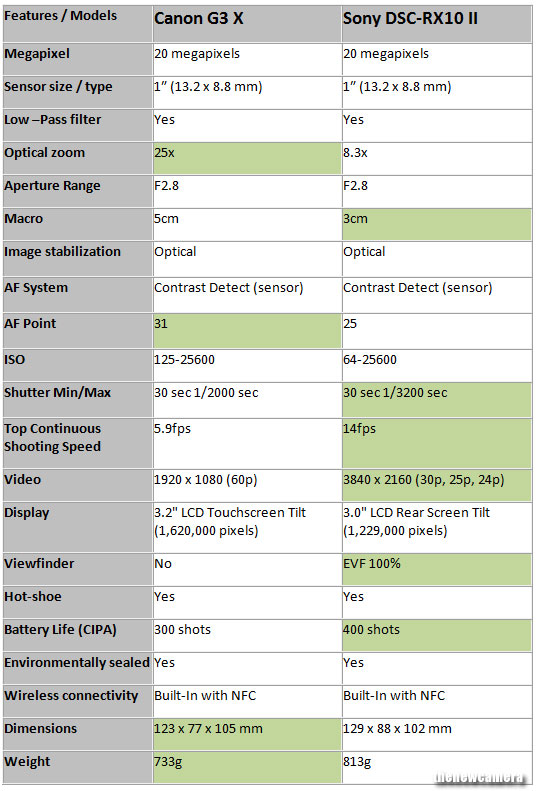 Sensor: Both the camera features almost same sensor and same resolution but the technologies inside the sensor is different, the Sony RX10 uses Exmor RS BSI CMOS sensor and on the other hand the Canon uses CMOS sensor (of RX100 M3 camera).
with the help a new sensor's design that utilizes a stacked CMOS image sensor with a DRAM chip and backside-illuminated technology, the RX10 will sure give you neat image (without noise at higher ISO settings).
Lens: The Canon G3X have 25X Optical zoom and RX10 is limited to 8.3X optical zoom only, the major advtange of the RX10 camera is constant aperture range of the camera, the RX10 offers you fixed F2.8 aperture throught the zoom range on the other hand the Canon 25X optical zoom lens have variable aperture starting from 2.8-5.6, the constant aperture will sure give you more DOF in RX10 images when used at longer focal length compared to Canon.
The Sony RX10 features better close-up range compared to the Canon G3X (5cm vs 3cm), a better macro mode allow you to go more closer to the subject with losing the focus of the camera.
 Auto focus system: Both the camera features same contrast based AF system, however the Canon have more dense AF points compared to Sony.
Continuous shooting speed: Despite of having same resolution as of G3X camera the Sony RX10 features blazing fast continuous shooting speed of 14fps on the other hand the Canon G3X camera is limited to 5.5fps only,
Thanks to the introduction of DRAM chip is integrated into the sensor, and combined with the BINOZ X processor, it allows for fast readout speeds directly from the sensor, with the help of the new technology the burst shooting touched a new height of up to 14 fps, and now you can use maximum physical shutter speed of 1/3200 sec and a maximum electronic shutter speed of 1/32000 sec.
 4K Video: The RX10 can shoot 4K (30/24fps) videos Up to 29 Minutes, the Canon G3X is limited to Full HD (60p) video mode only… while recording the videos you can use the full optical zoom and fulltime AF support of both the camera.
Verdict: From specification comparison review it is very clear that Canon G3X is offering us more optical zoom lens on the other hand the Sony RX10 II features bright optical zoom lens with F2.8 aperture, that will give us better color and contrast with more DOF when used at longer focal length, the camera also features newly developed DRAM memory (buffer) Chip on the rear side of the sensor to increase the data transfer speed exponentially that help to to achieve continuous shooting speed of 15fps and also able capture 4K without an issue.

We highly recommend you to go with Sony RX10 II, It's and all-rounder camera and recommend for still and video shooters and if you are a still shooter and need more zoom lens and DOF / continuous shooting speed isn't a issue for than you should go with Canon G3X
Buy Canon G3X from Amazon | B&H