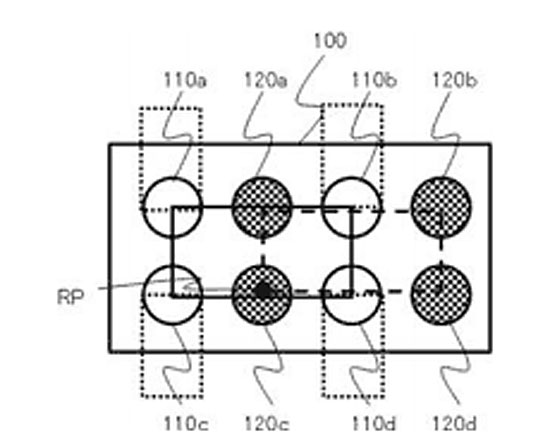 After Nikon, Canon also started it's work on the a Multi-Aperture Computational Camera. Before we begin you must know that the concept is not new and Light16 camera is a live example of Multi-Aperture Computational Camera. The entire modules of the camera are connected and each set of (2 or 3) modules are set at particular focal length with fixed aperture.  A compound eye camera can generate high resolution image, can produce one click HDR image and will give you very-high dynamic range.
Canon Patent Details
Patent Publication No. 2016-142947

Published 2016.8.8
Filing date 2015.2.3

Example 1 Wide

Focal length 5.20
F-number 2.88
Half angle of 36.69
The image height 3.88
Overall length of the lens 17.91
BF 3.06

Example 1 Tele

Focal length 23.00
F-number 5.60
Half angle of 9.56
The image height 3.88
Overall length of the lens 20.86
BF 2.00

Canon patent

A plurality of optical systems for different focal lengths
Combining an optical system is not the bending and bending optical system
Folding direction of the optical path of the bending optical system outside
Thinning using a bending optical system at the telephoto system
Camera company should do some innovate work to replace traditional compacts and bring something extraordinary new tech. that will excel the digital photography to a new level.
---
Also see
Nikon Working on Multi-Aperture Computational Camera
Light L16 – A true DSLR killer Finally Arrived
---
source – egmai