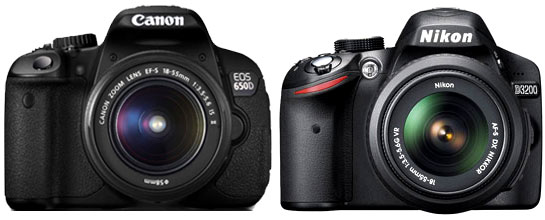 Nikon D3200 vs. Canon 650D, both are new and comes with a huge bundle of features, which DSLR is best for you and why? read our specification comparison review below and share your thoughts with us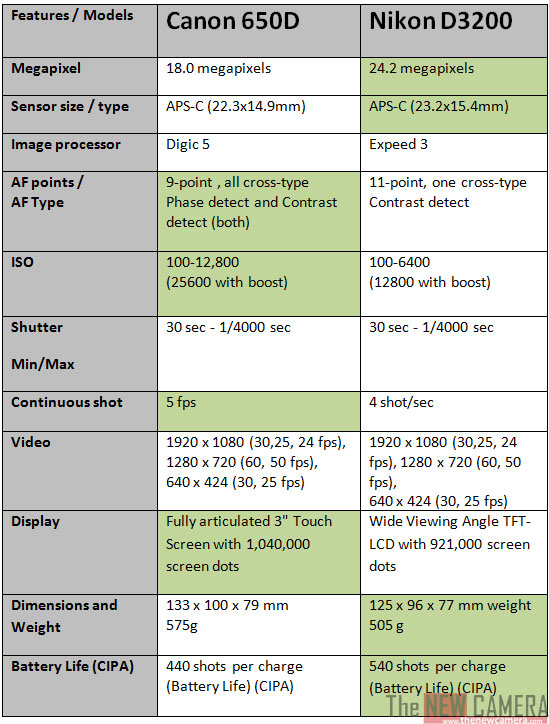 Nikon D3200 features 24.4 Mp CMOS sensor, Canon 650D uses 18MP APS-C Hybrid CMOS sensor, so with Nikon D3200 you get more megapixel

Nikon D3200 uses conventional contrast detect AF system for still and video shooting, whereas with Canon 650D uses Hybrid phase and contrast detection AF system, enables faster and more precise autofocus for Still and Video shooting, Canon 650D also offers Touch Focus and Touch Click Technology.
Image Processor: The Nikon D3200 comes with the new Expeed 3 image processor, with the help of new image processor you get 4fps speed with 650D you get Continuous shooting  speed up to 5 fps.
ISO: Nikon D3200 standard ISO range is limited to 6400, with canon 650D you get standard ISO range up to 12800.
Video: Both Canon 650D and Nikon D3200 features improved video mode, you get Full HD recording @ 30,25, 24 fps and HD recording 60, 50 fps, both camera features Full Time AF mode during video recording.
Display: Canon 650D features better display system with touch screen, with 650D you get Fully articulated 3″ Touch Screen with 1,040,000 screen dots , Nikon D3200 have 3″ fixed display unit with 921,000 screen dots.
Battery life, weight and dimension of Nikon D3200 is almost same as Nikon D3100.
Size and shape: Canon 650D bit heavier and approx 10% bigger than Nikon D3200
Price factor: For Canon 650D you have to pay $200+, Nikon D3200 is bit more affordable compared to Canon 650D.
New Features in Both the Camera
---
Nikon D3200 : WU-1a Wireless Mobile Adapter , for remote shooting and sharing files.
with the help of new WU-1a Wireless Mobile Adapter you can share your images with your android Smartphone and Tablet, the WU-1a Wireless  Mobile Adapter  also features remote shooting function with live-view display, It helps you to capture your image from a distance. Compatible OSs: Android 2.3 series (smartphone); Android 3.x series (tablet)
---
Canon 650D: Improved Imaging Performance Features: The EOS 650D helps photographers capture great images and video, even in low-light with a range of new performance features:
Handheld Night Scene mode
HDR Backlight Control mode
Multi-Shot Noise Reduction
Handheld Night Scene and Multi-Shot Noise Reduction captures 4 images rapidly and combine them into one blur and noise free image.
HDR Backlight Control captures images at three different exposures – under, correctly, and over-exposed – and combining them into one HDR image displaying both highlight and shadow detail.
Video snap-shot mode captures clips of 2, 4 and 8 sec and combine them to make snapshot movie.
Touch screen with 650D: For the first time canon Rebel comes with touch display, EOS controls are integrated into an intuitive 3-inch Vari-Angle Clear View LCD II Touch Screen Monitor
---
Conclusion: Read our conclusion and share your thoughts with us


Buy Nikon D3200 if you want affordable DSLR with more megapixel and advance sharing features.

Buy Canon 650D if you want advance AF system, more standard ISO range, Touch screen vari-angle display and in-camera HDR and Mutli-Frame NR modes.