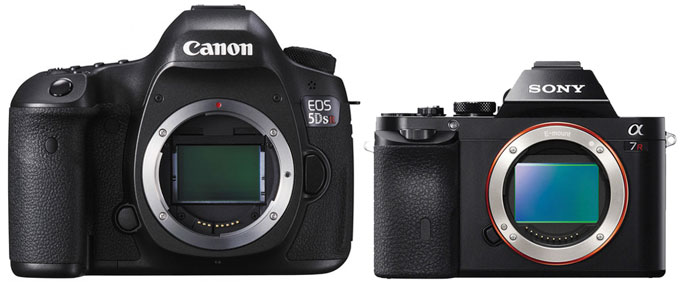 Both camera are megapixel monsters, the 5DS R announced shortly and its shipping will start soon on the other hand the Sony A7R is a year old camera.
Major Difference
Canon EOS 5DS R vs. Sony Alpha 7R Specification Comparison Table.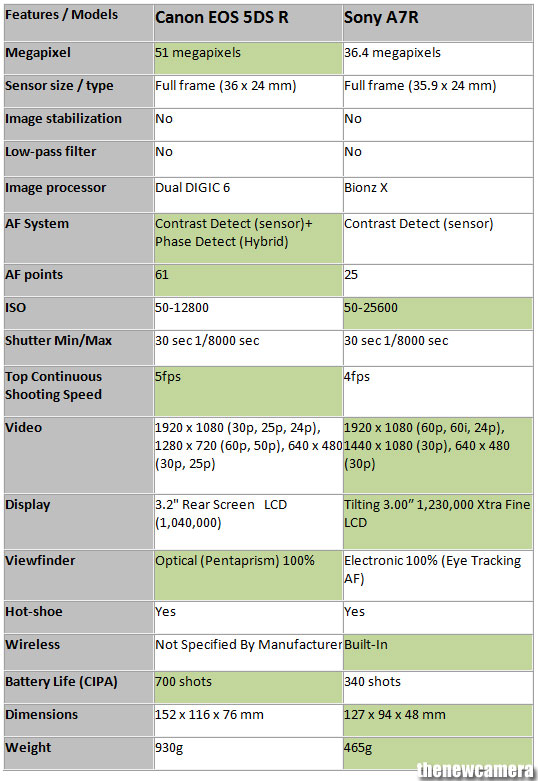 Sensor: The 5DS R camera features super high resolution fullframe sensor developed by Canon itself, the Sony A7R features 36MP sensor, so if you are a commercial photographer and need more resolution.. you must go with Canon 5DSR
AF system: The Canon 5DS R features advance AF system compared to the Sony A7R.
The Canon 5DSR features Phase+Contrast based AF system, while you are using the viewfinder the Phase AF system is active and when using the display for still shots or video recording , contrast detect AF system is active. Now if we talk about the phase AF module of Canon 5DS R, it is a 61-point High Density Reticular AF system with up to 41 cross-type AF points, the phase AF system of Canon is blazing fast and acquire AF to quick despite of lighting condition.
The Sony A7R features contrast detect AF system, hence without doubt the Sony A7R contrast detect system is bit weak compared to Canon 5DS R camera.
ISO range: The ISO range of the Canon 5DS R camera is limited to 12800 due to intense resolution, the Sony can move forward to one-stop more .. that's upto 25600, so Sony will sure give you bit better low light images with less details compared to 5DS R (due to difference in resolution)
Top Continuous shooting speed: The Dual digic 6 image processor of the Canon 5DS R is tooo fast compared to the Sony Bionz X R image processor, the 5DS Can record 50MP of still images @ 5 fps per second and Sony A7R can record 36MP of images at 4fps per second.
Display: The display screen of Sony A7R has 3.0″ Tiltable TFT LCD with 1,229K-Dots whereas Canon EOS 5DS R has 3.2″ 1,040K-Dot ClearView II LCD Monitor. The 5DS R camera features better display unit compared to A7 R.
Battery life: By charging battery for single time you shoot 700 images through Canon EOS 5DS R which is not possible in case of Sony A7R, since it is limited to 340 images.
Wireless: The in built WiFi and NFC feature only exists in Sony A7R camera but you cannot enjoy this these features in Canon EOS 5DS R. By help of wireless connectivity you can easily attach your camera with smartphone or transfer you image to smart devices wirelessly.
Price difference: The Canon 5DS R camera will cost you approx $3,899.00 and Sony A7R will cost your approx $2,298.00, you will save approx $1600 is you buy Sony A7R.
Weight: The weight of Sony A7R is light weight as compared to Canon EOS 5DS R. If you see in above table the weight of Sony A7R is only 465 gram whereas weight of Canon EOS 5DS R has 930 gram. So it is very handy to carry Sony A7R in your hand.
Verdict: Canon 5DS R features more resolution, advance phase detect AF system and fast continuous shooting speed and bunch of high R quality lenses to choose from, we highly recommend you to buy Canon 5DS R camera.
Sony A7r from Amazon | B&H || Buy Canon 5DS R from Amazon | B&H