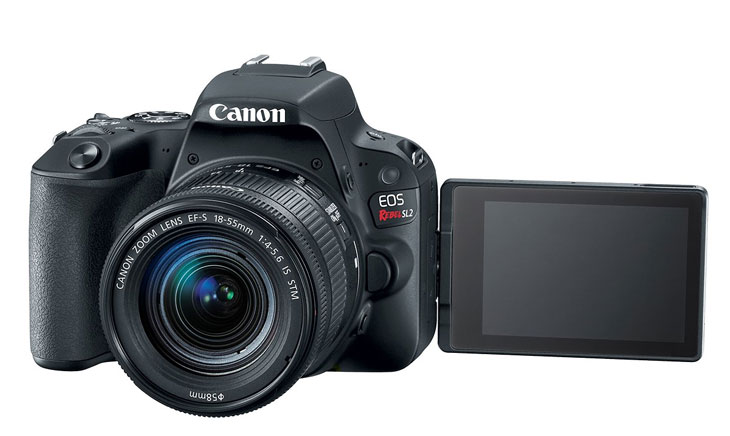 Buy Canon SL2 camera from B&H | Amazon
Along with Canon 6D mark 2 camera canon also announced World's smallest DSLR SL2 / 200D. We are now  talking about the specification of the camera the camera, it features a newly developed 24 megapixel CMOS sensor that also have dual pixel CMOS autofocusing Technology inside it.
Adding dual pixel CMOS if technology is a massive upgrade compared to its predecessor, but at same time one of the most disappointing thing that people will going to notice in the new DSLR is the Phase auto focusing system of 200D remains same compared to its predecessor, it only carries 9 Point Phase AF module.
The continuous shooting speed of the camera is upto 5 frames / sec (up to about 3.5 frames / sec when servo AF is set for Live View shooting.
The Canon SL2 camera features ISO range starting from ISO 100 and that goes up to 51200. The standard ISO range of the camera remains Limited 25600. With addition of new sensor as well as new Digic7 image processor we do expect a better low-light performance and dynamic range compared to its predecessor and other entry level DSLR present in the market.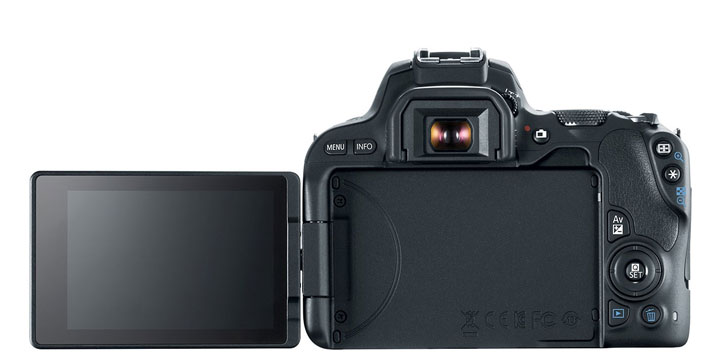 The camera remains limited to full HD video, but this camera can do blazing fast auto focusing while recording a video thanks to the help of dual pixel CMOS Technology inside it.
The new camera features advanced connectivity features built in Wi-Fi, NFC as well as Bluetooth installed, so you can do wireless shooting and you can share your image files without any issues. .
Buy Canon SL2 camera from B&H | Amazon
Press Release
CANON U.S.A. CELEBRATES NATIONAL CAMERA DAY WITH THE ANNOUNCEMENT OF TWO NEW DSLR CAMERAS
EOS 6D Mark II and EOS Rebel SL2 DSLR Cameras Provide Photographers with Improved Features over Predecessors
MELVILLE, N.Y., June 29, 2017 – In celebration of the innovation behind today's generation of high-quality digital SLR cameras on National Camera Day, Canon U.S.A. Inc., a leader in digital imaging solutions, is excited to announce the new EOS 6D Mark II and EOS Rebel SL2 DSLR cameras designed for advanced-amateur and entry-level photographers, respectively. The EOS 6D Mark II camera is ideal for budding photographers looking to take their creative DSLR photography skills to the next level by shooting with a Full-frame CMOS sensor DSLR camera to capture beautiful high-quality portraits and striking landscapes, even in low-light situations. The EOS Rebel SL2 is a small, light, and compact camera with high-performance capability that allows users to get creative when capturing their special family moments or travel experiences.
"It seems fitting that today, a day set aside to commemorate the invention of a tool that forever changed how we view the world, we introduce two new DSLR cameras to the Canon family," said Yuichi Ishizuka, president and COO, Canon U.S.A. "In an industry where choices are abundant, providing consumers with the photographic tools that match their developing skill levels as they continue to embrace their passion for photography is a long-standing goal of Canon and stands at the core of our research and development. The new EOS 6D Mark II and EOS Rebel SL2 DSLR cameras are the result of Canon's dedication to providing a wide range of camera choices for photographers of all skill levels, whether it's someone taking their first picture or video with a DSLR camera or those looking to make the jump to a Full-Frame sensor camera."
"After just one day in Yellowstone National Park with the EOS 6D Mark II DSLR Camera, it was clear that the camera is greatly improved over its predecessor," said acclaimed nature photographer and Canon Explorer of Light Adam Jones. " Landscape and nature photographers will be very happy. The new and improved autofocus is way ahead of the previous generation and performed extremely well, even in very low-light situations."
EOS 6D Mark II DSLR Camera
Designed with enthusiast photographers in mind, Canon's popular and versatile EOS 6D DSLR camera historically served to bridge the gap between Canon's higher-end APS-C DLSRs and Full-Frame DSLR cameras. The EOS 6D Mark II DSLR camera features several enhancements over its predecessor model, and its benefits include:
26.2 Megapixel Full-frame CMOS Sensor
Optical Viewfinder with a 45-point All Cross-type AF System1
Dual Pixel CMOS AF with Phase-detection & Full HD 60p
DIGIC 7 Image Processor, ISO 100-40000
Vari-angle Touch Screen, 3.0-inch LCD
Built-in Wi-Fi®2, NFC3, Bluetooth®4 and GPS technology
High-speed Continuous Shooting at up to 6.5 fps
Dust- & Water-resistant
EOS Rebel SL2 DSLR Camera
Stepping up from a smartphone or point-and-shoot camera for photography can be intimidating. With the introduction of the new EOS Rebel SL2, a powerful, small, and lightweight DSLR camera, Canon hopes to alleviate some of those concerns for first-time DSLR users.
This small yet powerful camera features the world's fastest AF speed* at 0.03 seconds, allowing for quick focusing on subjects in the frame. When designing the new EOS Rebel SL2 camera, Canon took into consideration feedback from entry-level photographers who expressed interest in learning how to go beyond a camera's program mode. The result was the creation of a convenient new user interface called Feature Assistant. With the EOS Rebel SL2 camera, users will be able to see on the camera's Vari-angle Touch Screen how switching modes on the mode dial or tweaking camera settings like aperture and exposure compensation can alter the image they are about to capture, thus guiding photographers on their way to capturing more compelling images, such as ones with a shallow depth-of-field or being able to give moving subjects a frozen or flowing look.
The EOS Rebel SL2 DSLR camera features several other enhancements over its predecessor model, the EOS Rebel SL1, including:
24.2 Megapixel CMOS (APS-C) Sensor
Dual Pixel CMOS AF
3.0-inch Vari-Angle LCD Touch-Screen
Built-in Wi-Fi®2, NFC3 and Bluetooth®4 Technology
Full HD 60p & External Microphone Input
DIGIC 7 Image Processor, ISO 100-25600
Optical Viewfinder with a 9-point AF System
Feature Assistant
Small and Lightweight Body
Pricing and Availability
The EOS 6D Mark II DSLR camera is scheduled to be available in late July 2017 for an estimated retail price of $1,999.00 for body only, $3,099.00 with the Canon EF 24-105mm f/4L IS USM II lens and $2,599.00 with the Canon EF 24-105mm f/3.5-5.6 STM lens**. In addition the EOS Rebel SL2 is scheduled to be available in late July 2017 for a retail price of $549.99 for body only and $699.99 with the Canon EF-S 18-55m f/4-5.6 IS STM lens**. For more information please visit usa.canon.com.