Just few days ago we have published a report that Canon "Canon Profit Down – Lowered its annual sales forecast " and similarly according to a article published at nikonrumor.com Nikon cuts yearly forecasts after getting reports of lower sales percentage and income in the first quarter of the year.
The big problem – Better & affordable alternatives available , Canikon already lost the compact camera market share after the introduction of high quality camera smartphones, now they are losing the DSLR market share too…
After the announcement of bunch of A7 series and other mirrorless camera photographers got a lot of option against DSLR, yes they lack of high quality lenses like Canon or Nikon…
Affordable & High Quality Alternatives of Cannikon

You can look at the image above, the Sony A7s features low-light sensitivity upto 409600 and 4K video recording option also available (with Full pixel readout)… and for all these features you have to pay 2 time less money than 1DX or D4s.

Canon 5D Mark III, Nikon D810 and Sony A7R are mid range Fullframe DSLRs.. But the Sony A7R provides a excellent option under affordable price point…. BTW Nikon D810 uses same sensor as of Sony A7R

Canon 6D and Nikon D610 are excellent entry level Fullframe camera, but Sony A7 gives you 179 AF point based Hybrid AF system that quickly acquire AF during any type of lighting condition .
APS-C DSLR vs Mirrorless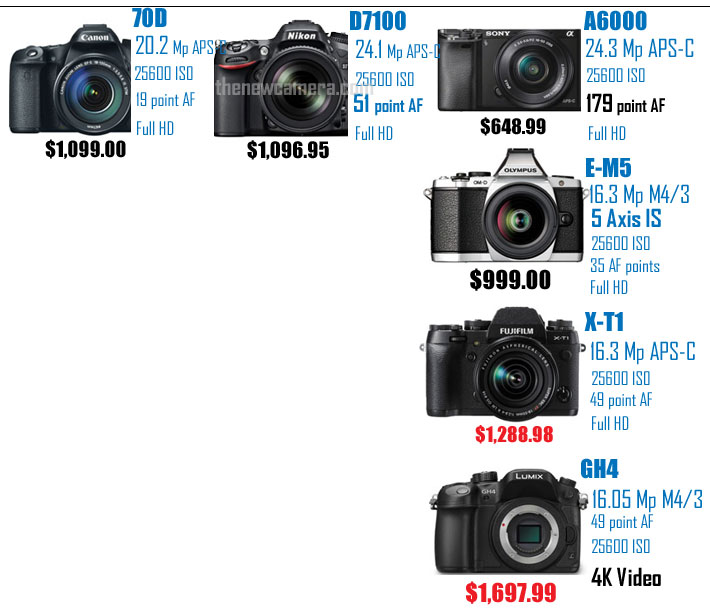 High-End APS-C DSLRs Buyers got many options now – Sony A6000 features world fastest AF, Olympus OMD E-M5 is a excellent compact M4/3 camera with 5-axis image stabilization system and extensive manual controls, +1 you also got many high quality M4/3 lenses to choose from, Fujifilm X-T1 AF system and image quality both are better than 70D and Nikon D7100.. Panasonic GH4 will give 4K recording option…
Other alternatives of DSLRs
| | | |
| --- | --- | --- |
|  Pentax 645Z | Sony RX1 / R |  Fujifilm X100S |
 Go Medium Format – Pentax 645Z cost is $1 to $2k more than Canon 1DX and Nikon D4s, but you get medium format sensor with Pentax 645Z camera.
No Space for secondary DSLR – High End compacts grabbing the DSLRs sales – the Sony RX1/R fullrame compact, APS-C sensor based Fujifilm X100S, DP2 Quattro and Ricoh GR…. also attracted many professional shooters and grabbed the place of secondary DSLR or as a backup camera in their bag.
| | | |
| --- | --- | --- |
|  dp2 Quattro | Ricoh GR |  Nikon Coolpix A |
other camera attracting DSLRs users are Sony RX10, Panasonic FZ1000 and RX100M3…
Canon and Nikon not changing with the change in market demand, people now need more light-weight, compact and affordable solution now.