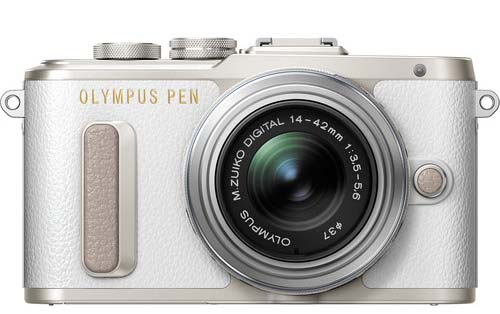 Buy E-PL8 camera from Amazon | B&H Store
Olympus E-PL8 entry level camera arrived with FAST Autofocus and 3-Axis In-Body VCM, the camera uses a 16 MP Live MOS sensor to deliver stunning image and its also have high end core specification compared to entry level cameras of its class.
Major features at glance
16.1MP Live MOS Sensor
TruePic VII Image Processor
3.0″ 1.04m-Dot 180° Flip Touchscreen
Full HD Video Recording at 30 fps
Built-In Wi-Fi Connectivity
81-Area FAST AF with Small Target AF
Up to 8.5 fps Shooting and ISO 25600
3-Axis In-Body VCM Image Stabilization
Enhanced Selfie Modes and Controls
Olympus E-PL8 Press Release
Olympus Corporation (President: Hiroyuki Sasa) is pleased to announce the new Micro Four Thirds System standard Compact System Camera, Olympus PEN E-PL8, scheduled to go on sale in the end of November, 2016. This model features a sophisticated design, selfie functions, smartphone connectivity, and a wide range of shooting functions that expands the possibility of photographic expressions.
Main Features
A premium PEN design, simple and sophisticated
Flip-down monitor and creative shooting functions for enjoyable Touch Selfies in still images and movies
Built-in Wi-Fi enables smartphone connectivity for transferring and sharing images as well as remote shooting
Clips and Art Filter Movie provide enhanced movie recording
Excellent basic performance provides SLR image quality
Sales Outline
Category
Product Name
MSRP
Launch Date
Micro Four Thirds System
standard interchangeable
lens camera
Olympus PEN E-PL8 body
(White/Black/Brown)
Open price
Announced
Olympus PEN E-PL8 14-42mm EZ Lens Kit
Body (White/Black/Brown)
+ M.Zuiko Digital ED 14-42mm f/3.5-5.6 EZ*1
Olympus PEN E-PL8 EZ Double Zoom Kit
Body (White/Black/Brown)
+ M.Zuiko Digital ED 14-42mm f/3.5-5.6 EZ*1
+ M. Zuiko Digital ED 40-150mm f/4.0-5.6 R*1
| | |
| --- | --- |
| *1 | When the camera body is white or brown, the lens color is silver, and when the camera body is black, the lens is also black. |
The Olympus PEN E-PL8 offers premium design inherited from the PEN series, enhanced selfie functions and a wide range of creative shooting features that provides complete freedom of photographic expression. These features can be used not only with still images, but also with movies, which have shown increasing popularity on social networks in recent years.
With excellent photo and video image quality that can only be provided by an interchangeable lens camera, and smartphone connectivity that lets you share your images then and there, the PEN delivers an experience that people have come to expect from photography today.
This interchangeable lens system camera will ensure to satisfy a variety of needs, for those that enjoy taking the camera along, shooting, viewing, and sharing.
We will continue to enhance our lineup of Compact System Cameras and related equipment, to create and expand new markets to meet new photographic trends.
Main Features Details
1. A premium PEN design, simple and sophisticated
The Olympus PEN series is highly regarded for its compact and lightweight body, excellent operability and premium design. The E-PL8 carries on the features of Olympus PEN series, with a sophisticated design that makes the camera as a fashion item.
Soft, modern body lines are incorporated into the form with a rounded shape that fits perfectly in the hand. The embossed Olympus PEN logo*2, alumite finish on the upper part of the body, and metal dials show an absolute commitment to detail.
The front of the body features synthetic leather and carefully selected patterned finishes for each color option. The bundled strap and the colors of triangular split ring cover are new to match the body color*3 for a truly unified feel.
The camera body is available in three colors; white, black, and brown. The white presents a stylish feel with its contrast with beige. The black gives a traditional camera look with its silver and black combination. And the brown provides a relaxed, vintage feel to the camera by adding an accent in your fashion. The colors help you to pick the camera that best suits your style.
2. A flip-down monitor and creative shooting functions for enjoyable Touch Selfies in still images and movies
Selfies, which have become a staple shooting style in recent years, can now be enjoyed as both still images and movies with full-touch operations like using a smartphone.
A wide range of shooting functions provides high quality selfies with a unique style of expressions.
1) Flip-down touch panel monitor
This model is equipped with a large, high definition touch panel monitor that rotates 180 degree downward. A flip-down monitor enables touch operations easier without worrying about getting your finger in the shot. The grip on the front of the camera makes selfie shooting more comfortable, where your fingers will rest easily to hold the camera.
The optional Fisheye Body Cap Lens, BCL-0980 (9mm f/8.0 Fisheye) can be used to capture selfies while keeping the whole background in the shot. This lens is suitable for group photos and capturing the landscape in selfies when traveling.
2) Selfie mode
When the monitor flips down, the Selfie mode is activated and the image shown on the monitor automatically turns into a mirror display. In addition to the e-Portrait button*4, shutter release, Custom self-timer, brightness adjustment*5, Clips and movie recording buttons have been added to the monitor display for a variety of touch operations.
A new Selfie mode for movie is added on the E-PL8. This new mode makes recording Selfie Movies smoother and displays movie effect button as well as a movie recording button, brightness adjustment button, and Clips button.
The shutter release button is designed to capture a photo one second after being touched so you can shift your eyes from your finger to the lens for better selfies. e-Portrait makes skin look smoother in photos. When an electronic zoom lens is attached to the camera, it automatically switches the zoom to a wide-angle setting*6 for quick selfie shooting at the optimal wide angle.
3) Creative shooting functions
Art Filter can also be used with selfies for adding expanded expressions. You can check the effects in Live View while selecting filters for shots that perfectly fit your image. Art Filter options can also be applied to each frame*7 in Photo Story, a feature that lets you combine multiple shots into a single image, for more variety of expressions.
You can also change the aspect ratio for selfies that look exactly the way you want.
3. Built-in Wi-Fi enables smartphone connectivity for transferring and sharing images as well as remote shooting
The built-in Wi-Fi and dedicated Olympus Image Share (OI.Share) smartphone app let you wirelessly connect the camera and smartphone for instantly sharing high quality images captured with the E-PL8 on social networks. Avoid troublesome initial settings by simply scanning the QR code that appears on the camera monitor with your smartphone to complete connection settings with a few easy steps.
Remote shooting is also available using your smartphone as a remote control. You can check on the screen of your smartphone to capture the best shot.
4. Clips and Art Filter Movie provide enhanced movie recording
In addition to photos, in recent years, the number of movies posted to social networks has increased. To meet this need of the market, the E-PL8 is equipped with enhanced movie recording features.
1) Clips
This feature combines multiple short movies and adds background music and effects to create a single movie. With this, you can easily turn everyday scenes into impressive short movies. You can also download and add background music to suit your tastes*8.
2) Art Filter Movie
Art Filters are also available on movies, the same way as with still images. Everyday scenes and precious moments can be captured with an artistic finish in movies as a lasting memory.
3) Movie Effect
Four different Movie Effects can be applied to movies. Old Film effect lets you record video that looks like an antique film, and Art Fade effect provides smooth transitions from one effect to another.
5. Excellent basic performance provides SLR image quality
A high image quality inherited from the OM-D series interchangeable lens camera is achieved for quality and performance that satisfies professional needs.
The 16.05 megapixel Live MOS sensor retains details in shadow and faithfully represents night scenes and dark indoor scenes. The wide dynamic range and smooth expressions of gradation beautifully captures high contrast scenes well.
The same TruePic VII image processor used in the Olympus' flagship model the OM-D E-M1 is used in this model. It brings out the best of the excellent optical performance and quality of the M.Zuiko Digital lens for high resolution and vivid color reproduction.
The powerful VCM in-body Image Stabilization makes it possible to capture sharp image quality with minimal camera shakes in night scenes and dark indoor shots.
You can also enjoy the beautiful background defocusing effects in portraits.
Other Features
iAUTO makes shots beautiful simply by pressing the shutter release button
Live Guide lets you capture photos exactly as you imagine with easy-to-understand on-screen displays
Live Composite lets you capture impressive trails of light
Fast AF instantly focuses when you touch the monitor
8.5 fps*9 high-speed sequential shooting
Quick Start Guide is bundled so you can start shooting immediately even if you are a beginner.