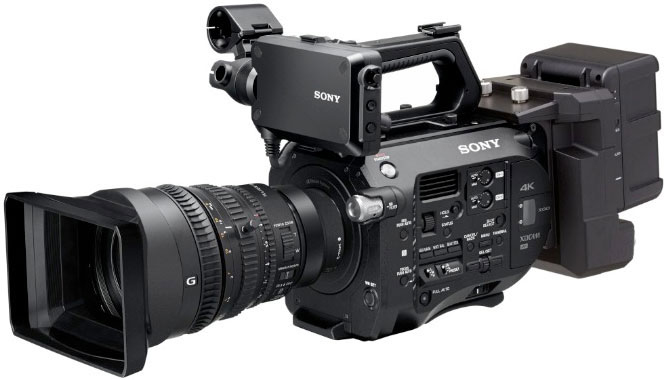 Sony has manufactured yet another 4K video camera. In and ever crowed and competitively priced market, Sony has finally made a sub $10,000 interchangeable lens, ASP-C 4Kinternally recordable camera. However, it seems like Sony may be late to the dance. There are some great features on this camera, which we will look at later in this article. However,what Sony does not get at times is the more forward thinking manufactures who are new tothe dance and are delivering democratization of cinema in droves, where Sony is still stuck, in some ways, in a twentieth-century, their hand in your proprietary-pocket paradigm. If we compare this camera and its proprietary nature to the competition, this camera fails to deliver in some areas, but excitingly delivers in others.
Sony's first affordable 4K option was the FS700. A very good and viable option for a my riadof video applications, the FS700, however, did not shoot 4K video internally. It came with a price tag of $7,699, which was for HD only. In order to shoot 4K video, one need to spendan additional $5,350 dollars to purchase Sony's proprietary recorder called the AXS-R5.The total set back for acquiring 4K video less lens was $13,049. In addition to that, a firmware update was needed (at a cost) and a Sony proprietary v-lock battery to run the recording unit.
There are four well-known manufacturers, which made external recorders: AJA, Atomos,Blackmagic and Convergent Design. Two of which have taken their expertise with videodata recording and parlayed that expertise and technology into sub $10,000, professional4K video cameras. The first of which is the AJA Cion. The Cion retails for $8995 and is completely vacant of proprietary connectors. This camera is light (about 6lb) and balances nicely on your shoulder. It also comes with a PL mount for professional glass applications.Two XLR inputs for audio as well as either V-mount or Anton Bower mount depending onyour battery needs. It also shoots 4K video internally to removable solid-state drives.
The Blackmagic URSA (A Detailed Look – Blackmagic URSA and CFast Cards) , on the other hand retails for a little less. The Blackmagic URSAretails for between $5,995-$6495, depending on which lens mount option you choose. ThePL mount option is $500 more than the Canon mount, which gives one a nice variety of Cinema lensesa nd DSLR to use. The URSA, like the Cion, records 4K internally, thetrade off being less money for the URSA, more money for the recording media. Instead ofusing solid-state drives, the URSA uses CFast media, which is of compact flash linage. Theadvantage being, with CF media, you can record CinemaDNG RAW, a lossy compressed format with a 4:4:4 color space. The Solid state drives for the Cion can record a 4:4:4 colorspace in ProRes. The Blackmagic URSA also comes with a full HD 1920×1080 10.1-inchmonitor, which folds in flush the camera body when stowed. The Cion needs either anexternal monitor or electronic viewfinder solution—an accessory not included with thecamera.
Let us look at the Sony FS7. There are many features on the FS7 that are well thought outand value based for the consumer. The first of which is the electronic viewfinder. Similar tothe viewfinder solution first seen on Sony HD video cameras like the PMW-EX3, the view finder solution on the FS7 uses a small OLED monitor with a diopter and eyepiece for magnification. This is a very nice option, where in some other cameras in this class, most likely a third party solution is needed via an Alphatron, Zacuto or Cineroid EVF. Another feature of note on the FS7 is the stow able smart handgrip. This handgrip, reminiscent of theAaton LTR 54 and the XTR Prod, makes it easier to not only balance the camera, but also have start stop record, assignable buttons and zoom control. On the audio side, Sony has placed two XLR inputs neatly on the right hand side of the camera, facing toward the rear ofthe camera, thus is reminiscent of the Arri Amira. TheFS7 unlike its predecessor, the FS 700will shoot 4K internally via Sony legacy CODECS, however, if you want to shoot RAW or toan external recorder, Sony's proprietary monster rears its ugly head.
A further investigation into Sony's new 4K camera, the FS7, the lowdown. The first item ofnote is that the FS7, comes with a proprietary lens mount. Fitted with an E-mount, the FS7will only take Sony and a few Zeiss DSLR lenses, none of which have manual iris and hardstop focus control. However, that may change. As a kit option, or individually, Sony has anew lens, which has manual focus and aperture as well as a full auto feature. Called the FE-PZ, this lens has a generous 15x zoom range from 28-135mm, with a consistent maximum aperture throughout. Kit price was not available, however, this lens is available for individual purchase. Pricing according to B&H and Adorama is $2,499, a relative bargain for a manualfull-frame lens with zoom control. Because this lens is also a full-frame design, it is also aviable option for Sony's A7S Full-frame DSLR, which also can shoot 4K, via HDMI output toan external recorder. The drawback to this lens would be the moderate f-stop (f4) and lackof bokeh found with faster lenses.
Sony adds more proprietary devices. In addition to the above-mentioned items of glass,mounts, audio placement and multi-function handle, you need more accessories to shootcomfortably and professionally. The first item of note would be the fact that the FS7 doesnot rest comfortably and or ergonomically on one's shoulder. The size of the camera with lens is something in between an ENG camera and a camcorder. To accessorize this kit, youneed to purchase a shoulder pad and rail solution. This is especially evident when you add Sony's interface box, which allows you to export RAW video. The interface also has a battery solution, however, this is proprietary as well, taking a Sony v-lock. There are noother battery options like the ones available on the Blackmagic URSA and AJA Cion.Additionally, if you want to output RAW or ProRes files, youwould need to purchase the interfacebox accessory from Sony for around $2,000. This would allow you to connect Sony's own AXS–R5 orany of the other external recorders from AJA, Atomos, or Convergent Design. The FS7 records internally to Sony's XQD recording media, which has transfer rates (read/write) upto 180MB/s. These cards are reasonably priced with a 64gb card retailing for $298.95.
In a confluence of two former divergent paths, Sony's FS7 has made up a great deal ofground. Although not a perfect camera, it does make substantial inroads towards the Democratization of Cinema. For $8,000 you get a 4K camera, which can record 4Kinternally, a first for Sony at this price point. However, the camera is not without its flaws.Other manufacturers such as AJA and Blackmagic have very completive offerings—givingyou more professional features such as internal recording of 4:4:4 color space. Moreover,the lensing options for theses new comers covers a wider range of glass. Sony with its blinders on has focused its competitive gaze not on the new comers, but more on Canonand their C500, which retails for $19,999. With the FS7's ability to record higher bit rates with and more professionalCODEC options, Canon may be the real laggard in this race. Completion is good. It causeslegacy companies to rethink their business model and manufacturing paradigm and itcreates innovation from new companies willing to think beyond the status quo. As RED had done a decade ago, giving us the first 4K production camera, one of the legacy giants,Sony, has now awoken with a substantial new offering their own, the FS7.
About the Author: Thomas Cznarty is a lecturer at the State University of New York at New Paltz. Currently, he teaches in the Communication and Media department. He writes poetry, short fiction and screenplays. Thomas Cznarty is also a filmmaker and media producer with a strong background in film and television production.