Photokina is over and the biggest announcement of the show according to me is Fuji GFX50S (announcement page here). To compete against Fuji GF50S and to save DSLRs & Lenses sale they both should announce a Medium Format as well as Fullframe sensor based Mirrorless system cameras.
Losing battle ground silently

If you don't have a product then people will get it from a different manufacturers. If you want to get a fullframe mirrorless camera you have only one option – select a camera from Sony A7 series.  And If we want to get a Compact Medium format mirrorless camera then we have Hasselblad X1D or Fuji GFX 50S as option in our front.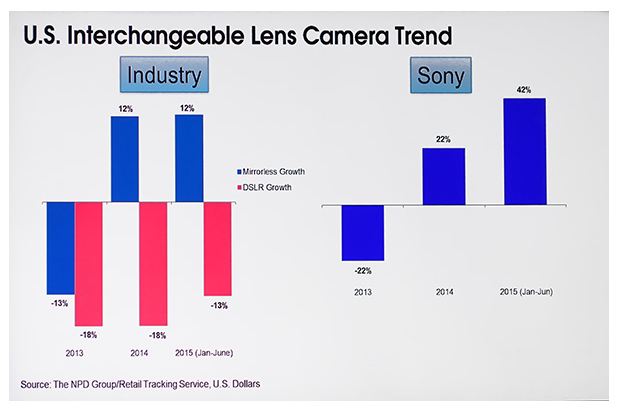 The the graph you see above clearly shows us how Sony emerged as the leader of Mirrorless camera industry. The stats taken from market research firm NPD. According to the research team Sony has emerged as the un-disputed #1 mirrorless camera maker for the last four years running.
Fact of the matter is Digital Camera do attracting more investors and young age photographers. Due to less availability of quality Mirrorless and Affordable options in CanNikon FF group user moving towards Sony and other third party manufactures.
Ignorance is bliss – Until you hit the ground
Nikon does have (only 1) Medium Format Lens Patents (See here –Article published at Sep 2013). And surprisingly Canon isn't interested in Medium Format. Again, Just like fullframe mirrorless market ruled by Sony. It's look like in upcoming years either Fuji, Hasselblad or Sony will take over the Medium format Mirrorless Market.
Do share you thoughts with us