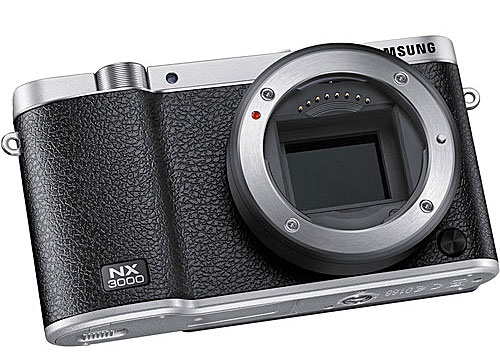 Samsung finally announced the long rumored NX3000 today, NX3000 is a entry level mirrorless camera from Samsung, the camera comes with a 20.3MP APS-C CMOS Sensor and thanks to the fast image processor you can shoot 20.3 MP full resolution images with 5fps of continuous shooting speed without any problem, the camera features ISO range of 100 to 25600, you can also record Full HD video @ 30 and 25 fps.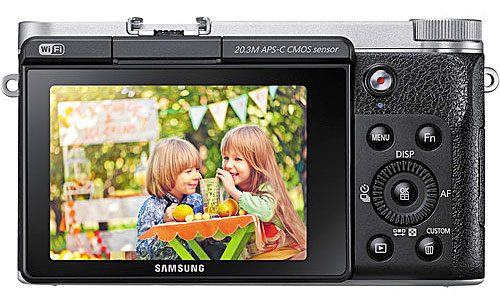 on the rear side we have a large 3.0″ 460.8k-Dot Tilting LCD Monitor that can move easily to take your selfi without any problem, you can share your images and video without any problem thanks to the NFC (Photo Beam feature) and WiFi available in Samsung NX3000.
The bundle / kit is included 20-50mm f/3.5-5.6 ED II lens and Lightroom 5, the price is approx $479.99 wuth kit lens.
Samsung NX3000 Press Release
Seoul, Korea – May 08, 2014 – The new NX3000 is the latest edition to Samsung's award winning NX series of compact system camera. With state-of-the-art technical specifications housed in a retro design, the premium NX3000 is the perfect option for photography enthusiasts who want a stylish device that delivers crisp, high quality images, capturing life moments in stunning detail with ease and pleasure.
The NX3000 comes with a powerful 20.3MP APS-C CMOS Sensor, 1/4000 shutter speed and 5fps continuous shooting, to capture beautiful photos in crisp clarity, at any time and from any location.
With a focus on selfies, the Samsung NX3000 features a convenient 3.0-inch Flip-up Display with Wink Shot. By simply opening the screen, framing a face in the display and winking, users can turn on the device and capture the perfect selfie in one hassle-free motion.
As is standard for all of Samsung's recently released SMART cameras, the NX3000 features industry-leading Tag & Go integration that allows for the seamless sharing of images via state of the art Wi-Fi and NFC connectivity. Tag & Go allows for the use of advanced connectivity features including; Photo Beam, Remote Viewfinder Pro and Mobile Link.
The NX3000 will be available in White, Black and Brown and will be bundled with Samsung's new compact 16-50mm F3.5-5.6 Power Zoom ED OIS Lens. This powerful yet compact and lightweight lens allows for easy and convenient zoom-shooting, delivering stunning detail in every shot. Additionally, with the 16-50mm Power Zoom lens, users can control the camera's zoom function on their mobile device via Remote Viewfinder Pro, allowing for even more creativity.
Samsung NX3000 Full Specification
Image Sensor
20.3 effective megapixel APS-C CMOS sensor
Display
75.2 mm (3.0-inch) Flip-up Display
HVGA (320×480)
View finder
N/A
ISO
Auto, 100, 200, 400, 800, 1600, 3200, 6400, 12800, 25600
Image
JPEG (3:2):20.0M (5472×3648), 10.1M (3888×2592), 5.9M (2976×1984), 2.0M (1728×1152), 5.0M (2736×1824): Burst mode only
JPEG (16:9):16.9M (5472×3080), 7.8M (3712×2088), 4.9M (2944×1656), 2.1M (1920×1080)
JPEG (1:1):13.3M (3648×3648), 7.0M (2640×2640), 4.0M (2000×2000), 1.1M (1024×1024) RAW : 20.0M (5472×3648)
RAW: SRW (ver 3.0.0)
Video
MP4 (Video: MPEG4, AVC/H.264, Audio: AAC)
1920×1080, 1920×810, 1280×720 , 640×480, 320×240(for Sharing)
Video Output
NTS, PAL, HDMI 1.4a
Value-added Features
Tag & Go (NFC/Wi-Fi): Photo Beam, AutoShare, Remote View Finder Pro,
Mobile Link
SMART Mode : Beauty Face, Best Face, Landscape, Macro, Action Freeze, Rich Tone, Waterfall, Silhouette, Sunset, Night, Firework, Light Trace, Continuous Shot, Kids, Food, Party/Indoor
External Flash (Guide Number 8 at ISO100)
Wi-Fi Connectivity
IEEE 802.11b/g/n support (SMART Camera 3.0)
• AutoShare
• Auto Backup
• Remote Viewfinder Pro
• MobileLink (Group share up to 4 people)
• Photo Beam
• Samsung Link
• Home Monitor+
* Note – The availability of each service may differ by country.
NFC
Advanced Passive NFC(Wired NFC)
Bundled PC software
iLauncher, Adobe® Photoshop® Lightroom® 5
Storage
Micro SD,Micro SDHC,Micro SDXC, UHS-1 Micro SD
Battery
B740AE/B740AC/B740AU/B740AK
* Note – The battery specifications or model may differ by country
2330mAh
Dimension (WxHxD)
117.4×65.9×39.0(26.8) mm
Weight
230 g (without battery)
Samsung NX3000 Videos
First NX3000 intro video available at instagram