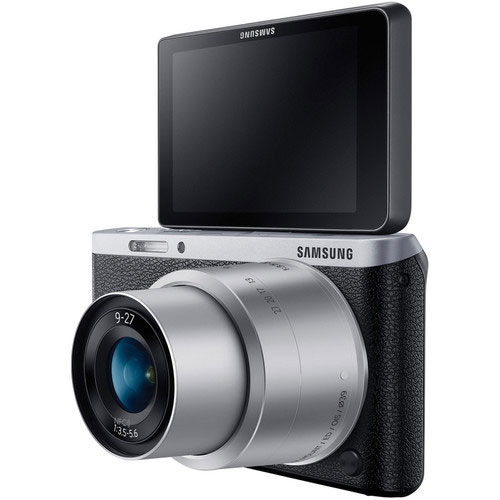 The long rumored Samsung NX mini announced today, the camera features massive speed and excellent sharing capability with built in NFC and WiFi, the camera features a ultra slim body that comes with a retractable zoom lens.
Buy Samsung NX Mini available in Amazon | B&H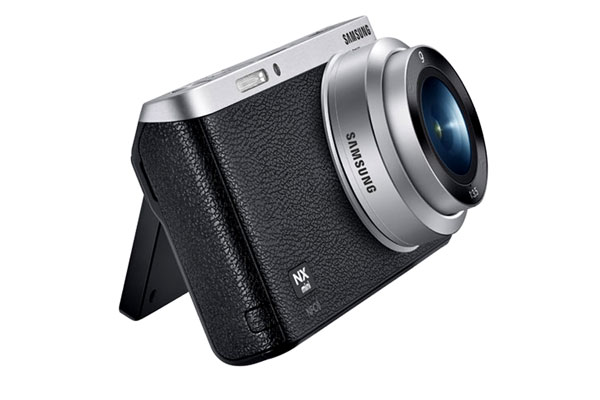 The camera comes with a  20.5 MP CMOS BSI Sensor and features ISO range upto 12800, the camera have a shutter speed of 1/16000 and continuous shooting speed of 6fps, on the rear side we have a flip display that will help you to capture selfie, wefie and allfie. More details at press release
SEOUL, Korea – March 19, 2014 – Samsung Electronics Co., Ltd announced today the launch of the NX mini, the world's slimmest and lightest interchangeable-lens camera. The portable and stylish design of the SMART Camera NX mini, along with its stunning image quality makes it the "go-to" device for great photography, allowing users to capture special moments in stunning detail. With NFC and Wi-Fi capabilities, it allows users to take impressive shots that can then be shared quickly and easily, for friends to enjoy in real time.
"The NX mini has both style and substance, perfect for trendsetters looking for a fun way to capture their life in outstanding photo quality," said Myoung Sup Han, Executive Vice President and Head of the Imaging Business Team at Samsung Electronics. "Samsung introduced the first flip up touch display camera in 2011 as a leader of the selfie trend, and has designed the device in response to evolving consumer demands. This approach is exemplified by the NX mini, with features such as a 3.0-inch Flip up Display and wide angle lens exclusively designed to address the global passion for selfies. Its lightweight design also means that it can slip in a pocket, for photography anywhere and everywhere."
As the slimmest and lightest interchangeable-lens camera on the market, the NX mini is the ultimate way to capture life on the go without any hassle. Weighing only 158g (body only) and sporting an ultra slim (22.5mm) design, the NX mini can easily slip into almost any pocket or bag, yet still delivers the powerful results passionate photographers demand. The camera features a solid premium metal body with a luxurious leatherette finish, making the camera the natural choice for style-conscious shooters looking to make a statement. Available in five different colors (white, pink, mint green, brown and black) users can choose the color that best suits their style.
The 'sefie' has found a permanent place in vocabularies across the world in recent years and its popularity shows no sign of stopping. The word 'wefie' has entered the urban dictionary as a photo taken in the same fashion as a selfie but with 2 or more people, and Samsung is poised to lead this trend of wefie with the NX mini. Reflecting this recent consumer trend, the NX mini has a range of exclusive features which allow photographers to effortlessly indulge in the global trend of self-shooting. With a 75.2mm (3.0-inch) Flip up and Touch Display that flips 180-degrees, users can frame images of themselves perfectly. The NX mini's powerful optical performance provides crisp and clear, high quality images ensuring that the subjects in the photos are always looking their best. With the ultra-slim 9mm wide angle lens, the NX mini can capture group shots from an arm's length away, so users can easily frame themselves and be part of group memories.
Maintaining a flattering pose while also attempting to press the shutter release button when self-shooting can be tricky, but with the NX mini's new Wink shot feature, users are given the perfect hands-free way to capture their real selves. Users simply need to set up their shot and wink at the camera to capture an image. Once a wink is detected, the NX mini takes a shot automatically after two seconds, without having to press any buttons.
Despite its slim appearance, the NX mini packs a big performance into its small body. Its large 1-inch type 20.5MP BSI CMOS Sensor enables users to capture high quality images, ensuring no details are missed. With the highest resolution in its class, pictures captured with the NX mini burst with vivid color.
The NX mini's impressively fast 6fps Continuous Shot mode allows photographers to take continuous shots, so every detail can be captured and no moments are missed. The fast 1/16000 sec Shutter Speed freezes fast moving scenes, allowing for the dramatic capture of motion in crisp detail, without blurring.
Tag & Go, simply tap to share memories 
As with all of Samsung's 2014 SMART cameras, the NX mini features advanced Wi-Fi and NFC integration that makes it seamless to share images. Exclusive to Samsung, Tag & Go connectivity allows the NX mini to pair with NFC-enabled devices, such as smartphones or tablets, simply by touching the two together. Once paired, users can:
Select and transfer multiple images to the paired mobile devices through Mobile Link;
Send images to up to four devices with Group Share, eliminating the time-consuming and repetitive process of sending pictures to multiple friends;
Control the NX mini via a smartphone with Remote View Finder Pro;
Use the camera as a Baby Monitor.  When noise is detected, the paired smartphone is activated via an app, allowing parents to see if they need to attend to their child.
Additionally, extensive storage options are integrated into the NX mini and images can be uploaded directly from the camera to the cloud for an easy storage solution. Users can upload their pictures directly from the NX mini to both Dropbox and Flickr, the popular photo sharing site. Dropbox provides 2GB of free storage to new users, accessible from just about any device and with Flickr users can upload up to a terabyte of images.  With all the storage and sharing technology built into the NX mini, it's easier than ever to share and store beautiful images.
---
Key Samsung NX Specifications
20.5 MP CMOS BSI Sensor
Samsung NX-M mount (NX adapter is optional)
Optical Image Stabilization (OIS) : in the lens
Dust Reduction: N/A
3″ 320×480 TFT LCD display
AF Assist Lamp: Yes
ISO 160-12800
Built-In Flash: Yes
External Flash Option: Yes (Samsung SEF7A)
Max Photo Size: 5472×3648 (4:3)
Movie Recording: H.264 MP4, AAC Audio, 1080 30p
Storage Media: 2GB of internal storage + micro SDXC
NFC: Yes
WiFi: Yes
USB 2.0 sync/charge
2330mAh battery (530-650 shots)
Software included: Lightroom 5