– Image size comparison – Panasonic LX100 is bigger than RX100 M3 compact –
The Panasonic Rumored large sensor compact camera finally announced and its features M4/3 size sensor, we are comparing the ultra popular RX100 M3 camera with the LX100, take a look who wins…
Sensor
The Panasonic LX100 features large multi-aspect 4/3″ type MOS sensor that produce images of 12.8MP still and records 4K Ultra HD video at 30 and 24 fps on the other hand Sony features a 20.1 MP megapixel 1″ Exmor R CMOS sensor that features backside-illuminated technology to produce better low-light images.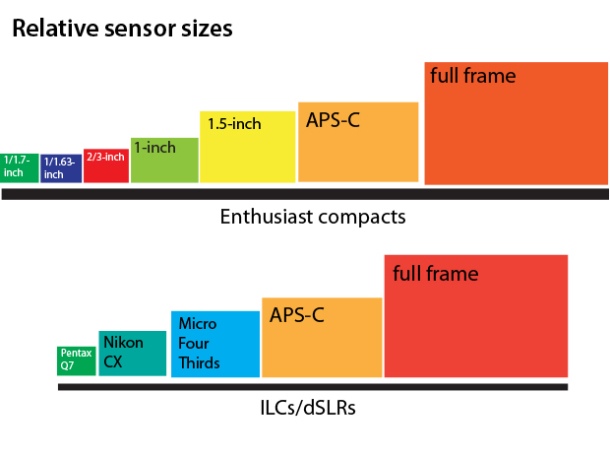 However having a large sensor and big photodiode Panasonic will produce better low-light images with more dynamic range.
Lens
Due to the introduction of high quality 24-75mm Leica DC Vario-Summilux f/1.7-2.8 Lens the Panasonic features more bit more optical zoom (3.1 vs 2.9) by having the same aperture range as of  Sony RX100 M3, The Macro mode available in LX100 is also better, the LX100 allows you to get more closer to your subject (3cm vs 5cm), plus the lens will create more DOF due to large sensor size of LX100.
Hybrid Shutter
The Panasonic LX100 uses Electronic and Mechanical shutter both, the mechanical shutter provides you shutter speed of 60 – 1/4000 second and electronic shutter capable of shooting 1 – 1/16000 second …
4K Video
The LX100 also supports 4K 3840 x 2160 video recording at 30 or 24 fps in MP4 format (No AVCHD), the  4K video can be recorded for up to 15 minutes, and requires an SD card rated at UHS-I Speed Class 3, you can record Full HD videos @ 60fps in MP4 and AVCHD formats.
Verdict:
Based on core specification difference we recommend you to buy Panasonic LX100.