Specification comparison between Olympus E-P5 vs Olympus E-M5, both features almost same core specification, but Olympus offers but more, take a look at the details below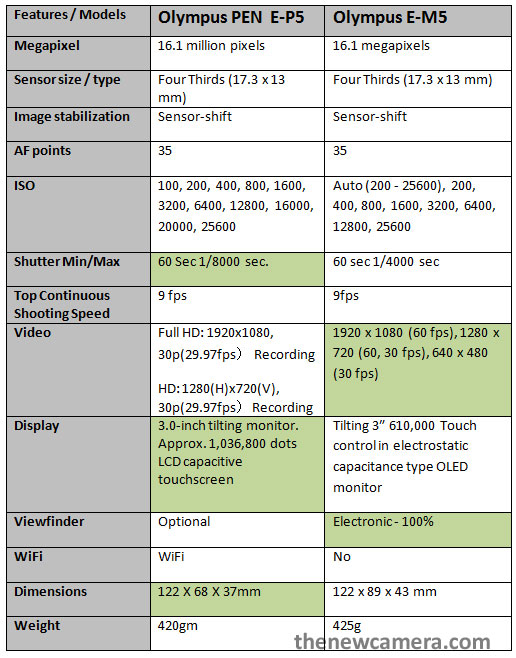 Sensor and Image Processor
Both camera uses same 16.1 megapixel High-Speed Live MOS Sensor and Olympus' TruePic VI image-processing engine.
Image Stabilization
Both camera  features sensor-shift type 5-Axis Image Stabilization , the 5 Axis stands for camera shake on 5 separate axes: yaw, pitch, roll, vertical shift and a horizontal shift.
AF system
Both camera uses Frequency Acceleration Sensor Technology (F.A.S.T.) AF in Single, Continuous and Tracking modes is available for high speed autofocus.
E-P5 offers macro fans the option of using a very small AF point to pick out part of a subject they have already framed
Shutter Speed
PEN E-P5 delivers a stellar shooting experience with 1/8000th of a second shutter speed – a world-first for the Compact System Camera class
Olympus E-M5 shitter speed is limited to 1/4000.
Video
Olympus E-M5 video is limited to 30fps at Full HD mode, with Olympus E-M5 you can shoot Full HD at 60fps.
Display
The new Olympus E-P5 have big 3.0-inch tilting monitor. Approx. 1,036,800 dots LCD capacitive touchscreen, better than the E-P5.
What's New
E-P5 is the world's first mirrorless camera equipped with a 1/8000 sec. high-speed mechanical shutter , WiFi introduced in PEN Series with E-P5, you can share your videos and images with smart devices and you also have in-built GPS for geo-tagging of your images.
Verdict
If you are willing to purchase a new Micro-Four Third Mirrorless camera, E-P5 is the best choice, but for Olympus E-M5 users I will not recommend to update your camera. Since camera features almost same core specification.
Buy Now
Olympus E-P5 Body only – Amazon
Olympus E-P5 17mm f1.8 and VF-4 16.1 – Amazon