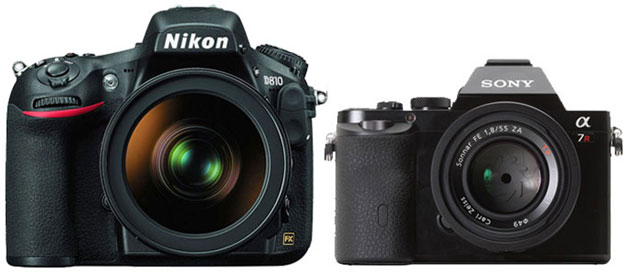 Both camera features same type of Sensor and image resolution, but Nikon will cost you $1000 more compared to Sony A7R, take a look below and see the major specification difference between them.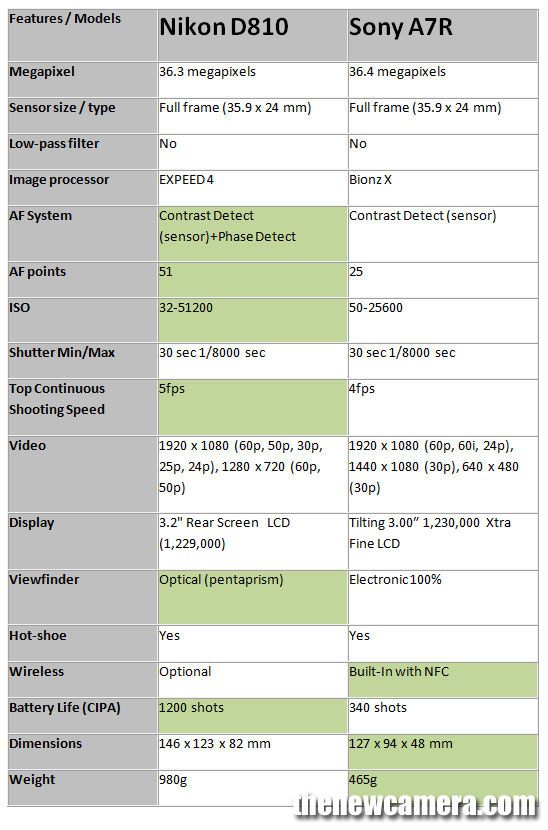 Sensor: Nikon D810 and Sony A7R features same features resolution and both camera doesn't have built in low-pass filter, but due to the advance image Expeed 4 image processor of Nikon the Nikon D810 is able to expand its ISO range 1-stop more than Sony A7R.
AF System: Advance Multi-CAM 3500FX Auto Focus Sensor with 51 Points with 15 cross-type sensors, the Nikon D810 comes with HYBRID System that uses phase and contrast based technology for fast, quick and more precise AF, on the other the Sony A7R comes with contrast based system with only 25 AF points, hence Nikon clearly wins here.
Continuous shooting: Nikon D810 will give you bit faster (1fps) shooting speed at full resolution compared to the Sony A7R Camera.
Display: The display screen of Nikon D810 is bit big (3.2″ vs 3″) but Nikon D810 have slightly less screen dots compared to Sony A7R (1,229,000 vs 1,230,000).
Viewfinder: Nikon D810 features optical viewfinder and Sony A7R has EVF.
Wireless connectivity:  The Sony A7R features built-i  WiFi and NFC, it allows you to share your files without any physical pain and you can also use your smart device to capture your composition from a distance.
Verdict: Nikon D810 clearly wins the comparison since the Nikon features more ISO range and advance AF system, based on specification comparison review we highly recommend you to buy Nikon D810 DSLR.
Nikon D810 at Amazon | Nikon D810 film-making kit at Amazon || Sony A7r from Amazon | B&H