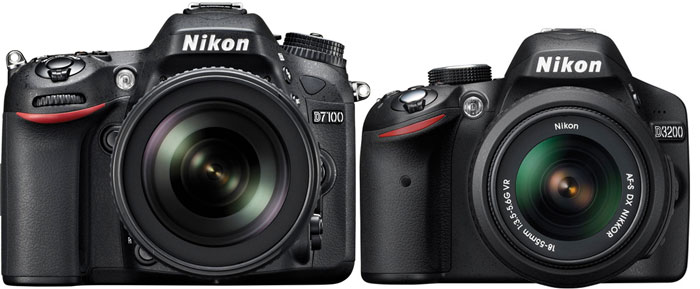 Nikon D7100 vs Nikon 3200, Specification Comparison review, both features 24 Mp sensor but different core specification, take a look and share your thoughts with us.

Sensor and Image Processor :
Both features Same 24 Megapixel Sensor and Expeed 3 Image Processor but Nikon D7100 feature low-pass less architecture, So you get more details/sharp images with Nikon D7100.
Auto-Focus
Nikon D7100 features advance acclaimed autofocus system from the D300s, the D7100 uses 51 focus points, including 15 cross-type sensors for detecting both vertical and horizontal contrast variations, to achieve fast, precise focus, a highly accurate 2016-pixel RGB sensor evaluates every scene, and better AF detection range from -2 to 19 EV.
ISO
Nikon D7100 pushes ISO limit to 50 to 25600, you get excellent ISO range for shooting Landscape or Sports photography, Nikon D3200 limited to 100 to 12800.
Videos
Nikon D7100 is capable to recording Full HD videos at 60fps / D3200 limited to 30fps only at Full HD.
Burst speed
Nikon D7100 features fast continuous shooting speed compared to Nikon D3200.
Shutter
Nikon D3200 have Max shutter limit of 1/8000, Nikon D3200 limited to 1/4000 only.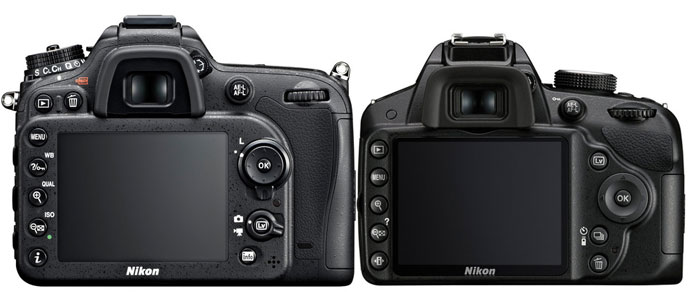 other features
Nikon D7100 features Environmentally sealed body.
Nikon D7100 features high res bigger display.
Conclusion – Major advantage

Nikon D7100 have advance AF system
Nikon D7100 have broad ISO range
Nikon D7100 have fast shutter and burst mode
Nikon D7100 have better Video mode
Nikon D7100 have Rugged Body Design

We highly recommend you to buy Nikon D7100.
Buy Nikon D7100 from Amazon | B&H
---
Also see
Nikon D7100 vs Nikon D5200
Nikon D7100 vs Nikon D3200