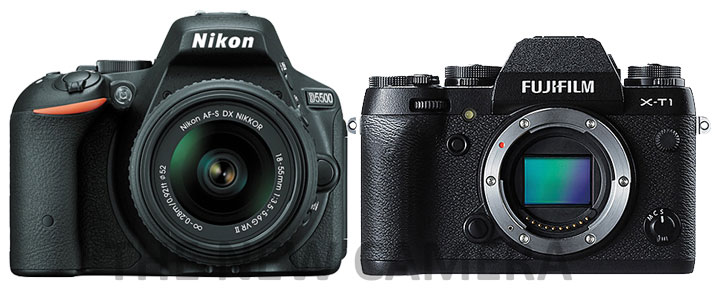 Nikon D5500 vs Fujifilm X-T1, the Nikon D5500 is recently announced camera whereas the X-T1 is approx 1 year old and waiting for an update.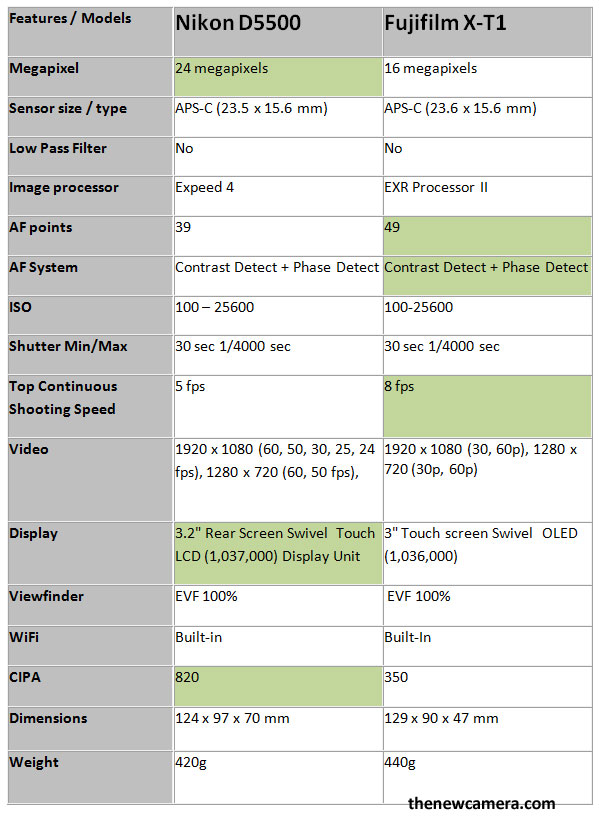 Sensor
The Fujifilm features 16.3MP APS-C CMOS image, the sensor is built with X-Trans bespoke pixel array, it actually eliminate the need of an optical low-pass filter for reducing moiré and aliasing.
The Nikon D5500 features 24.2 MP sensor, EXPEED 4 processor and the best thing is the Nikon D5500 also doesn't have low-pass filter. So by having more resolution the Nikon have upper hand here.
AF System:
The Nikon D5500 features 39 distinct AF points, including nine cross-type sensors, but unfortunately the AF point is active only when you are using viewfinder, while you are using the live view and video mode, the contrast based system is active.
The X-Trans AF sensor features built-in phase AF pixels, hence it features advance Intelligent Hybrid AF for quick, responsive autofocus system that is fully active all the time, either you are using viewfinder, display or while recording videos.
Hence Fuji features advance AF system compared to the Nikon D5500.
Fast Continuous shooting speed: Due to bit small resolution and small sensor the Fujifilm X-T1 canon record 16MP stills at a speed of 8 fps whereas the D5500 24 MP still are limited to 5fps.
The first and foremost thing what the user is look on the rear side is the screen of camera. If you check out the Nikon D5500, the display screen has 3.2″ rear screen swivel touch LCD whereas Fujifilm X-T1 has 3″ touch screen swivel OLED.
CIPA of camera denotes that after full charge of battery how many shots can be captured by camera. Nikon D 5500 can capture around 820 shots whereas Fujifilm X-T1 can capture only 350 shots.
If we talk about the weight of the cameras then we can check that there is minimal difference of weight in both the cameras. As The Nikon D5500 is 420g whereas Fujifilm X-T1 has approx of 440g.
Conclusion: The overall specification of both cameras is good. It depends on the consumer that for which purpose they want to purchase the camera. If we talk about the mega pixel, display screen and battery life then Nikon D5500 give cut throat competition to Fujifilm X-T1. But if we look in to auto focus points / Hybrid AF and Fast continuous shooting speed then we prefer Fujifilm X-T1 , so the choice is yours.
Buy Fujifilm X-T1 from Amazon || B&H
Buy Nikon D5500 Buy it from Amazon or at B&H