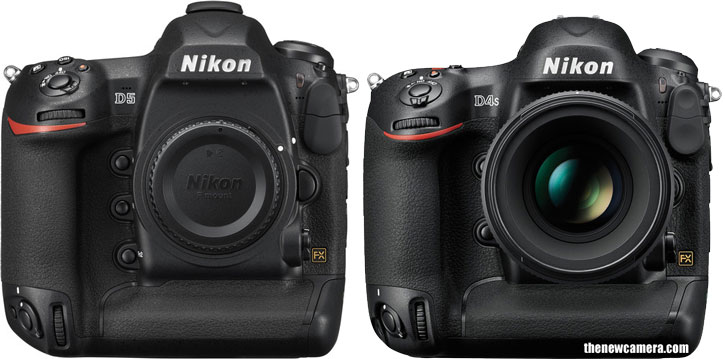 Take a look at the specification comparison review between these two camera, The recently announced Nikon D5 is world first DSLR to feature 4K video recording … and a lot more specification upgrade compared to its predecessor
Features/ Models

Nikon D5

Nikon D4s


Megapixel

21 MP
16 MP

Sensor size

Fullframe sensor
Fullframe sensor

Low pass filter

Yes
Yes

Image processor

Expeed 5
Expeed 4

AF system

153 AF Points – 99 Cross Type
51 AF Points – 15 cross type

ISO

50-3280000
50-409600

Shutter Min/ mix

30 – 1/8000
30 – 1/8000

Continuous shooting speed

14 fps
11 fps

Video

4K  (30p/25p/24p)
Full HD (60 /30 / 24 fps),

Display

3.2″ 2.36m-Dot Touchscreen LCD Monitor
3.2″ 921k-Dot LCD Monitor

Viewfinder

Optical
Optical

Hot shoe

Yes
Yes

Wireless

WiFi + NFC
WiFi + NFC

Environmentally sealed

Yes
Yes

Battery life

3020 Shots

Dimensions

 160X459X92

mm

132X101X78 mm

Weight

 1415

g

1350

g
Sensor: Nikon D5 features a newly developed 20.8 MP Fullframe sensor exclusively designed and developed for the Nikon D5 flagship camera and in combination of Expeed 5 image processor the camera ISO range touches 3.3 Million ISO mark (3280000 ISO) which creates a world record itself, till date no other consumer camera in the world is able to touch even 1 Million Max ISO range. On the other hand the Nikon D4s camera MAX ISO range is limited to half a million ISO mark (409600 ISO).
From the above it is very clear that the sensor of the recently announced camera is better than of the Nikon D4s camera
Image Processor: Nikon D5 uses advance Expeed 5 image processor, and thanks to the new processor Expeed 5 enables D5 to capture 4K video and enables Full time AF while shooting at 12frames per second @ 21 MP while the Nikon D4 is expeed 3 image processor is limited to Full HD video recording and captures 11 frames per second @ 16MP files.
From the above we can see that Expeed 5 image processor is very fast compared to the Expeed 4 image processor.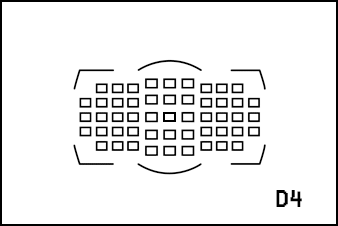 AF System: The recently announced Nikon D5 uses Multi-CAM 20K AF system and the Nikon D4s was using Multi-CAM 3500FX  AF system. Nikon D5 AF points is approx 3 times more dense compared to Nikon D4s AF points, Nikon D5 offers 153 Phase AF points and 99 type cross AF points on the other hand the Nikon D4s is limited to 51 AF Points – 15 cross type points, more AF points clearly means more screen coverage and more accuracy.
ISO: Now the number tells everything. The recently announced Nikon D5 is capable to shoot images upto 3.3 Million ISO range on the other hand the Nikon D4s was limited to 1/2 Million ISO, its a very big change and will allow to take images of your desired subjects in moon light.
Continuous shooting speed: The continuous shooting speed of the Nikon D5 is amazing, you get 12fps with fulltime AF support and 14fps with AF lock, the Nikon D4s continuous shooting was limited to 11 fps only.
Video: Nikon made a breakthrough by adding 4K support, the Nikon D5 becomes world first camera to feature 4K video, So the Nikon D5 is a prefect solution for not only photographers but also for cinematographers.  Nikon D4s is limited to recording Full HD videos only.
Verdict: Nikon made a machine that may remains on TOP for next five years without a doubt, I have never seen such a major jump in the core specification of any successor, form the specification point of view it's look like Nikon announced Nikon D10 🙂

However, for Nikon D4s users and other pro shooters we highly recommend you to buy Nikon D5 camera, since no mirorless or DSLR of present day world can match the core specification of Nikon D5.