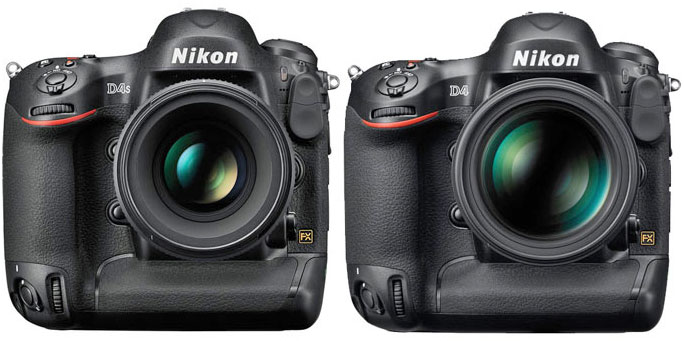 Nikon D4s vs Nikon D4, the newly developed DSLR bring many new features inside it that includes new sensor, fast image processor and better video mode, for more details take a look at the details below.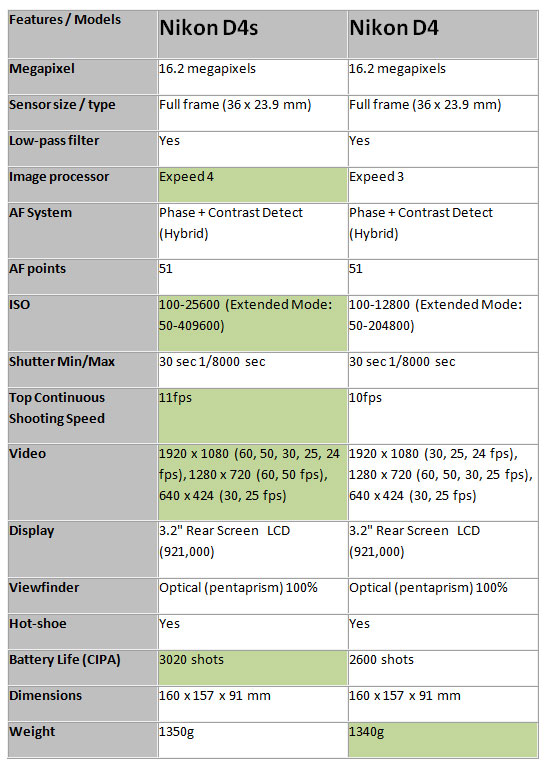 Increase in ISO range – Two factors inside the camera responsible for the ISO range first is sensor and second is image processor, form the High ISO test images that we have seen (included at the end of the post) we can clearly see better noise control (with bit less details) in D4s High ISO images so we conclude that
The sensor quality is same as of Nikon D4
Newly developed noise reduction algorithm work bit more aggressively inside Nikon D4s when compared to Nikon D4.
Fast Image Processor: Nikon added newly developed image processor inside Nikon D4s body, the new image processor is approx 30% faster than the old Expeed 3 image processor (according to Nikon). The Newly developed image processor also increases the AF speed of the camera upto 30% during test condition,
Nikon D4s comes with group area AF to quickly acquire the AF point for the first time:  The five AF points of the center can be configured to utilize five AF points as a single focusing point in the Group Area AF setting for heightened initial subject recognition.
The Auto Focus module is same as Nikon D4 (Muilti CAM 3500 FX) but due to EXPEED 4 image processor the overall AF speed increases.
For more details about the improvement take a look at the table below.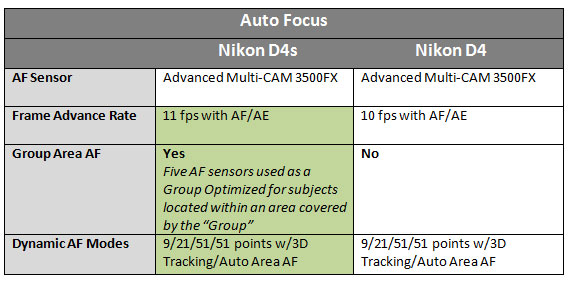 Video: Nikon D4s can now record videos upto 60fps at Full HD mode, + three formats are also available that include FX, DX and CX format, take a look at the table below for major difference between these two prime machine.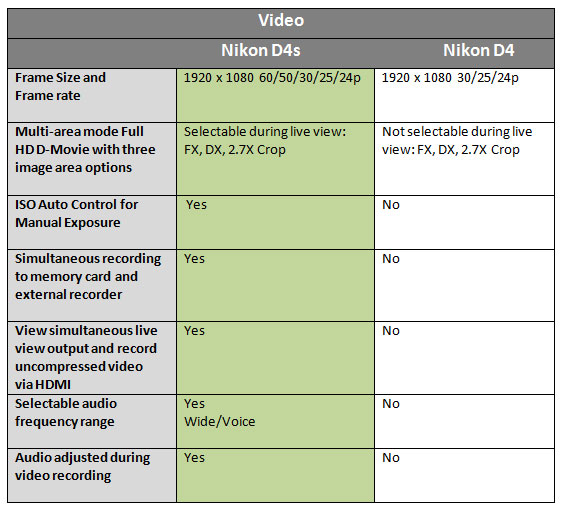 Nikon D4s vs Nikon D4 High ISO Test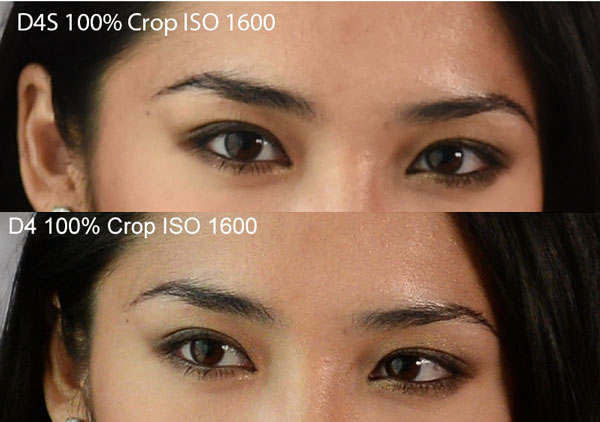 I really appreciate the effort made by Nikon to boost the ISO range to a next level, but when I see at comparison images taken at ISO 1600, the Nikon D4s noise reduction filter look bit strong compared to Nikon D4, as a result we can clearly see less noise + bit less details in the image samples. The Nikon D4s images look bit softer than the Nikon D4 images.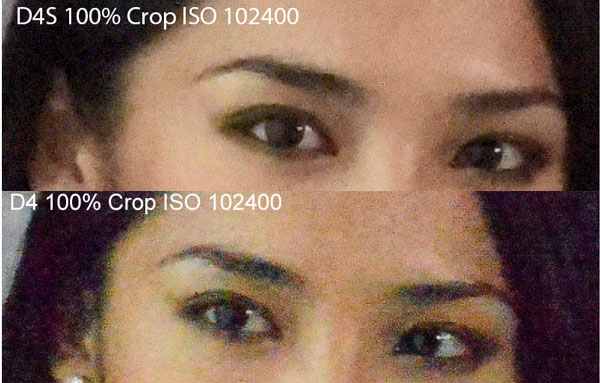 Verdict: Nikon D4s have many improvements over AF system and Video modes, you also get improved ISO range with D4, however base at ISO range the D4 look bit more sharp than D4s.

For Current D4 owners I will recommend you to wait for Nikon D5 DSLR to see major improvement over ISO range and AF system, for new users / buyers we highly recommend you to buy Nikon D4s.
For latest Price and Pre-order Nikon D4s visit Amazon, B&H and Adorama