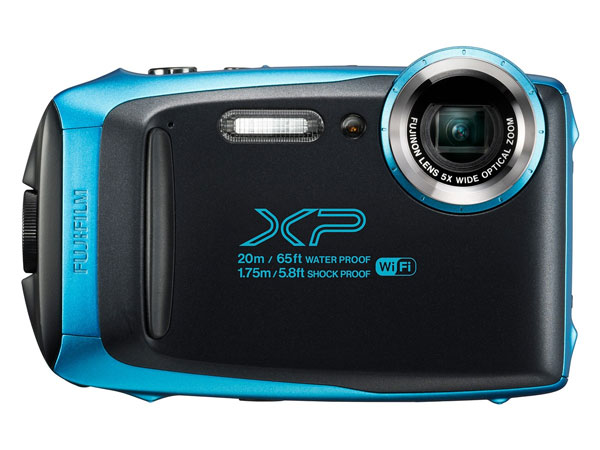 Fujifilm today announced a new inexpensive rugged camera, the Fuji XP130. The camera is same as of its predecessor, only Bluetooth and I auto focus has been introduced in the newer version of Fujifilm XP 130.
Fuji XP130 Specification
16.4MP BSI CMOS Sensor
Fujinon 5x Optical Zoom Lens
28-140mm (35mm Equivalent)
Water, Shock, Freeze, and Dustproof
Full HD 1080p Video Recording at 60 fps
3.0″ 920k-Dot LCD Monitor
Built-In Wi-Fi and Bluetooth LE
Geotagging Support and Electronic Level
10 fps Continuous Shooting
Double Exposure and Interval Shooting
Fujifilm 130 camera features 16 megapixel BSI CMOS sensor, 3 inch rear LCD screen and it can capture full HD videos @ 60 frames per second. With the Bluetooth you can easily transfer your images to the smartphone for instant sharing.
The camera is available in 5 different colours that includes blue black green and yellow and also white. The camera will going to cost $229.95
FUJIFILM INTRODUCES NEW RUGGED FINEPIX XP130, THE PERFECT COMPANION FOR ANY ADVENTURE
Featuring the latest Bluetooth® technology, four rugged protection features and versatile shooting functions in a compact, lightweight body
Valhalla, N.Y., January 24, 2018 – FUJIFILM North America Corporation has announced the FinePix XP130, the newest addition to the rugged XP series. The XP130 is the first in the line to feature the latest Bluetooth® technology for easy to use, instant image transfer, and is also equipped with new shooting functions such as an Electronic Level and Eye Detection to provide even greater versatility. Equipped with a FUJINON lens and four rugged protection features in a lightweight body, the new XP130 is durable and delivers high quality images, making it the perfect companion for any kind of adventure.
Four-Way Rugged Protection for Worry-Free Use
The XP130 is waterproof up to 65 feet / 20 meters, shockproof up to 5.7 feet / 1.75 meters, freeze proof to 14°F / -10°C and dustproof, and features a protective, double-locking mechanism for the battery compartment. With a grip design for firm one-handed grip, the new XP130 is designed for ease of use and is tough enough for shooting in all situations.
Bluetooth® Pairing and Wireless LAN Connectivity for Photo Transfer and Instax Printing
Now featuring the latest Bluetooth® technology, the XP130 can instantly transfer images to a smartphone or tablet, while syncing time and location information from the camera to the images. Utilizing the free "FUJIFILM Camera Remote" app, users can take advantage of this new feature to quickly and easily share photos and videos with family or friends. Images can even be transferred from the XP130 directly to an Instax SHARE™ Printer.
Premium Image Quality Achieved with High-Performance Sensor and Lens
The new XP130 is equipped with a 16.4 megapixel back-illuminated CMOS sensor and FUJINON 5x optical zoom lens that includes a 28mm wide-angle setting and provides unique color reproduction technology and advanced sharpness to deliver outstanding image quality. With Intelligent Digital Zoom technology, the optical zoom range can be doubled to 10x, and, utilizing optical image stabilization, the XP130 minimizes the effects of camera shake even in low light conditions.
Compact and lightweight with a Large LCD monitor and Ease of Use Design
Compact and lightweight, the new XP130 features a large 3.0-inch 920K-dot high definition LCD monitor with anti-reflective, enabling users to comfortably check composition and pictures taken in bright daylight or underwater. The operation buttons on the XP130 are of optimal size and positioned to enable smooth operation and ease of use even while wearing gloves or holding the camera with one hand.
Versatile Shooting Functions for Enhanced Photography
The XP130 features a new Electronic Level feature that is particularly useful when capturing horizontal subjects such as beautiful landscapes, scenery or architecture. There is also a new Eye Detection feature that is designed to focus on the eyes of the subject, enabling the user to capture portraits with ease. Additional features include Cinemagraph mode that produces still images with moving elements, the Time-Lapse Video function that automatically converts images to video format utilizing the interval timer, the Burst Mode that captures up to 10 fps and smooth HD video recording of 60 fps.
FinePix XP130 Key Features:
4MP back-illuminated CMOS sensor and FUJINON 5x optical zoom lens with 28mm wide-angle setting

Intelligent Digital Zoom function extends zoom range up to 10x

Four-way protection:

Waterproof up to 65 feet/20 meters, shockproof to 5.7 feet/1.75 meters, freeze proof to 14°F/ -10°C and dust proof

Compact lightweight design with 3.0 inch 920K dot high definition LCD monitor with anti-reflective coating
Bluetooth® Pairing and Wireless LAN connectivity, Smartphone Transfer and the FUJIFILM Camera Remote app

Transfer photos and videos from the XP130 to your smartphone or tablet, or directly to the Instax SHARE SP-2 or SP-3 Printer for quick, high-quality prints

Scene Recognition Mode quickly determines the scene before optimizing focus, exposure and shutter speed for best possible results

Underwater and underwater macro functions available

Electronic Level Feature: Can be used to capture a horizontal subjects

Eye Detection feature helps to capture portraits easily by automatically focusing on subject's eyes

Remote Shooting function: Allows for wireless connection from the XP130 to a smartphone or tablet for remote camera operations such as releasing the shutter or zooming in and out
Interval Timer Shooting: Automatically shoots any number of images in set intervals

Interval can be set to either 5 or 10 minutes, or 15, 30 or 60 seconds

Burst Mode up to 10 fps, and Advanced Burst Mode capable of shooting at up to 60 fps
TimeLapse Video: Automatically converts images taken with interval timer to video

Frame rates of 10fps, 30fps or 60 fps can be selected along with three different types of movie size, including full HD. Allows for capturing transitions in nature from a stationary point, such as sunsets or opening flowers

Cinemagraph mode: Produces still images with moving elements
Motion Panorama 360° function for superb panoramic shots, and the Advanced Filter function to create advanced artistic effects with ease

Select from 11 filters when taking pictures or 7 filters during video recording

Records smooth Full HD video at 1080/60p with a dedicated movie button
Wind Filter Setting: reduces wind noise which is often a problem with outdoor movie recording
Availability and Pricing
The FinePix XP130 will be released in March 2018 in the U.S. and Canada for USD$229.95 and CAD $239.99.