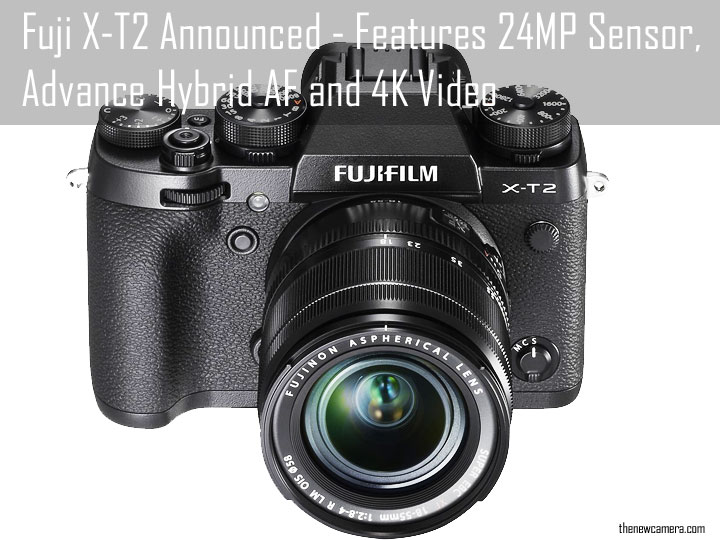 Fuji X-T2 from B&H and Amazon
Fujifilm finally announced the long room on Fuji xt2 camera comma, Fuji X-T2 camera features 24 Megapixel X-trans CMOS sensor that has been already scenes in the X-pro 2 camera, however they have managed to upgrade the auto focusing system of the camera of to a new level.
You can navigate the camera menus as well to select AF points  via Joy- stick as we have seen in the X-Pro2 model + a faster top maniacal shutter has been also added that gives your ability to shoot 1/8000 sec (1/32,000 sec with the electronic electronic). Fuji also done a lot homework to upgrade the AF-C algorithm  so you can track down the subject very effectively without any problem.
As you know the Fuji film XT2 X-Trans sensor doesn't have low pass filter that means you will get very clear images directly from the camera without putting any effort, the max ISO range of the camera is 100-51200.
Fuji T2 features X processor Pro that let you do auto focusing in just a fraction of the 0.06 second the startup time of the camera is very less and it takes only 0.03 seconds to startup, the shutter lag time of the camera .045 seconds and the shooting interval or you can also see the shot by shot time is also very less 0.17 sec. The continuous focusing is speed of the camera is also very fast while utilizing Phase detection as well as motion productive auto-focus at a speed of 8 frames per second.
Now let's talk about the video part of the camera the camera captures 4K video at 30 frames per second while utilizing the hybrid autofocusing technology the camera quickly focuses and lock AF while recording the video, full HD recording is also available at 60 frames per second and you can record HD videos also at 60 frames per second.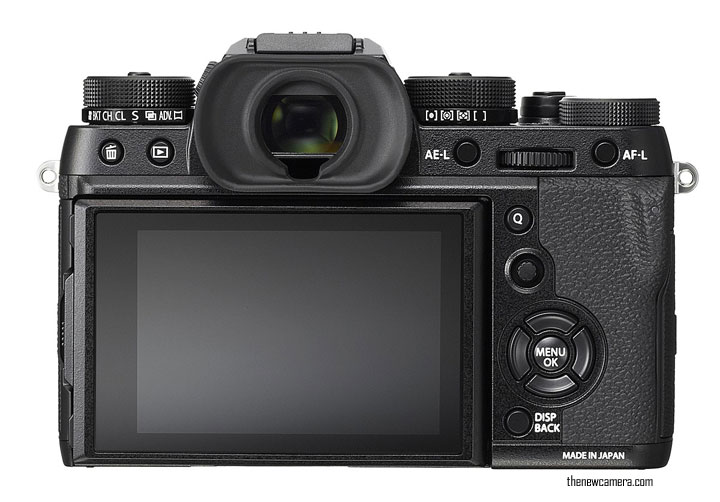 Despite of having a large display o the rear side of the camera we also have OLED viewfinder the refreshes up to 100 frames per second, while also maintaining the magnification ratio of 0.77x and the display time lag of 0.005 seconds.
The new FUJIFILM X-T2 (body only) will be available in September 2016 in the U.S. for USD $1,599.95. The X-T2 and XF18-55mm (27-84mm) kit will be available in September 2016 in the U.S. for USD $1,899.95. The FUJIFILM EF-X500 Flash will be available in September 2016 in the U.S. for USD $449.99.
Fuji X-T2 Press Release
Fujifilm Unveils the New X-T2, the Ultimate Mirrorless Camera with New Autofocus System and 4K Video Shooting
X-T2 gives users cutting-edge performance that delivers premium imaging quality in a classic design that is a joy to use; New FUJIFILM EF-X500 flash arrives
Valhalla, N.Y., July 7, 2016 – As a leader in advanced digital camera technology and outstanding image quality, FUJIFILM North America Corporation today announced the new FUJIFILM X-T2, a splash-resistant premium interchangeable lens camera with a large OLED electronic viewfinder (EVF). The X-T2 houses the latest generation 24.3MP X-Trans CMOS III with an APS-C sensor with no low-pass filter, boasting the highest performance in the history of X Series. The new X-T2 produces crisp image resolution comparable to that of cameras equipped with larger sensors and higher pixel counts, all in a more compact and classically-designed body.
And for the first time, the new FUJIFILM X-T2 now supports 4K video recording that can use each available Film Simulation mode, including ACROS, to easily produce premium-quality footage that is as unique as the photographer behind the viewfinder.
Dramatic improvement to auto focus system The FUJIFILM X-T2 receives a dramatically improved auto focus system (AF) that increases the overall single AF points to 325, and the number of Zone focusing points to 91 (expanded from 49 in previous models). Approximately 40% of the imaging area (center area containing 49 focusing points) is covered with phase detection auto focus pixels to form a fast and precise phase detection auto focus area that can be used in a variety of scenes.
With the high-speed X-Processor Pro and the use of improved algorithms, the X-T2 now refocuses more frequently, enabling predictive AF of advanced accuracy.
The X-T2 also has an enhanced ability to autofocus on small points of light, low-contrast objects and subjects with fine and delicate textures such as bird feathers and animal fur.
The X-T2's performance of contrast detection AF, enabled for approximately 65% of the imaging area, has also been improved. The data read speed has been doubled compared to previous models to achieve AF performance of higher speed and precision. Photographers will enjoy accurate focusing is all shooting situations, even in low light with a -3EV.
Another area of improvement is the AF-C algorithm that has been significantly enhanced for even higher accuracy when focus-tracking moving subjects in the AF-C mode. According to the type of movement, users can choose individual settings for Subject Retention Characteristic, Acceleration / Deceleration Tracking Characteristic and Focus Zone Characteristic, or select one of five presets or customize specific settings for these three elements.
Image Quality
Fujifilm's commitment to superior image quality remains a guiding principle, and the FUJIFILM X-T2 is the latest effort to deliver outstanding picture resolution, all from a compact and sophisticated body that is both weather-sealed and easy to travel with in any location. With Fujifilm's proprietary image design technology, produced through the development of photographic films, the X-T2 reproduces warm skin tones, bright blue skies and rich green foliage in beautiful colors, just as you remember seeing in real life. The X-T2 includes the ACROS Film Simulation for smooth gradation, deep blacks and beautiful textures to create monochrome images that far outperform even the most demanding expectations.
The X-T2 also has the Grain Effect function for reproducing distinctive graininess seen in photographs taken with film cameras. The function is available in Strong and Weak options, and can be combined with any of the Film Simulation modes. You can easily obtain the effect of film-based photos, notable especially when the image is printed out.
Speedy throughout
Basic response specifications, such as startup time, shooting interval and shutter release time lag, have all been improved to the extreme in pursuit of a camera that operates exactly as the photographer demands. The high-speed processing power and the use of improved algorithms have significantly improved the basic autofocus performance, and X-T2 now gives users AF-C Custom Settings for even higher accuracy in focus-tracking moving subjects.
The X-T2's electronic viewfinder, which is used to continuously track a moving subject, is capable of displaying up to 100 frames per second, while also maintaining the magnification ratio of 0.77x and the display time lag of 0.005 seconds. The duration of the viewfinder blackout, in which the evf blacks out temporarily while the camera reads picture data, has been reduced by more than half, enabling continuous shooting to ensure tracking subject movements.
Body and grip offer ultimate stability
The X-T2's body is fully made of magnesium alloy making it not only compact and lightweight, but also solid and highly durable. The X-T2 body has weather-proofing at 63 points to achieve a high level of resistance to dust and moisture, and coupled with its ability to operate in temperatures down to 14°F, is ready for full-fledged field photography. Similar ruggedness is applied to the new Vertical Power Booster Grip.
The Vertical Power Booster Grip (optional VPB-XT2) is a dust-resistant grip, rugged and capable of operating at temperatures as low as 14°F that maximizes the performance of the X-T2 beyond expectations. It fits two batteries, bringing the total number of batteries the X-T2 can use to three, including the one in-camera, to increase the maximum number of frames that can be taken per charge to approximately 1,000 (Normal mode). In the Boost mode, multiple batteries can operate at the same time to give a boost to camera performance in continuous shooting, shooting interval, shutter release time lag and blackout time, while also extending the duration of 4K video recording to approximately 30 minutes.
The Vertical Power Booster Grip also features a shutter release button, focus thumbstick, AE-L button, AF-L button, command dials, Q button and Fn button and headphone jack to enable audio monitoring during video recording to provide the same level of excellent operability in vertical shooting as you get in horizontal operation. The grip itself has battery-charging functionality where by using the AC adapter supplied (AC-9VS), users can fully charge two batteries at the same time in about two hours.
FUJIFILM EF-X500 Flash
The new high-end multi-function external FUJIFILM EF-X500 Flash is now official for the lineup of accessories for the X Series of digital cameras. The EF-X500 is a hot-shoe mount flash with a maximum guide number of approximately 50, and includes support for the FP mode (high-speed flash sync) so that the flash can be fired at any shutter speed. Photographers can now concentrate on shooting when a faster shutter speed is required, for example, in order to use a near-maximum aperture to produce beautiful bokeh.
The EF-X500 also supports multi-flash lighting. Users can set up multiple flashes to freely control light on a subject and background for a creative result. Through-the-lens (TTL) lighting control is available with single flash and also in the multi-flash setup, so that users can start shooting without having to make cumbersome adjustments to light output.
EF-X500 Flash key features:
Maximum guide number of approximately 50 (ISO100・m) / 164 (ISO100·ft) • Zooming the illumination angle for the focal lengths of 24mm – 105mm, and covering the illumination angle of approximately 20mm when the wide panel is used
Flash head that can be tilted up by 90° degrees, down by 10° degrees, to the left by 135° degrees and to the right by 180° degrees for bouncing light
Equipped with LED video light that can also be used as AF assist light and catch light
Registers up to ten combinations of various setting to suit specific shooting conditions in advance for quick activation when needed
Availability and Pricing
The new FUJIFILM X-T2 (body only) will be available in September 2016 in the U.S. for USD $1,599.95. The X-T2 and XF18-55mm (27-84mm) kit will be available in September 2016 in the U.S. for USD $1,899.95.
The FUJIFILM EF-X500 Flash will be available in September 2016 in the U.S. for USD $449.99.