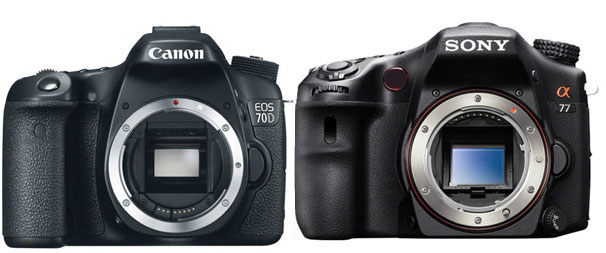 Sony A77 vs Canon 70D (DSLR vs SLT), take a look at the major specification comparison review of both the camera and share your thoughts with us.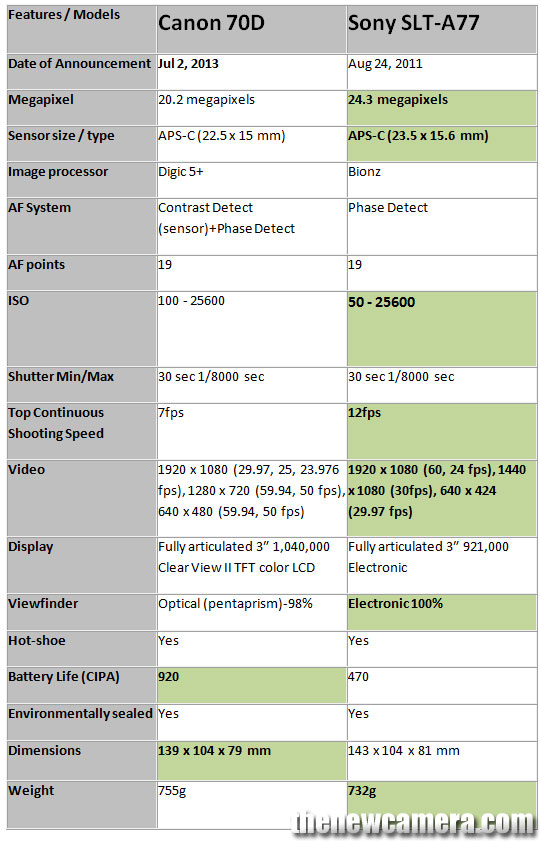 DSLR vs SLT
In the case of the DSLR, the mirror reflects light up into the viewfinder and then, once the shutter button is pressed, it lifts out of the way to allow the photograph to be taken, hence the 'reflex'.
In the case of the SLT, however, the mirror is translucent, so it allows light to travel directly through it for the picture, with only a small amount being reflected for use in the camera's autofocus system, thus eliminating the need for internal movement of the mirror.
Features Comparison
Sensor, ISO
Sony A77 features bit bigger sensor with more megapixels, but due to SLT technology only 70 to 80% of light is transmitted to sensor, a small portion is used by AF system, In Canon 70D there is no such issue, the mirror flip-up after AF is done and the camera sensor get 100% of incoming light.
There is no HIGH-ISO test images available yet, but we are sure Canon 70D will perform better even if the have same ISO range.
Auto-Focus System
With Sony SLT you get Full-time Phase AF while you are shooting video or shooting still images, Canon 70D features newly developed sensor with Dual-pixel AF system, hence the AF is 5 time faster than conventional contrast detect system in live-view and video mode.
Continuous Shooting Mode
Sony A77 features 12fps of continuous shooting mode, Canon 70D is limited to 7fps only, So the Sony A77 is approx 2X faster.
Video:
Both Camera features Full-Time AF during video recording, Sony A77 offers 60fps of frame rate @ Full HD video recording, Canon 70D limited to 30fps only.
Canon STM lenses support for 70D, Canon STM lenses / lenses with step-drive motor for silent AF specially designed for video recording.
Built-In Wireless Connectivity: Canon 70D Wi-Fi provides remote control over the camera's exposure settings (aperture, shutter speed, and ISO) as well as focus and the shutter release from an iOS or Android mobile device when using the Canon EOS Remote app.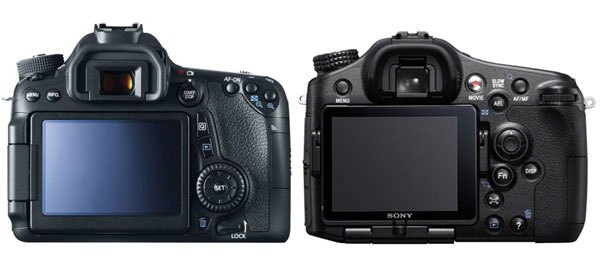 Display:  Canon 70D offers bright 3.0″ 1,040k-dot vari-angle Clear View II touchscreen LCD monitor, Sony Alpha comes with Sony's 3.0 inch Xtra Fine LCD monitor with 921K dots.
Both camera features built-in HDR and Multiple exposures modes.
Verdict : Canon 70D features advance core specification, we highly recommend you to buy Canon 70D DSLR, Sony A77 is recommended for sports shooter (if they need 12 fps continuous shooting speed and more megapixel)
Buy Canon 70D at Amazon | B&H |