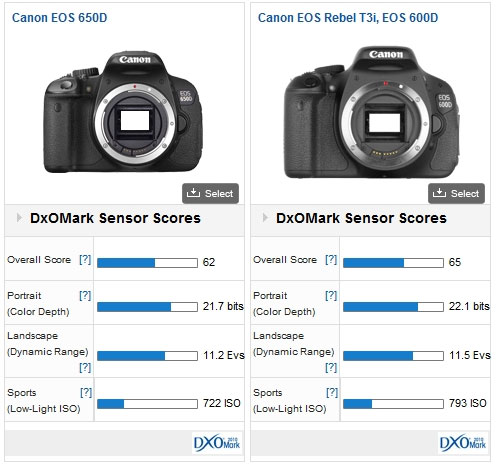 ---
See before you read this article please understand our duty is to put the latest news / rumors in front of our members / visitors. We are not against any brand OR product.
---
Latest news coming from DxOMark Lab, canon 650D / T4i score is out now and the overall score is less than the old 600D / T3i DSLR, the results are very disappointing for Canon fans and 650D owners.
From DxOLab
When we first heard the announcement about the EOS 650D and its new sensor, we hoped to see a gain in image quality sensor performance, but the Canon EOS 650D's sensor scores have left our hopes high and dry. Clearly this 18 Mpix sensor's only new feature is its hybridized autofocus (which includes the specialization of certain photosites)……………………….. For the EOS 650D's sensor, however, even its hybridized autofocus cannot deflect the conclusion drawn from our DxOMark test results: "same old, same old."
The test process of DxOMark mark is a matter of discussion, but canon technical adviser chuck westfall is never happy with the Canon sensor scores.
Source DxOMark Lab