Olymous E-P5 vs Sony NEX 6 Specification comparison review, Sony Alpha NEX 6 features bigger sensor and advance Hybrid AF system, on the other hand newly announced olympus E-P5 features Micro 4/3 sensor and contrast based F.A.S.T AF system,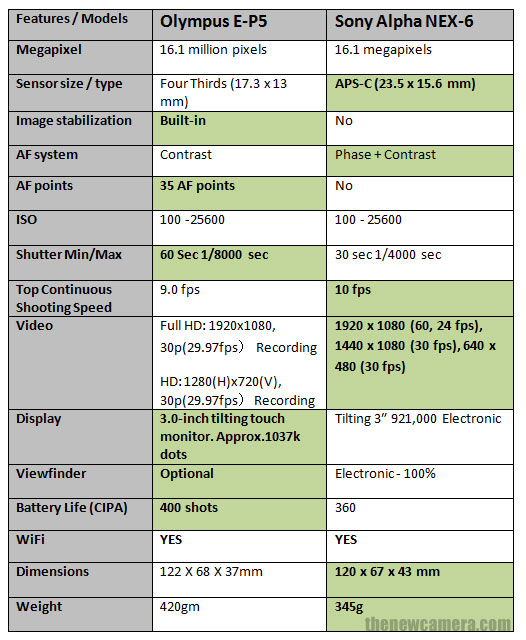 Sensor: Sony NEX 6 gives you bigger sensor with much larger photodiode compared to Olympus E-P5, so its no doubt that the NEX 6 will give you better low-light result and more dynamic range.
AF system: Olympus uses Frequency Acceleration Sensor Technology (F.A.S.T.) developed by Olympus few years back,  Olympus E-P3 and OMD E-M5 camera uses the same technology  (F.A.S.T System). The AF speed of Frequency Acceleration Sensor Technology based camera are blazing fast, on the other hand Sony NEX 6 uses Hybrid AF system that combines Phase and Contrast detect method, NEX 6 have Phase AF pixels active during still and video mode, so both camera gives you the most advance AF system available today.
Based on different lighting / test condition, Hybrid AF system (Phase+Contrast) is more recommended over contrast based AF system.
NEX 6 also offers bit fast continuous shooting speed compared to Olympus E-P5.
Image Stabilization: Olympus features built-in image stabilization, No IS available in NEX 6.
Video: Sony NEX 6 can capture Full HD video @ 60fps, Olympus E-P5 limited to 30 fps only at Full HD mode.

Display: Olympus E-P5 features high resolution touch display, no touch display available in NEX 6
Verdict: Based on Specification Comparison we recommend you to buy Sony NEX 6
Buy Now
Olympus E-P5 Body only – Amazon
Olympus E-P5 17mm f1.8 and VF-4 16.1 – Amazon
Sony NEX 6 is Available at Amazon