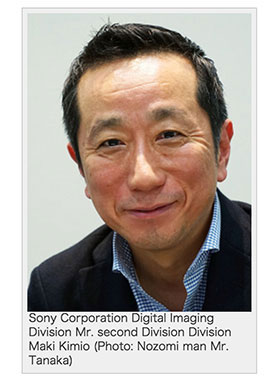 Sony – No Medium Format Camera Coming according to Sony, In an interview Sony staff confirmed to DCWatch that they are busy in developing and expanding the current A and E-mount camera,
Take a look at the main points of the interview
1) With SLT they have more option to implement new technology inside due the presence of more space.
2) Big sensor camera and more megapixels depends on the market demand, at present Main demand is improve the autofocus performance
3) Sony will going to implement a non-bayer sensor in future, but they are in development stage now.
4) Sony is working on Light Field camera and expected to arrive soon.
5) Hybrid shutters with more range are also coming.
6) According to Sony, the DSLR sales are down due to lack o innovation, sales of mirrorless are up due to the advance technology inside it, not due to the size difference.
7) Both APS-C and Full Frame sensor cameras have a future. Wild life photographers prefer APS-C while landscape photographers prefer FF.
8) They say, It might not be so important to add 5 axis on the A7r yet. It means no 5-axis coming to A7R II.
stay with us (FACEBOOK | TWITTER | GOOGLE+) and we will update you soon as we get any new information. See more Sony Alpha Rumor
Src-DCWATCH via SAR