Take a look at the core specification and major difference between Olympus E-M10 II and E-M5 II camera, take a look at the table below…
Major Difference
Olympus OM-D E-M10 II vs. Olympus OM-D E-M5 II Specification Comparison Table.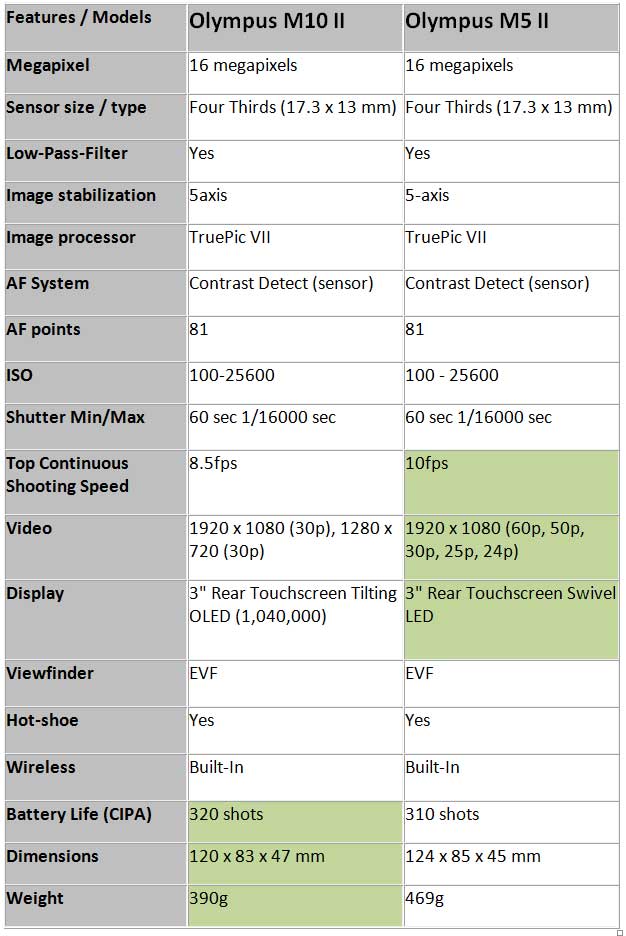 Both camera have almost same core specification, the sensor, that clearly means you will get same image quality from  from both the camera.
Both camera have ultra-sensitive 5-axis VCM (voice coil motor) 5 axis image stabilization system, the advance 5-axis image stabilization system assisted with updated gyro sensors and it allows you to have full 5 exposure steps of compensation.
No high resolution mode available in E-M10 II camera but Olympus E-M5 II camera we can capture 8 images in a sequence to create a 40MP high resolution composite image.
When we discuss which camera will be better to freeze the action of the fast moving subject confidently then Olympus OM-D E-M5 II is the right answer because the camera trades the 10fps of shooting speed but the compact camera OM-D E-M10 II has manages only 8.5fps.

However, you can easily capture the HD video in both the cameras but the OM-D E-M5 Mark II captures 1080p video at up to a 60p frame rate with up to 77 Mbps high bit-rate recording possible at the 30p setting
10 more shots you can take by using E-M5 II cameras whereas 310 shots only be taken by E-M10 II.
Price difference