TNC exclusive — Nikon is working to improve the image stabilization system of the DSLRs. And in near future we may see introduction of 5 axis Image stabilization inside Nikon DSLRs systems cameras and lenses. In the patent drawing above we can clearly see that Nikon DSLR with attached lens is able to feature 5axis IS.
As we have seen in other mirrorless cameras including Sony Mirrorless and Panasonic G series cameras. The X&Y axis and the roll that in general camera needs to compensate. And the Pitch and Yaw compensate by camera lenses.
So, to bring up 5 axis IS in DSLRs Nikon will may introduce Sensor based Image Stabilization, or a completely new series of Nikkor lens with built-in High end Image Stabilization.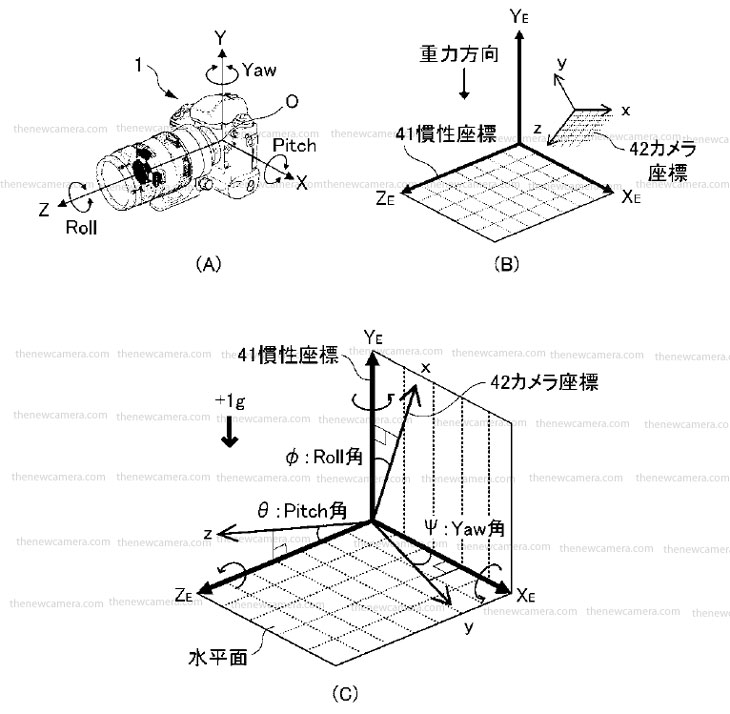 Patent Details
Details are translated from Japanes by machine ,
Patent JP-225405
The present invention relates to a motion compensation device and optical instruments.
In the high magnification ratio shooting, but increases the influence of parallel shake, a typical shake correction system using only the angular velocity sensor, it is impossible to detect the parallel shake. Therefore, at the time of high magnification photographing a problem that blur correction accuracy is deteriorated.
To solve this problem, a triaxial acceleration sensor, by using the angular velocity sensor of the three axes calculates the position of the camera, calculating the gravitational acceleration component included in the output of the acceleration sensor, by removing the translational shake component only by calculating, by correcting a technique for improving the shake correction accuracy at the time of high magnification photographing (Patent Document 1) it has been proposed. This is based on the output of the six-axis sensor, and requests the displacement of the parallel shake.
Also see – Nikon Working to Speed up the Mirror flip-up Speed
Nikon patents Mirror-Less interchangeable Sensor Camera