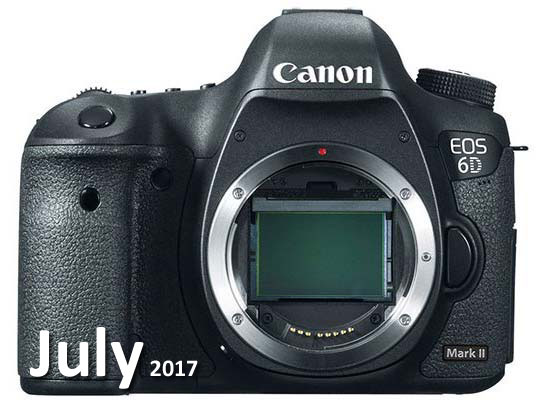 We have told you a while ago that Canon 6D Mark II is coming in July, there are few websites who are speculating he announcement date of Canon 6D Mark II on July 20 or 21, but at the same time there is no confirmation about that.
But before that take a look what we already have
1. Canon Entry Level Fullframe Camera
Canon 6D Mark II Confirmed set of specification 
built in WiFi and Bluetooth
W 144.0 mm x H 111.8 mm x D 75.5 mm (Canon 6D Mark II)
Canon 6D Mark II camera code name is DS126631
180 degree articulating screen.
Not only 6D Mark II Canon is also rumored to announce Rebel SL2 camera and Canon a new entry level mirrorless camera to replace the current Canon EOS M10.
2. Canon Ultra Compact DSLR
Let's have a look at the available details of Canon SL2 camera
Name of the Model Canon SL2
Made in Taiwan
SKU: 2250C001AA, 2250C002AA, 2250C011AA, 2253C001AA, 2256C001AA
Wi-Fi · Bluetooth installed
From SKU units we can get that camera is coming in 5 different variants.
3. Canon Entry Level Mirrorless camera
Canon Entry Level Mirrorless is on its way, Canon EOS M10 successor, possibly to be called Canon EOS M20 or EOS 10 Mark II.
Details about upcoming Canon Mirrorless Camera
Model Code name: PC2276
Made in Japan
Body color 3 colors. Only body and three lens kits?
SKU: 2209C002AA, 2209C012AA, 2209C022AA, 2209C032AA, 2210C002AA, 2210C012AA, 2210C022AA, 2210C032AA, 2211C002AA, 2211C012AA, 2211C022AA, 2211C032AA
4. Canon Compact also coming
Take a look at the details below…
Digital camera
made in Japan
SKU: 2208C001AA
Wi-Fi · Bluetooth installed
 We also have a dedicated Canon Facebook group – you can join it right now.
Follow us on  FACEBOOK | TWITTER | GOOGLE+ to get live news + Canon rumors 24X7