According to latest rumors coming from reputed rumor mills Canon 90D is coming this year. well that's not a new news,. and we have received several hints in the past (Canon 90D Coming in Late 2018) that Canon 90D is coming in 2018.  One more confirmation that Canon 90D will have 4K video and later we will have 4K in upcoming Rebels also.
Well Canon introduced 4K inside Canon EOS M50 which cost approx $400 less than Canon 80D. So, it's obvious that Canon 90D camera will have 4K with DPAF. We have seen Canon is working on advance DPAF as well as Quad pixel AF system, possibly those features are saved for Upcoming High-End Mirrorless and Pro DSLRs.
---
Canon 850D / T8i to Have 4K without DPAF
We have received hints in past that Next Rebel camera from Canon will going to have 4K video mode. But, after the announcement of Canon EOS M50 camera we got a silent confirmation that yes, the rumor was true.
From the price difference between the two we can say that next generation of REBEL camera will  have 4K inside. Yes, probably the same limited 4K video mode as we have seen inside the Canon EOS M50, limited 4K without DPAF support. Why limited 4K in Canon camera despite of having DPAF sensors ? well to save the sales number of Canon High-End DSLRs / Mirrorless models.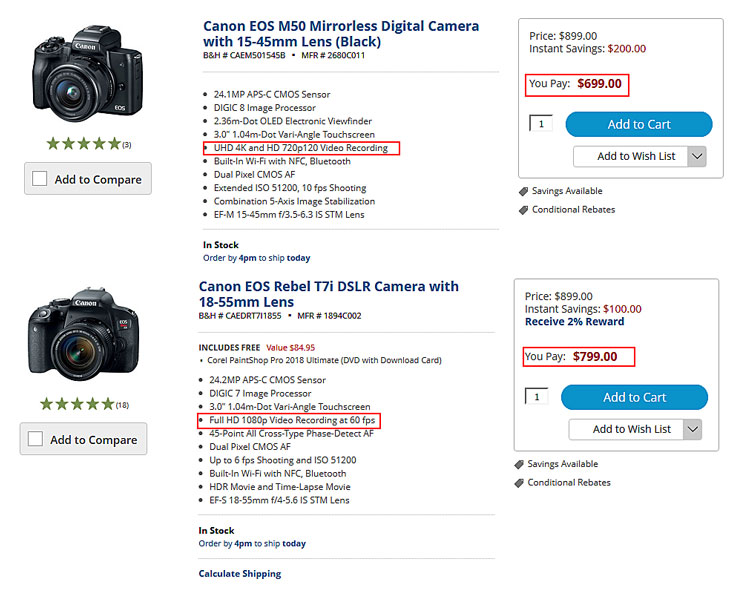 We will update you soon as we get any new information related to upcoming Canon cameras.
Subscribe to FACEBOOK | TWITTER | GOOGLE+ to get live news + Canon rumors 24X7