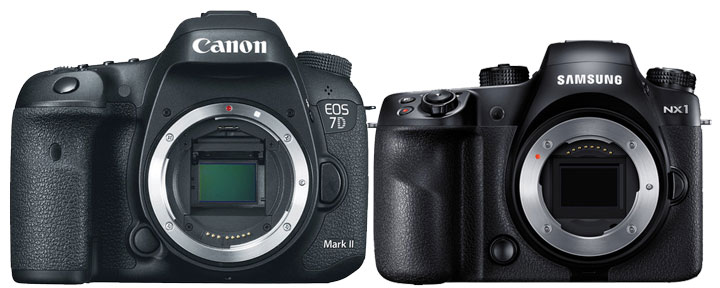 Canon 7D Mark II and Samsung NX1 finally announced, we now have confirmed set of specification of both the camera, take a look at the specification below.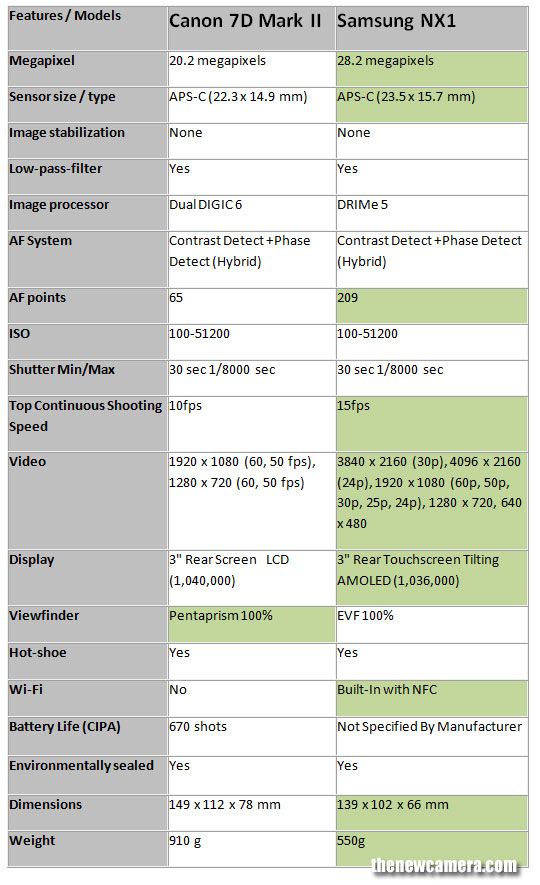 Sensor + AF System – If we look at history (2 year ago from now), Sensor and AF module are two different things in a DSLR, the sensor captures the image and AF module used to lock AF on the subject. But now the things are changed and new generation of PDAF (Phase detect Auto Focus ) sensor are coming.
Canon is rumored (or has the capability) to implement 20 megapixel single layer Dual pixel AF sensor only (multi layer dual-pixel AF technology will take some more time but Canon does have some patents), on the other hand the Samsung will add a 28 megapixel APS-C CMOS sensor (BSI or ISO CELL we are not confirmed at this point, but I will not pay $1500+ for a camera body if it doesn't have ISO CELL sensor inside it)….
Back to comparison– Samsung NX1 features a massive resolution of 28 megapixel but Canon 7D Mark II limited to 20 megapixel. The Canon 7D MK II PDAF sensor will carry 65 AF points "All Cross-type", Dual cross on the center point and on the other hand the Samsung NX1 will feature 205 phase and 209 contrast-detection autofocus points … – Best Sensor – Winner Samsung
SPEED – Continuous shooting speed, Video recording, JPEG processing and the overall speed, depend upon the type of Image processor inside the camera , Canon will use Dual DIGIC 6 Processors and Samsung will use new generation of DRIMe V Signal Processor.
With the help of Dual DIGIC 6 Processors Canon is able to shoot 20 Megpixels of 10 frame in 1 second and Samsung can capture 28 megapixel 15 frames in 1 second. – Top shooting Speed- Winner Samsung
Video: Now we are sure that Samsung NX1 do shoot 4K videos but in mp4 format on the other hand Canon 7D limited to Full HD recording only and available formats are MOV and MP4 file formats , plus you also get a option to record uncompressed videos to an optional external recorded
WiFi and NFC – Samsung NX1 feature NFC and WiFi for remote shooting and sharing, unfortunately the 7D Mk II will not have WiFi or NFC.
Lack of Lens Support: Samsung is very  weak here, Canon 7D Mark II will get full support of EF and EF-S lenses, Samsung NX1  will arrive with limited lenses at first (one we already have and 2-3 new lenses will arrive at the time of NX1 announcement).. but the lack of pro-grade lenses will sure impact on NX1 sales volume.
Verdict: Based on Specification we have Samsung NX1 camera is a clear winner, we recommend you to buy Samsung NX1 over Canon 7D Mark II.
Buy Samsung NX1 from Amazon || B&H Store
Pre-order available at
Amazon
Buy Canon 7D Mark II body at Amazon
Buy Canon 7D Mark II body with 18-135mm IS STM Lens at Amazon
B&H Store
Buy Canon 7D Mark II body at B&H
Buy Canon 7D Mark II body with 18-135mm IS STM Lens at B&H
Finally Samsung is entering in the camera world with it's excellent flagship APS-C NX1 camera, we also hope that in future Samsung will add professional grade lenses to its NX line-up.