I have seen and published more than hundred of test results of DXO Mark Lab, In general the DXO Mark Lab give low points to Canon camera during test due to lousy performance of the Canon sensors.
But today I was really surprised to see that Canon flasghsip camera 1DX Mark II scored better result compared to Nikon D5 in sensor test examination.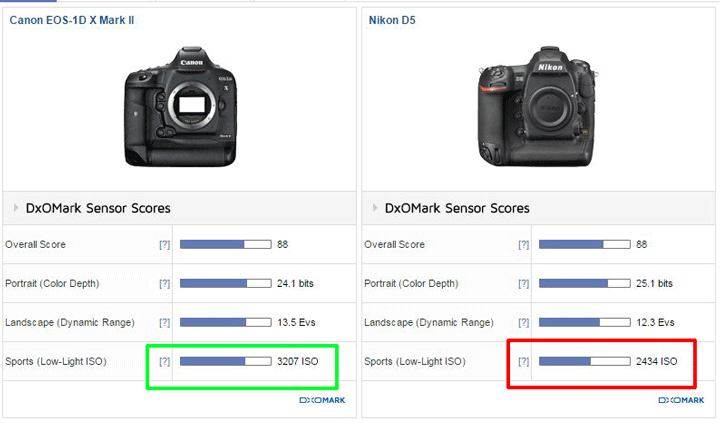 Despite of showing a 3.3 Million ISO range in the Specification sheet Nikon D5 failed to impress DXOMark Lab engineers with its performance and Canon 1DX Mark II with a low range [409600] on specification sheet performed better compared to the Nikon D5.
We have created a pie chart to to give you a seance of knowledge about the difference between the test score and the specification sheet data.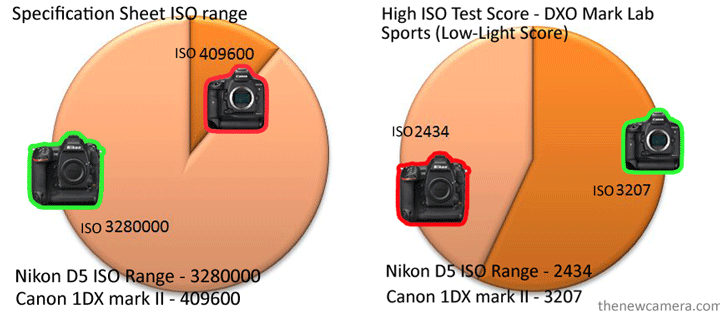 take a look at the concision by DXOLab
Conclusion
This is a well-deserved result for Canon, and this versatile sensor should prove attractive to a wide range of photographers, including those that work in multiple disciplines. The wide dynamic range at low ISOs should appeal to all photographers, but especially those using it for landscapes, and the low noise at high ISOs will also appeal to action and sports photographers. Although the new model is aimed primarily at that market, the increase in pixel count over its predecessor now matches that of the earlier EOS-1Ds Mk III, a model that's still highly regarded for editorial and commercial work. It is not too much of a stretch to view the new EOS-1D X Mk II as the natural successor to that camera, and its wide range of capabilities, including DCI 4K video, make it look highly tempting. Sure, it would have been great to see a higher pixel count, but overall, the sensor performance offers photographers the versatility to tackle a wide range of assignments with just one camera.
source – DXOLAB