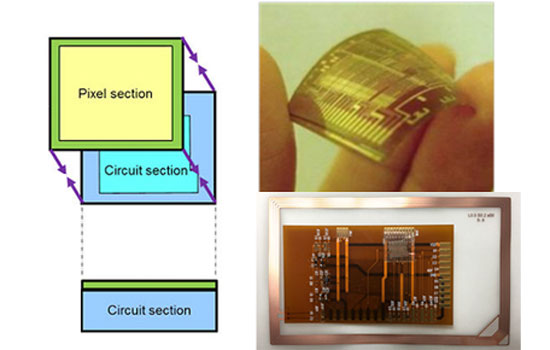 Fujifilm done something extraordinary right now by developing world fastest sensor circuit. As you can see image above the sensor circuit sit behind the pixel section of the sensor. The circuit is responsible of data transfer and in-short the circuit will redefine the camera still and video recording capability to a next level.
Structure of Fuji Organic Sensor
Till now we haven't seen any camera based on true organic sensor. But after the announcement of new Circuit chip we high hopes that we will sure see organic sensor based camera in near future.
That clearly indicates Fuji is moving in the direction to put Organic sensor on the production line. The previous generation of organic sensors were power hungry and Heat generation is also one of the biggest issue (see previous release here). That's why Fuji raised the "temperature management" issue in the current press release.
4th Generation of X-Trans Organic Sensor
Fuji has just announced Third generation of X-Trans sensor with the arrival of highly acclaimed X-Pro 2 camera. After that company used the same sensor inside Fuji X-T2, X-T20 and X100F.  Based on past footprints in every two to three year Fuji upgrades it's camera sensors. If everything goes well then we can expect 4th gen of X-Trans sensor will be Organic and new Sensor Circuit sometime in 2018. That will sure raise the image quality bar of Fuji cameras.
Press Release