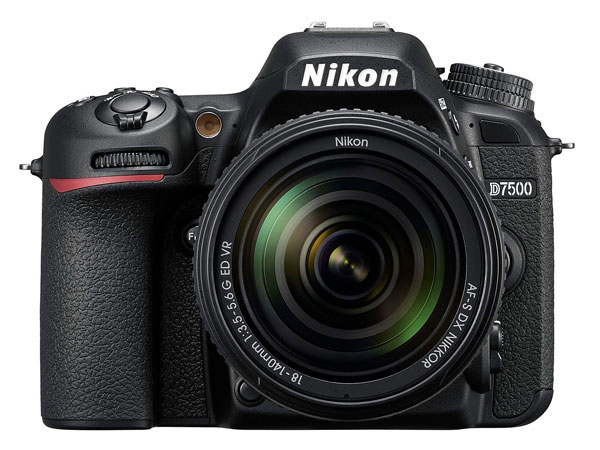 Nikon D7500 camera best lenses are handpicked by our staff members. These recommended lenses for Nikon D7500 camera will cover all your needs.
Nikon D7500 camera features same sensor as Nikon D500 camera. And the ISO range of the camera is exactly same.  If you look at the specification comparison of both the DSLR then you will find that Nikon D7500 is actually a lite version of Nikon D500 and the Image quality of recently announced Nikon D7500 camera will remain same as of Nikon high end DSLR Nikon d500 camera. But, the AF section of the Nikon D7500 camera remain similar to its predecessor.
It's really hard to recommend best lenses for a particular camera without knowing the budget of photographer.  However, in this guide we are recommending the best available lenses for your Nikon D7500 DSLR camera. And Best lenses doesn't mean these cost you sky high like Leica or Zeiss lenses, all these lenses we recommend here are perfect example of price vs performance.
We are starting our lens recommendation guide for Nikon D7500 camera
Best Travel Lens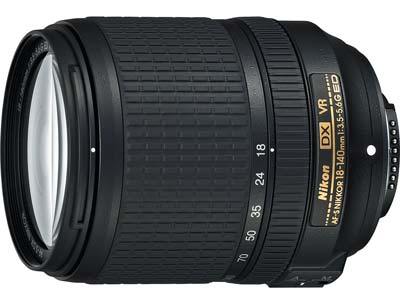 Buy Nikkor 18-140mm lens from B&H | Amazon
Nikon 18-140mm ED VR lens – This is one of the most popular and most used kit lens by professional photographers around the world.  We do know that you never like to have a Nikon 18 to 55 MM lens with you, since its range is short and its image quality  never satisfy a professional user. The best kit lens for your Nikon D7500 camera,  this lens image quality is perfect and the resolving power is tremendous.
Hence, rest assured that you will going to get super sharp lens throughout the zoom range And it is one of the best lens when you don't have time as well as space to switch over one after. The lens weight of 17 ounces only.
The Good: Best Travel Lens
The Bad: None
---
Best Event shooting lens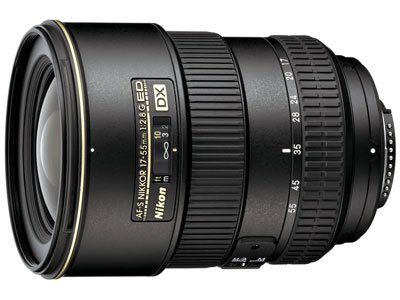 Buy Nikon 17-55mm f/2.8 Lens from Amazon | B&H
Nikon 17-55mm F2.8
It is one of the best lens Nikon ever made for a DX format camera like Nikon D7500.  This lens will going to cost you a lot but the image quality you get from this lens is uncomparable from any DX lens.
The lens features fixed aperture throughout the zoom range with minimal distortion. And it produces sharp images with excellent colour and contrast ratio even at low light condition,  it is one of the best lens that you can use during wedding and it went it can be also excellent Street photography lens.
The Good: Excellent Image Quality,  F2.8 constant aperture
The Bad: No VR, Price too High
Best Affordable alternatives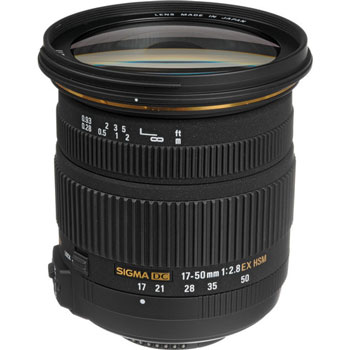 Buy this lens from Amazon
Sigma 17-50mm F2.8
Sigma 17-50mm F2.8 Lens: Cost even less than half compared to the Nikon 17-55 mm f 2.8 lens.  The Sigma 17-50mm lens features fixed aperture and cost only $369. Surprisingly, when you look at the comparison between both the lenses When mounted on Nikon d500 camera (Nikon D500 and Nikon D7500 shares same sensor). The sigma lens sharpness score is 20 whereas the test score of Nikon is 19 only. The test score of both the lenses clearly indicates that despite of being 3x costlier than the Sigma lens to Nikon lens is unable to outperform Sigma during test condition.
Sigma makes excellent lenses and it will cost 3x  less than the Nikon lens and performs better than that.
Best Fixed Aperture Zoom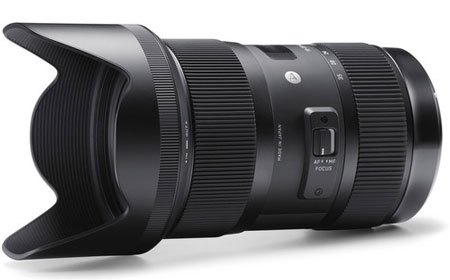 Sigma 18-35mm F1.8 Lens from Amazon & B&H
Sigma 18-35mm F1.8 Lens Sigma 18-35mm F1.8 lens is world only APS-C sensor based zoom lens that features fixed F1.8 aperture. The lens cost ½ then the native Nikon 17-55mm F2.8 lens. Yes you have to sacrifice focal length but it act as as 18mm, 24mm and 35mm F1.8 lenses.
The lens image quality ressembles with prime lens. The bokeh of the lens is amazing and it's an perfect solution when you need an perfect wedding / event photography companion.
The Good: Best Lens in it's Class, F1.8 constant aperture
The Bad: None
---
The Best portrait lens
and first lens we recommend for this camera is a portrait lens of 50 mm 1.4.  the fact is the 1.4 aperture lens is more brighter will give you more pleasant background Blur compared to an F1.8 lens, it will going to cost you a bit more compared to the 1.8 version. But getting an 50mm F1.4 lens mean extending the reach and limit of your creativity.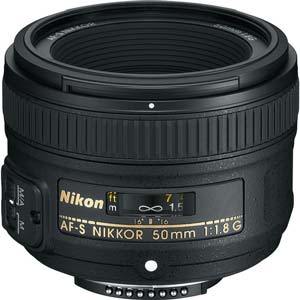 Buy 50mm lens from Amazon | B&H
Nikon 50mm F1.8 is more affordable compared to the F1.8, Lens is one of the best portrait lens for your camera. The range you get from this FX AF-S Lens is 75mm (DX crop factor) which is perfect for shooting portraits under budget. While using the lens I have noticed that it produces exceptionally sharp images even when used at wide aperture. The bokeh quality of the lens is too perfect for its range.
The good: Best lens for shooting portrait
The Bad: None
---
Best Macro Lens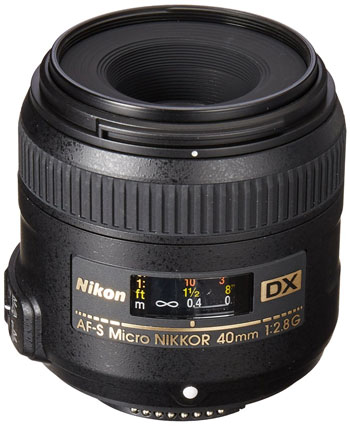 Buy Nikon 40mm F2.8 AF-S DX from Amazon
Nikon 40mm F2.8 AF-S DX  – It's Tailored macro lens for DX format camera and delivers pixel to pixel level details. it's a true macro lens that captures life-size macro images with excellent color and contrast. The only down side of the lens is lack of VR (Image Stabilization). So you have to keep your hands sturdy while shooting your subjects or you need to keep Tripods on.

The Good: Sharp images, affordable
The Bad: None
---
All Rounder lenses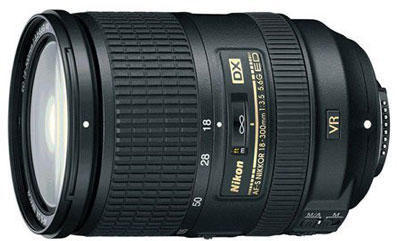 Nikon 18-300mm lens from B&H and Amazon
NIKKOR 18-300mm f/3.5-6.3G ED VR Lens A single lens that switch off the need of all the other lenses is.NIKKOR 18-300mm f/3.5-6.3G ED VR Lens but with a compromise in image quality. This lens is also very important since when you are on travel and need an all in one solution then 18-300mm works for you. You can capture wide angle shot to super-telephoto from one lens. The images are bit soft at telephoto-end when used at Max aperture. The image comes sharp and usable when capture F7 at wide-end. Since, its an FX format lens so the range you get is 27-450mm lens. (approx 16X optical zoom).
The lens gives you longest possible zoom range available. So it made for those who don't have the time and space to change lenses constantly.
The Good: Coverage
The Bad: Soft at telephoto-end @ Max aperture
---
We have two options here, the first lens is made by Nikon and features an decent specification with high-price tag. The other third party lens is build by Tokina and it's performance and price is better than of Nikon.
Best Ultra-Wide angle lens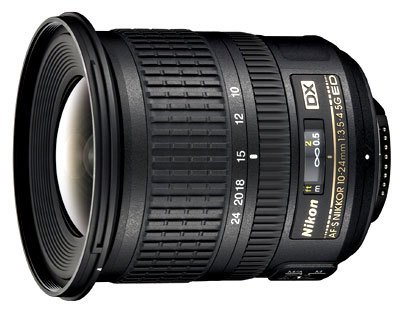 Buy Nikon 10-24mm f/3.5-4.5G  lens from Amazon | B&H
Nikon 10-24mm f/3.5-4.5 ($896)
The lens is one and only ultra wide angle zoom lens. Available for Nikon D7500 camera. The 10-24mm is undoubtedly the best lens available for shooting landscape and architecture. It can be also used for shooting in streets or events, at night you may require tripod. The images from this lens is very sharp and exhibit minimal distortion. But what we don't like is, the lens doesn't carry image stabilization system and it's cost in insane.
The Good: Image Quality
The Bad: No VR, Price too High
Affordable and better Ultra-Wide angle lens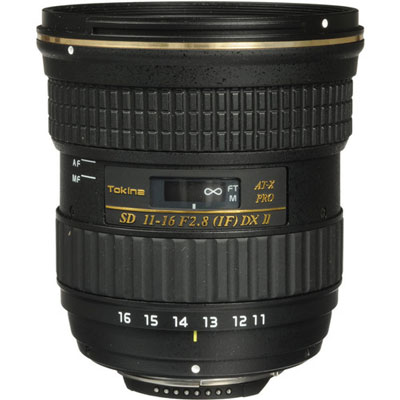 Tokina 11-16mm f/2.8 DX II ($449) Amazon and B&H
The Tokina 11-16mm lens features fixed F2.8 aperture through-out the zoom range. Best lens for shooting landscapes and architecture. The F2.8 ultra-wide zoom lens available for Nikon camera that allow you to work without worrying about the lighting condition. Built-in internal AF motor works smoothly and fast. This lens performance is exceptionally well compared to the native Nikon Lens and I recommend you to get this lens over Nikon 10-24mm lens.
The Good: Image Quality, Price
The Bad: None
---
Best Street Shooting lens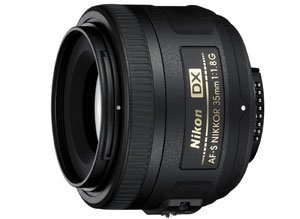 Buy Nikon DX 35mm F1.8 Lens Amazon
Nikon 35mm F1.8 Lens is one the best lens for street shooting under available light. The lens cost only $197. The lens gives you standard 35mm range which is truly classic. The Bokeh quality of the lens is very smooth and gives teck sharp result even when used at wide-aperture. We highly recommend you to get this lens if you are an DX format user.
The Good: Wide coverage, F1.8 and Affordable
The Bad: None
Best Lens Quick Guide