We have done a  specification comparison review among the three entry level camera and one high-end camera, Jump to Verdict at the end for quick answer to your question…
The Panasonic G7 is just announced by the Panasonic, G7 is a entry level mirrorless camera with 4K video recording, the camera not only records 4K video but also captures 16 Megapixel Still from a 4/3 sensor.
However if we look at all the camera below in the table we can clearly see that the Samsung NX500 is a complete technology breakthrough if we compare its price with features…
Sensor – Panasonic cameras get a early defeat due to the small sensor size used inside the camera, now only two camera left with big sensor,.. the NX500 and X-T10.
As we know that bigger sensor captures more light, other major factor is number of pixels vs sensor size… if the pixel density is high than each pixels will get small fraction of light compared to sensor with larger pixels, the fujifilm X-T10 sensor is of same size  as of the Samsung NX500 and due to less resolution the pixels are big and will capture more light compared to the Samsung NX500… hence FUji X-T10 will give you better low light performance compared to the Samsung NX 500.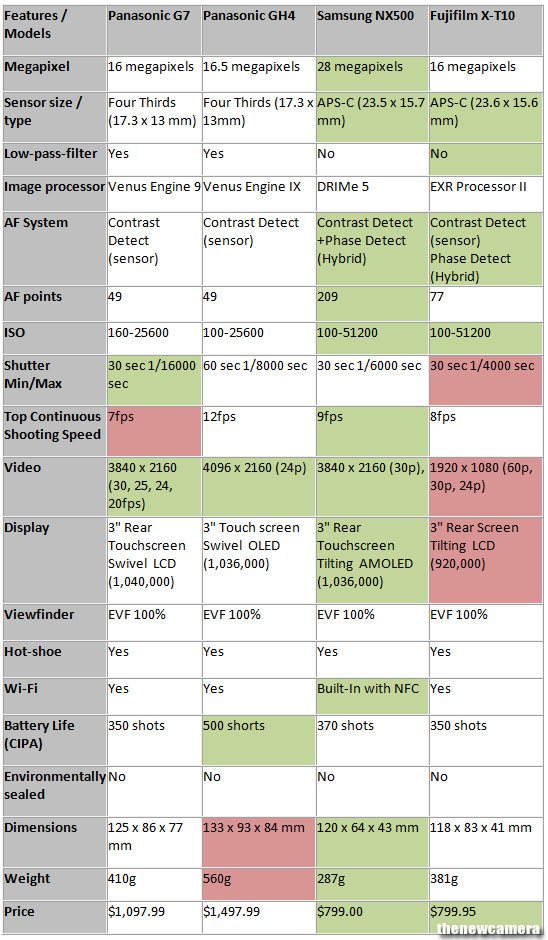 Advance AF system inside the Samsung and Fuji – Samsung NX500 and Fuji X-T10 both camera based on advance Hybrid CMOS AF sensor technology,
1. NX500 features a dense network of 209 active phase AF points inside the sensor.. not only that thanks to the ultra fast image processor the camera can do shoot 9frames per second @ 28 Megapixels…
"High-speed shooting at up to 9 fps is possible as well and the NX500 uses the NX Autofocus System III with 205 phase-detect points of which 153 are cross-type for fast, accurate focusing."
2. X-T10 features X-trans sensor that also feature 77 active phase AF points inside the sensor… and captures
" Fujifilm's unique X-Trans pixel array, the sensor is designed with a randomized pixel pattern to eliminate the need of an optical low-pass filter for reducing moiré and aliasing. By removing this filter from the design, higher image sharpness is possible. "
3. The Panasonic uses traditional contrast based Auto focus system.. but thanks to the new DFD system the AF system do work very well under any light condition…
The high-precision Contrast AF integrates DFD (Depth from Defocus) technology to achieve AF speeds of approximately 0.07 sec in AFS mode.
High ISO Performance
As we have said earlier … The camera sensor size is very important when low-light performance matters, the bigger the sensor will capture more low-light compared to the smaller ones…
Panasonic G7 and Panasonic GH4 sensor size is limited (17.13mm) and the ISO range is limited upto 25600, on the other hand the Samsung NX500 and Fujifilm XT-10 both features APS-C sensor and ISO range upto 51200.
Despite of having such a High ISO range we won't get better performance from Samsung NX500 since the size of the pixels are smaller compared to the X-T1 camera… so if you are a low light lover you mist go with the X-T10 camera.
Shutter:
Both Panasonic G7 and GH4 features electronic and mechanical shutter..The widest shutter range is of Panasonic G7. Both camera have silent shutter feature inside, when you select silent shutter mode the cameras work in silent mode without making a noise.
Samsung NX500 and Fuji X-T10 also have electronic and mechanical shutter, but no silent shutter option available in the Samsung NX500 as of Panasic GH4 and G7.
Video: Out of all these 4 mirrorless camera three of them shoot 4K videos, the Fuji X-T10 is only limited to Full HD video.
The Panasonic G7 records 4 K videos internally and G7 supports 4K UHD (3840 x 2160) video with either 30p or 24p frames rates at 100Mbps in the MP4 format. 
The DMC-GH4 brings the GH-line into the 4K age by offering both 16:9 UHD 4K 3840×2160 video at 23.98p, 24p or 29.97p, and 17:9 DCI (Digital Cinema Initiatives) 4K 4096×2160 videos at 24p.
Samsung NX500 can record 4K video @ 24p, Ultra-HD, at 30p, as well as in full HD up to 60p.
Fuji X-T10 supports Full HD 1080p video recording is supported up to 60 fps,No 4K available.
Display: The Samsung NX500 features 180° tilt capability of the 3.0″ 1036k-dot touchscreen AMOLED monitor one of the best display available in the market. Both Panasonic cameras also features better display unit but Fuji X-T10 screen is bit inferior to all.
 Connectivity: The Most advance camera in terms of connectivity is Samsung NX500, the camera can share the files wirelessly with any device and you can use any NFC enabled device to control you camera from distance. The Panasonic G7 also features built-in Wi-Fi connectivity for wirelessly sharing images and remotely controlling the camera from a linked mobile device using the Panasonic Image App.
Verdict (Price vs. Features)
If we compare list of features available vs price of the camera than Samsung NX500 is a clear winner, the camera features a super resolution HYBRID CMOS AF sensor, no optical low pass filter and ultra high speed image processor can capture 28 MP still shots @ 9 frames per second, the samsung NX500 mirrorless is smallest among all and easy to carry, we highly recommend you to go with the Samsung NX500 camera.