Nikon Coolpix A vs Fujifilm X100S, take a look at the high-end APS-C sensor compact specification comparison and share your thoughts with us.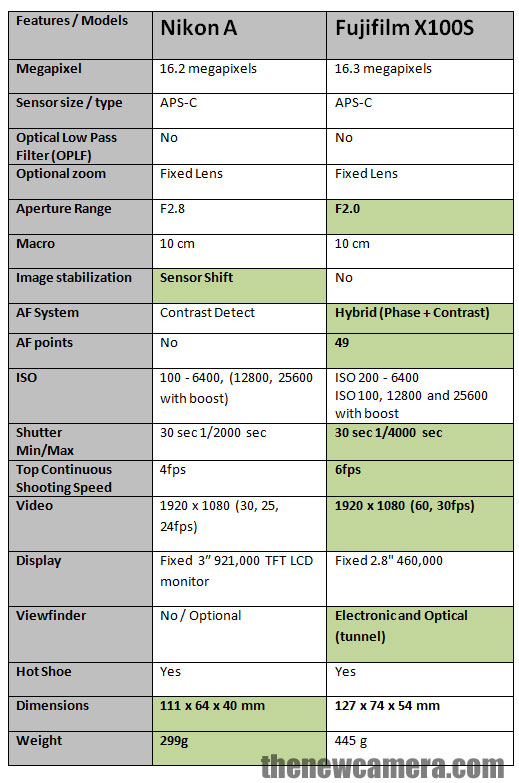 Sensor
Nikon uses Sensor of Nikon 7000 / D5100 DSLR ,
The fujifilm features newly developed X-Trans CMOS sensor, the fujifilm X100s sensor is completly redesigned and features Phase AF points within the sensor
so you get a approx 4 year old sensor technology in Nikon coolpix A, I don't know why Nikon used old 16Mp sensor since it already have high performance 24Mp APS-C sensor from Sony and Toshiba.
Lens
Fujifilm features better / bright lens compared to Nikon coolpix A.
No-Optical Low Pass Filter (OLPF) – Both Camera features No-Optical low pass filter.
Auto Focus –
Nikon features Contrast detect AF system, for still and video mode.
The Fujifilm X100s features Phase AF + Contrast AF (Hybrid AF), the Fuji X100s offers 0.08 second of AF Speed.
During Movie mode Fujifilm X100s Phase-detect AF effective for movie shooting.
Top Continuous Shooting Speed – Fujifilm features fast continuous shooting speed.
Video Mode
Fujfilm X100s offers you 1080p 60fps Full HD recording with Phase AF, Nikon coolpix A is limited to 30fps at Full HD mode and have contrast detect AF.
14bit RAW Support – both features 14bit RAW Support
Price Difference – Fujifilm X100S will cost you approx $250+ compared to Nikon coolpix A
Conclusion
Based on specification comparison review we recommend Fujifilm X100S.
Buy Fujifilm X100S from Amazon
Buy Nikon Coolpix A from Amazon