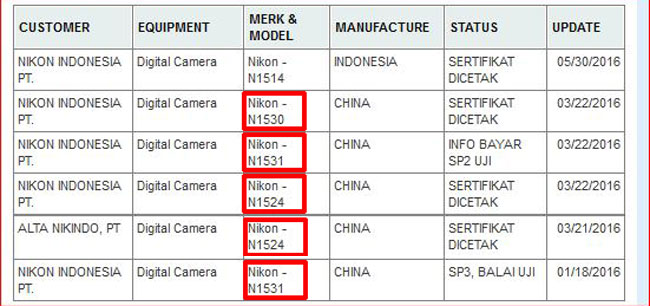 From this year Nikon changed some trend (earlier it look like this), instead of publishing the name of the camera now Nikon using model code name while registering its new camera at wireless certification agency of different countries.
From beginning of this year
January 1st, 2016 – Just before the announcement of Nikon DL, Compacts, Nikon D5 and D500 camera we have published list of products registered at Indonesian communications agency.
March 8th, 2016 – Three more camera models appeared just after Nikon completed the announcement of Nikon DL and other camera.
Today, more than 3 new models spotted at Indonesian communications agency website, at the moment we don't know but Nikon will sure have big announcement in coming months, specially at Photokina event.
Nikon Major announcement we are expecting Soon

Nikon D3400 – Entry Level Mirrorless camera
Fulframe Mirrorlesss camera – Nikon will announce 2 new camera at Q4 2016 or may be Q1 of 2017, more details here
Lenses for Mirrorless camera
Nikon 1 series related announcements
Nikon D5600 – Mid entry level camera and successor of Nikon D5500, the Nikon D55000 camera is expected to arrive on Nov 2016 or Jan 2017.
Nikon will upgrade entry level fullframe camera and Nikon D750 next year.
Stay with us on FACEBOOK | TWITTER | GOOGLE+ to get live news + rumors 24X7
source- sertifikasi.postel.go.id