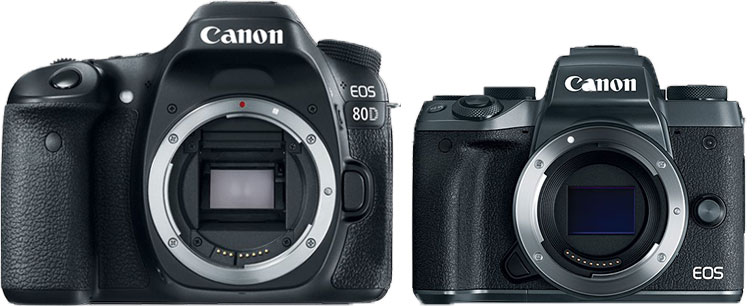 Well I am not the first person to talk about this, Since the time after the Canon EOS M50 Spec leaked my inbox flooded with the same question and many users who were to buy the 80D camera is holding their purchase for the Canon EOS M50.
Before we begin let me tell you that whatever the specs Canon EOS M50 have but you get big bunch of EF and EF-S mount lenses to choose from and not only that you can use the mighty Sigma 18-35mm F1.8 lens with the 80D DSLR that is equivalent to having a FF camera with a F2.8 based kit lens.
Well Canon EOS M50 specs is completely normal... but being a Canon user I am filled with excitement since 4K is a new thing for us (at least in the mirrorless zone, first mirrorless to have 4K)
Back to the topic
Why Canon EOS M50 is better than the Canon 80D DSLR"
Canon EOS M50 can record 4K, Canon 80D limited to Full HD.
Plus being a mirrorless camera the overall camera and the power zoom lenses are compact make it very easy to carry anywhere like a big compact camera.
Not to forget the addition of new image processor / Digic8 will make the Canon EOS M50 Video more smooth, rich of true colors and more cleaner videos at High ISO.
Next generation of CR3 RAW format and the new C-RAW compression format.
DIGIC 8 – New image processing algorithms will improve image quality and AF performance of the camera.
Clean low light images (ISO upto 51200)
Keep in mind we will update this post regeualry if we find our more details about the camera. And we do read the comments also so do post your thoughts and suggestion if you have any.
Follow Canon Group at Facebook for latest updates
Follow the Canon EOS M50 FB page
Stay with us FACEBOOK | TWITTER | GOOGLE+ to get live news + Canon rumors 24X7
---
Featured comment
By Cathy –

Hi, I have done extensive research on the M50 as I am trying to decide what camera to get next. The M50 does have an articulating screen that goes out to the side and flips if you want to take videos of yourself. You will get noise with higher ISO's but the low light performance seems to be pretty good with video and photos.

The crop factor comes in at 4K video which crops video another 1.6. You have to move the camera farther away to get the same shot as 1080p. It can be workable depending on what your doing. Just remember with the small battery you won't be able to film long and 4K produces large files, so you'll need more batteries and SD cards.