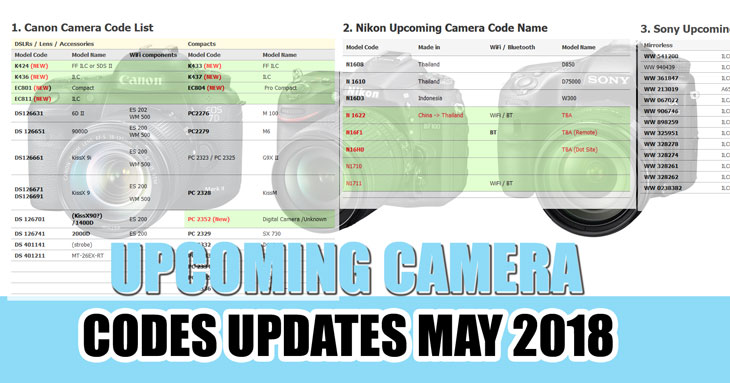 As usual the list we have for the upcoming camera of Canikon, Sony, Fuji and Leica. Unfortunately nothing has changed when compared to previous month.
Canon
PC 2352 – Digital camera
made in Japan
Wi-Fi · Bluetooth installed
Size: 110.1 x 63.8 x 39.9 mm
Interchangeable lens 1
SKU: 2309C005AA
made in Japan
Interchangeable lens 2
SKU: 2439C005AA
The PC 2352 particular model is latest edition, Well canon have a lot of camera waiting to be announced. Check out here
Canon 5DS Mark II updates is delayed till 2019 as well as if we believe latest Canon will put more attention to Mirrorless this year even if there some cannibalization of DSLRs. That;s why Canon picked Canon EOS M50 for the introduction of Digic 8 image processor and new File formats. And this Photokina Canon is rumored to announce a new Fullframe flagship camera with 30MP DPAF sensor and a flasghip Mirrorless camera EOS M5 Mark II with 4K DPAF support as it was missing inside the EOS M50 camera.
---
Nikon
N 1622 [Probably Nikon P1000 / P900 successor]
Digital camera
Made in China → made in Thailand
Wi-Fi · Bluetooth installed
Nikon N1710
Digital camera
N1711
Digital camera
Nikon N16F1
Remote controller
Wire type: Bluetooth 4.1 + LE
Battery: Coin type lithium battery CR 2032
January 5, 2018 FCC certification cancellation → February 28 re-registration
Nikon N16H0
Dot site for camera
Sony
Camera Code WW 771132
Digital camera
Wi-Fi · Bluetooth installed
N1622 is rumored to be the successor of Nikon P900 camera. Nikon also have two more interchangeable lens camera in its pipeline, but its look like Nikon D650 is also due for announcement this year as well as we will also see Nikon D3500 this year.
---
FUJIFILM Corporation
Camera Code FF 180001
Digital camera
Wi-Fi · Bluetooth installed
Take a look at the list of Fuji upcoming camera this year. At the moment we don't know FF180001 is for which model but we will update you soon as we get any details.
---
Leica
Camera code – 1546
Wi-Fi · Bluetooth installed
The same radio parts as Panasonic's TX 2 and GX 7 MK 3
(Of sample machine) Manufacture: Panasonic AVC Networks Xiamen Co., Ltd.
ACA-DC 16-E
AC adapter for digital camera
Leica registered a trademark application for "Q2" few weeks ago , you can see the full details here. So, it is possible that we may see Q2 camera soon from Leica.
See Full list of upcoming cameras here