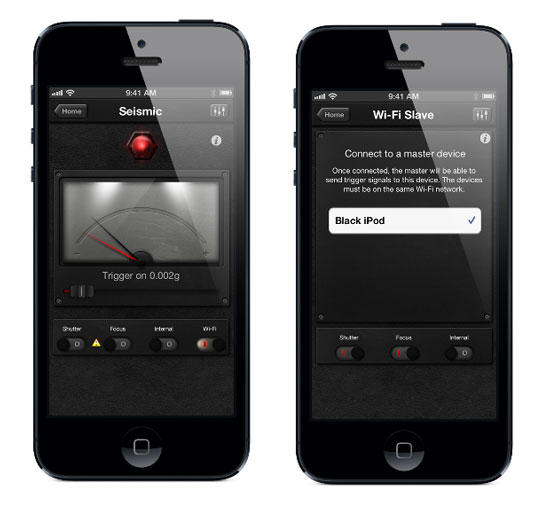 Today Triggertrap added a new feature to its app, now photographers can control advance trigger settings from smarphone or tablet, but there is a little problem that you need a another smartphone to as a slave device connected to your camera by a dongle or cable wire, the master device in your hand will do the rest if the work, one more thing no need of WiFi in you camera since you are using two smartphone the slave and master will get connected to each other via wireless hotspot running on the master smartphone.
Press Release
Triggertrap Mobile Goes Wireless
Triggertrap Mobile updates its iOS and Android apps with innovative new wireless triggering via Wi-Fi network increasing flexibility for its creativity-empowering photography app
LONDON – 12 November 2012 – Triggertrap, developer of creative camera triggering solutions for photographers of all skill levels, announced today that its popular Triggertrap Mobile for iOS devices now allows wireless functionality via Wi-fi network. Unique to Triggertrap, this new Wi-Fi triggering technology enables photographers to leverage the range and speed of a Wi-Fi network to control the dynamic features of the Triggertrap Mobile app wirelessly from an iOS device. The new wireless functionality is now available as a free upgrade for existing Triggertrap Mobile users and will come standard with any new purchase.
With Triggertrap Mobile's exclusive new Wi-Fi triggering mode, photographers can now trigger their cameras via a Wi-fi enabled "slave" device that interfaces with the camera through the Triggertrap Dongle, while controlling the camera functionality from a "master" iOS device. The "Slave" mode is included both in the iOS and Android app.
Photographers can even wirelessly connect multiple cameras to the same "master" device. For photographers wishing to use Triggertrap's Wi-Fi triggering mode in locations where a Wi-Fi network may not be readily available, a "Personal Hotspot" created through the master device's data network can easily be used as a substitute.
"There's no denying the immense demand among Triggertrap customers and photographers for wireless triggering capabilities," said Haje Jan Kamps, Founder and CEO of Triggertrap. "With our new Wi-Fi triggering mode, we're now able to provide a remote triggering capability that is fast, long range, inexpensive, and won't drain the user's battery. Needless to say, we are incredibly pleased to introduce this update to the market, and excited to see the creative ways our customers take advantage of it."
Triggertrap Mobile Functionality
Triggertrap Mobile combines the capabilities of several expensive camera accessories into a single, cost-effective application, enabling photographers to take their creative photography skills to the next level. It can be used on its own for more dynamic iPhone photography or, to experience its full capabilities, users can employ the Triggertrap Mobile Dongle to tether their iOS device to a dSLR or advanced compact camera. In addition to its standard remote shutter release, Triggertrap Mobile offers more than a dozen unique and creative triggering functions for digital cameras, all of which can now be controlled wirelessly. Beyond its four wireless remote trigger styles, the creativity-expanding Triggertrap Mobile app includes:
Multiple Timelapse functions: Use Triggertrap as a basic intervalometer for timelapse capture, or get extra creative: Bulb Ramping Timelapse enables seamless sunrise/sunset timelapses, HDR timelapse lets you combine the power of HDR and timelapses, and finally, TimeWarp, a feature unique to Triggertrap, uses algorithms developed for animation to create more dynamic and natural-looking timelapses.
Sensor Controls: Leverages the smart device's on-board sensors to release the shutter; Sound Sensor Mode uses the microphone to trigger at a set audio level, Seismic Mode fires based on vibrations, bumps or knocks, and Metal & Magnetism Sensor Mode can be used to fire the shutter in their presence
Facial recognition: Takes a photo once Triggertrap detects the programmed number of faces in the frame
Multiple HDR Capture Modes: Provides expanded control over bracketed exposures for Long Exposure HDR, or automates Long Exposure HDR Timelapse capture
DistanceLapse: Unique to Triggertrap, this mode relies on the smart device's on-board GPS chip to fire the shutter over pre-determined distances
Motion detection mode: Triggers camera whenever motion is detected in the frame
Star trail mode: Allows external cameras to automatically take a series of long exposures in sequence to reduce noise
The Premium Triggertrap Mobile App can be purchased on both iOS and Android devices for £2.99, while the Triggertrap Mobile Dongle can be purchased for £15.80 or users can Triggertrap Dongle & Cable Set for (£24.99). The Triggertrap Dongle is conveniently compatible with over 280 cameras, and with this latest update, Triggertrap Mobile for iOS localised for a series of languages, including French, German, Spanish, Italian, Portuguese, Norwegian and Dutch. Chinese, Russian and Japanese are expected to be introduced shortly.