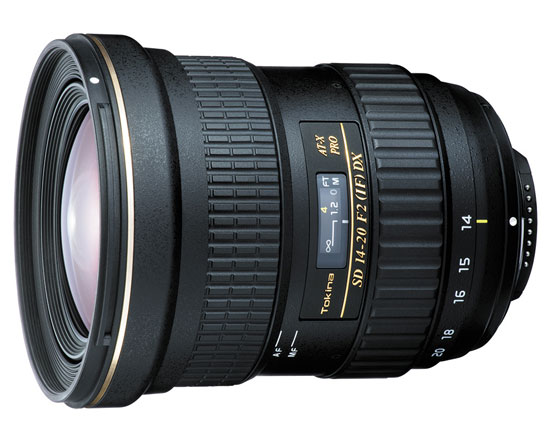 Tokina finally announced the new AT-X 14-20mm f/2 PRO DX lens in Japan, the lens is now available for  Canon and Nikon APS-C mounts, the lens features large fixed aperture through-out the zoom range, the new Tokina lens uplifted the core specification of ultra-bright wide angle zoom lenses to a new level, the lens will create a big name among Canon and Nikon APS-C DSLR users. let's take a look at the press text issued by Tokina.
Features: (Translated by Google)
Large-aperture wide-angle zoom lens of Tokina's first open F value F2.0
when you set the ISO sensitivity low, the handheld shooting can be set to enough shutter speed. Also, shooting was taking advantage of the blur, in night photography, etc. open F value of 2.0 and delivers the preeminent power.
High precision plastic aspherical lens
essential to a wide-angle two-group zoom lens, the plastic aspherical lens further pursue the G02 of surface accuracy, it is in a strong design to ghost flare. Also, so as to obtain a clear imaging to peripheral angle of view of a wide-angle, we conducted the optimization of the anti-reflection coat.
Placement of high precision ultra-low dispersion glass mold aspherical lens
in the rear lens group, with ultra-low dispersion glass mold aspherical lens is placed two pieces of, various types of aberration correction result that is properly subjected to, open F value of 2.0 bright lens , we have realized the high resolution and low distortion throughout the zoom range.
Compact body and good operability
by a one-touch focus clutch, feeling at the time of manual focus, there is a moderate torque sense of focus ring, allowing precise focusing.
In APS-C size (DX format) of ultra-wide-angle zoom lens, provide an open F value of 2.0, also will deliver preeminent power in the moving image shooting.
Filter size C-PL filter in 82mm is also available.